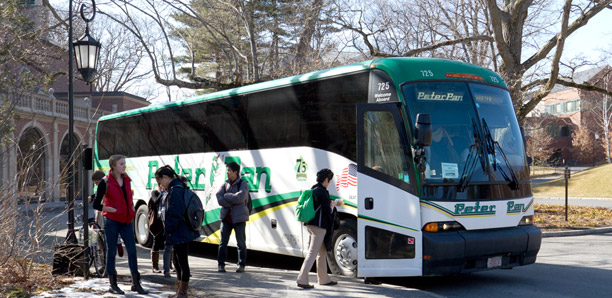 Five Ways into Boston
1. Take a Wellesley Shuttle
On weekdays, take the MIT Exchange Bus into Boston and Cambridge.  It's free with your student ID and stops at the Chapel each hour.  
On Friday nights after 6pm and during the weekend, take the  Senate Bus.   It costs $3.00 a ride and you can buy tokens at the Lulu (near the ATM) and in Stone-Davis (by the laundry machines). 
2. Rent a Zipcar
There are Zipcars on Wellesley's campus (next to Campus Police and in the Gray Parking Lot near the Science Center),  perfect for a short trip to Boston.  You can feel a bit of Wellesley pride every time you drive around in a Zipcar  — The co-founder of Zipcar is a Wellesley alumna (Robin Chase '80)
3.  Ride the Commuter Rail
Take the Commuter Rail. The Wellesley Square stop, located right next to Peet's Coffee in the Vil, is about a $7.25 ride into Back Bay or South Station.
The MBTA commuter rail stops in Wellesley; there are several T stops in Newton; city buses run through Newton and Waltham.
4.  Carpool with Friends
Carpool with friends. Particularly during sophomore year and afterwards, you can almost always find someone with a car on campus.
5.  Take the T
 Take the T (subway). The Woodland T stop is a few miles from campus and there is parking available. If you have a CharlieCard , you can top up online, and a ride is only $2.