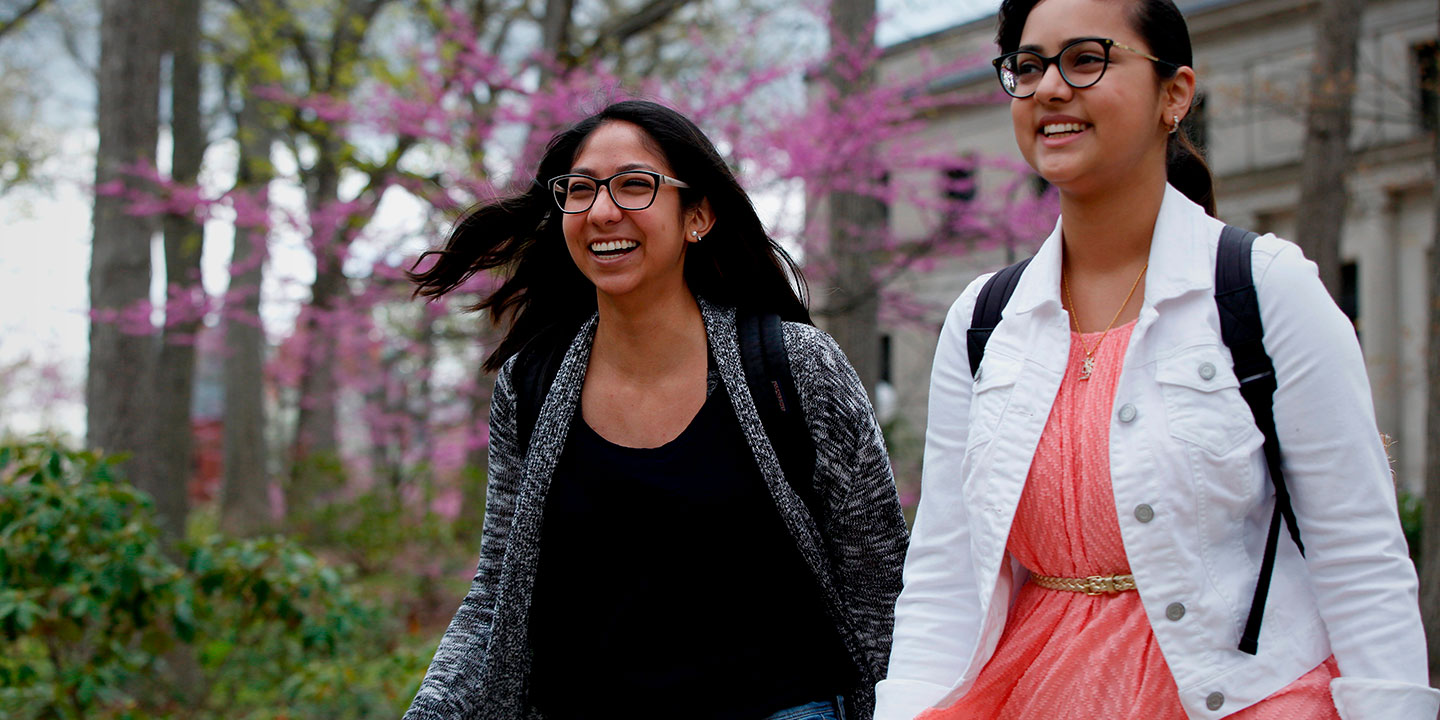 Open Campus Programs
Seize the day (or morning, or weekend)!                       
Experience Wellesley for yourself by attending one of our lively, info-packed open house programs.

AMPLIFY
AMPLIFY: Wellesley's Leadership Series
October 16, 2022
What is it?
A virtual series all about amplifying your voice, empowering change, and redefining leadership.
When is it?
Sunday, October 16, 2022. Full schedule here.   
Who's it for?
Just for high school juniors and seniors (and transfer students).
You can: 🤓 attend leadership panels and sessions, 👋 hear from professors, current students, and alums, 💪 learn about empowering change and 🙌 understand how you can harness your inner leader through the college search process 

VOICE
VOICE:  Wellesley's College Access Program
October 1-2, 2022  
What is it?
A virtual college access program for students from underrepresented backgrounds.
When is it?
October 1-2, 2022.   
Who's it for?
Just for high school seniors.
You'll discover: 💪 The power of using your VOICE (ft. Wellesley alumnae), 🌍 how to center equity in the fight for change (ft. Wellesley faculty), 👩‍🎓 the rewards (and challenges!) of using your VOICE as a student leader (ft. current Wellesley students), 🏫 how to own your VOICE in the college admission and financial aid process (ft. an admission counselor).
You'll receive: ✈️ a round-trip ticket to Wellesley College in Spring 2023 if you attend VOICE, apply to Wellesley College, and are later admitted!

Davis and Transfer Virtual Open Campus
December, 2022 (Date forthcoming)
Join us for a Virtual Open Campus program for applicants interested in applying as Fall Transfer or Davis Degree Program candidates. Dean Susan Cohen and Dean Jess Ricker will provide an overview of both programs, advice for applying by the March 1 deadline, and information about support and services available to students once they enroll.
You can:
👋 Meet the Dean of Admission and Director of the Davis Scholars Program
✨ Discover more about student life and the Wellesley community.
✏️ Learn about the application process, requirements, and transfer credits.
❓ Ask questions

THRIVE
April, 2022
(dates provided in Applicant Portal)
This program in the spring is for admitted students only. 
👋 Befriend other admitted students (yay!)

✏ Attend reassuring and/or inspiring panels about academic and residential life
📚 Attend thrilling clases
🤝 Meet current students, faculty, & alumnae

🌞 Take a virtual campus tour and get to know your new home

❓ Ask questions