2023-24 Alice C. Cole '42 Fellow Artist Talk: Kaitlyn Jo Smith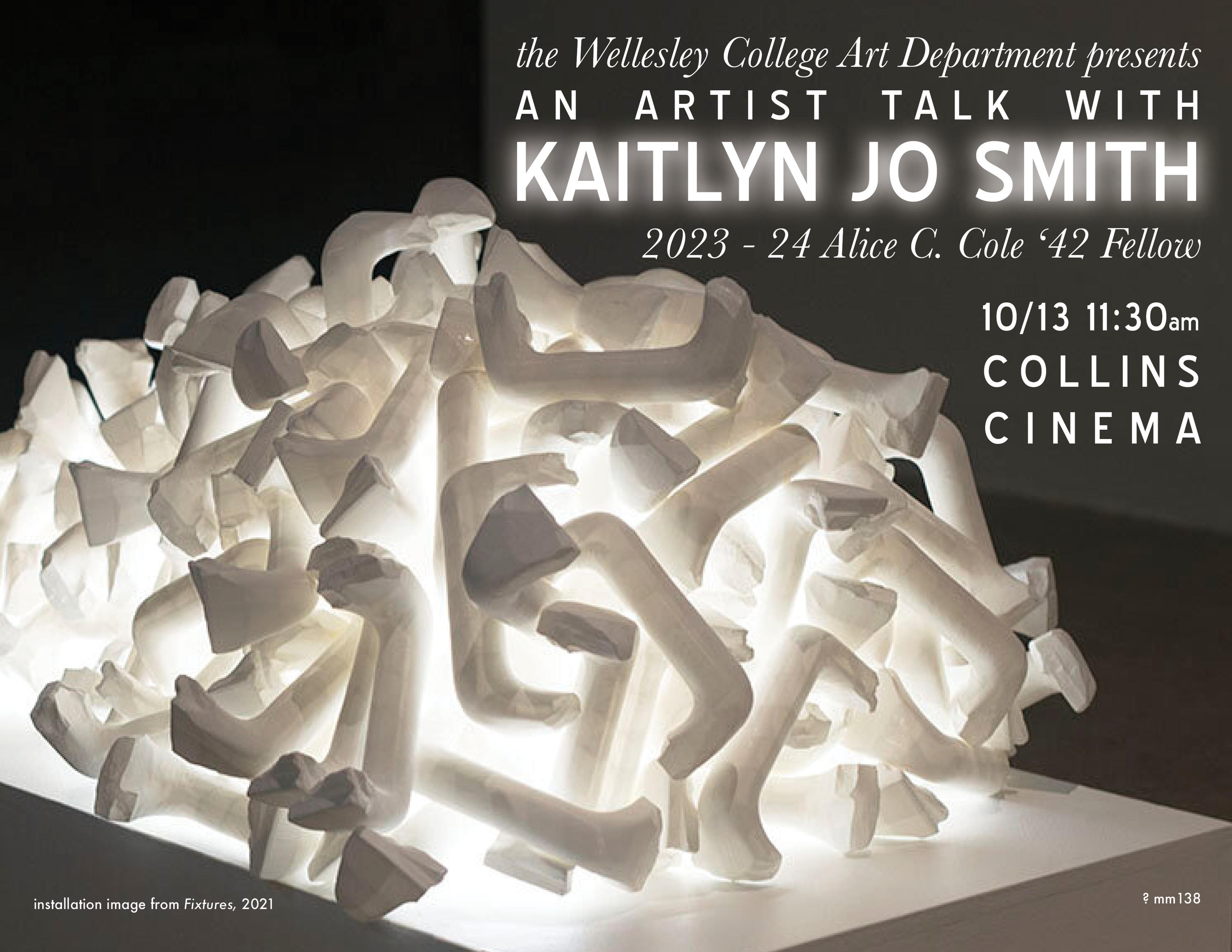 Join the Art Department for an artist talk by Kaitlyn Jo Smith, the 2023-24 Alice C. Cole '42 Fellow. Her interdisciplinary studio research considers the implications of automation on labor and religion in relation to America's working class. Through the implementation of automated technologies and machine learning, her work questions the authority of algorithms while promoting a dialogue around future applications of artificial intelligence.
The Cole Fellowship is awarded to an outstanding early-career painter or sculptor (broadly defined), providing funds to support one year of unimpeded time and space to experiment, develop a body of work, and focus on future artistic goals. Cole Fellowships are based on nominations from prominent members of the national artist community. The fellowship is made possible by the generous bequest of Wellesley alumna Alice C. Cole '42. Aware of the burdens that may face recent graduates of art programs, Ms. Cole makes it possible for an artist to have 'a limited time free of economic necessity'-- an immensely valuable gift.
Friday Oct. 13, 2023
11:30 am
Collins Cinema
Email spearls2 at wellesley dot edu with any questions.
Remember a Place Not Here: the 2023 Thesis and Senior Exhibition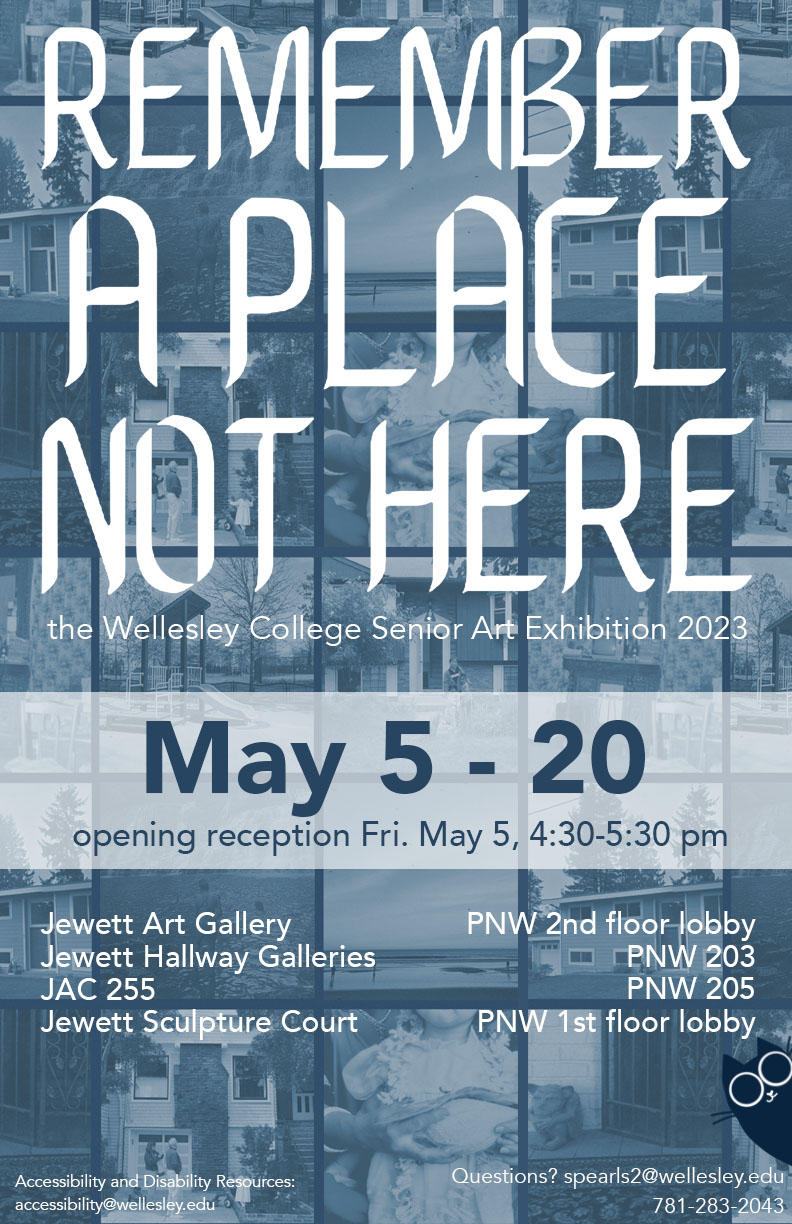 Join the Art Department for the 2023 Thesis and Senior Exhibition, Remember a Place Not Here!
This year's show features work in media like oil painting, traditional printmaking practices, and weaving alongside digital film, virtual reality, and 3D rendering, made by over 40 students in more than 15 different majors. Making and meaning are at the center of what we do in the Art Department, and students majoring in the arts engage with the field in a deeply meaningful way. But this year's incredibly diverse exhibition is evidence of the importance of the arts all across campus-- from the Studio Art majors who've taken a class in almost every art discipline to the students majoring in something like Neuroscience or Economics, who still dedicate long hours to advanced studio art classes and find themselves making beautiful, nuanced, conceptually complex artworks.
Artwork is on display in the Jewett Art Gallery, Jewett Hallway Galleries, Jewett Sculpture Court, JAC 255, PNW 2nd floor lobby, PNW 203, PNW 205, and the PNW 1st floor De Hoyos Lobby.
The show is on view May 5 through the morning of May 20. This year's show is open to the public 10 am - 5 pm, 7 days a week, May 5 - May 18.
Please note that May 19 and 20 are graduation ceremonies on campus, so the show will be viewable to members of the campus community and invited guests attending graduation only on those dates.
The opening reception is Friday May 5, 4:30 - 5:30 pm.
Contact Gallery Director Samara Pearlstein with any questions about the show, or for directions from visitor parking to the art buildings.
---
FRI-SAT APRIL 28 - 29: Friedman Fête, a Symposium in Honor of Alice T. Friedman
Friday April 28, reception, 5:00 pm, Davis Plaza
Saturday April 29, symposium, 10:00 am - 5:00 pm, Collins Cinema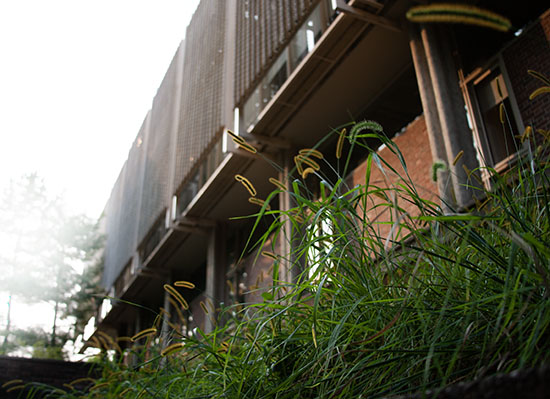 The Art Dept is honored to present Friedman Fête, a celebration of Alice T. Friedman's teaching and scholarship. Professor Friedman is retiring after 43 years with Wellesley College, and this two day event will offer an opportunity for former students, colleagues, friends, and members of the campus community to come together in celebration of her incredible work as a teacher, researcher, writer, and inspiration to generations of students studying architecture and art history.
A reception will be held in the Davis Plaza tent at 5:00 pm on Friday April 28.
A symposium in honor of Prof. Friedman will be held from 10:00 am to 5:00 pm on Saturday April 29 in Collins Cinema. The program for the symposium may be found here.
Both events are free to attend and open to the public.
Guest should park in the on-campus garage and walk to the Davis Plaza/Collins Cinema. A map of the route to walk may be found here. Enter campus via the Central St/Route 135 entrance and park in the garage to the right. Exit the garage and follow the dotted red line past the student center, past the physical plant (building with a 'smokestack'), then come up behind the Davis Museum. You can take the stairs up underneath the Davis (red), or come around it on either the left or right side (green lines). The Davis Plaza and Collins Cinema are between the Davis Museum and the Jewett Arts Center.
Contact Martha McNamara with any questions.
The 2023 Boston Cinema & Media Studies Lecture: Amanda Phillips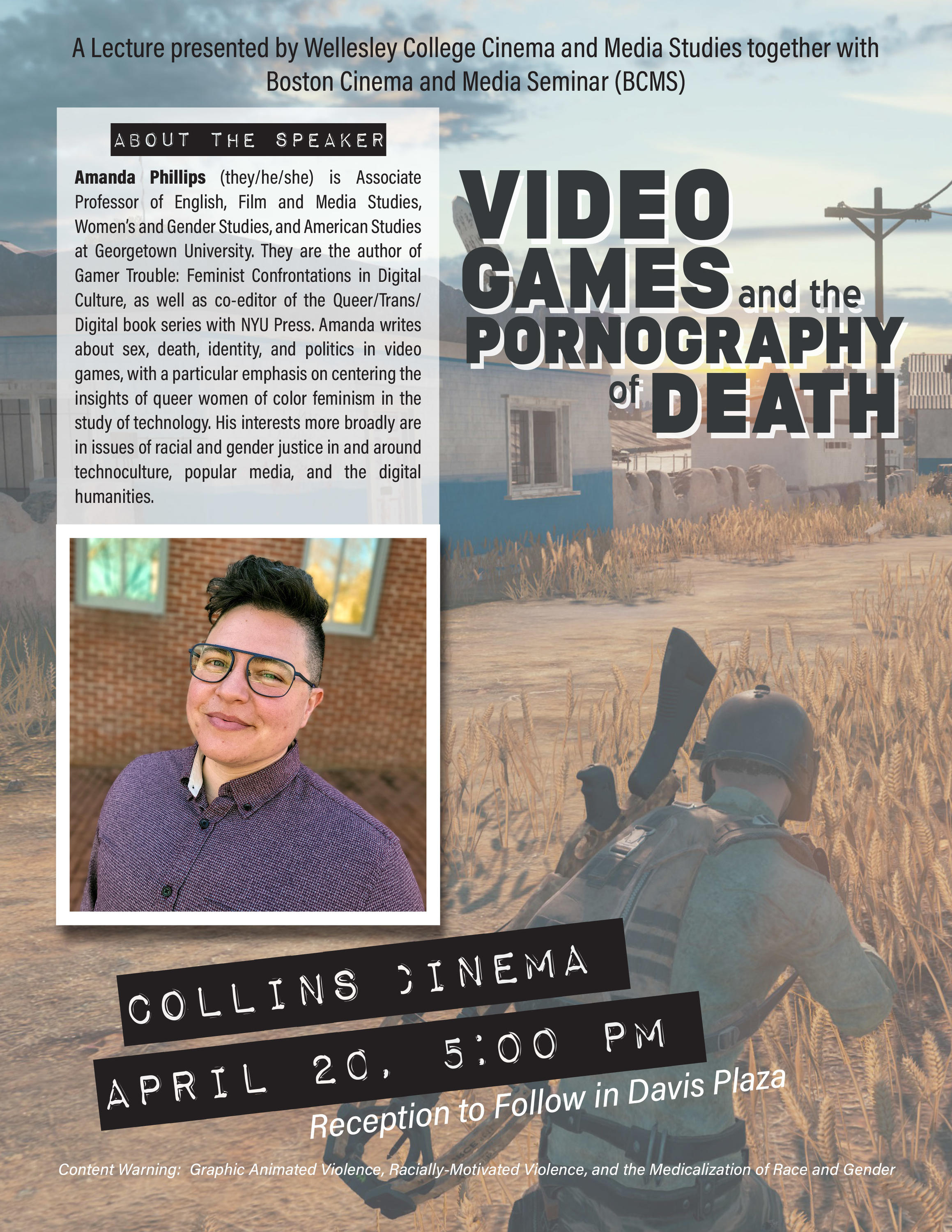 The 2023 Boston Cinema & Media Studies Lecture will be by Amanda Phillips, giving a talk titled "Video Games and the Pornography of Death."
Amanda Phillips (they/he/she) is an Associate Professor of English, Film and Media Studies, Women's and Gender Studies, and American Studies at Georgetown University. They are the author of Gamer Trouble: Feminist Confrontations in Digital Culture, as well as co-editor of the Queer/Trans/Digital book series with NYU Press. He writes about sex, death, identity, and politics in video games, with a particular emphasis on centering the insights of queer women of color and feminism in the study of technology. Her interests more broadly are in issues of racial and gender justice in and around technoculture, popular media, and the digital humanities.
This year's talk will be a hybrid event, taking place both in-person and on Zoom. The in-person viewing will take place at Collins Cinema, with a reception to follow.
This event is free and open to the public, but advance registration is required to attend via Zoom. Click here to register for Zoom attendance.
Thursday April 20, 2023
5:00 pm
Collins Cinema and on Zoom
The 2023 Dr. Ruth Morris Bakwin Class of 1919 Art Lecture - Drs. Norma Broude and Mary Garrard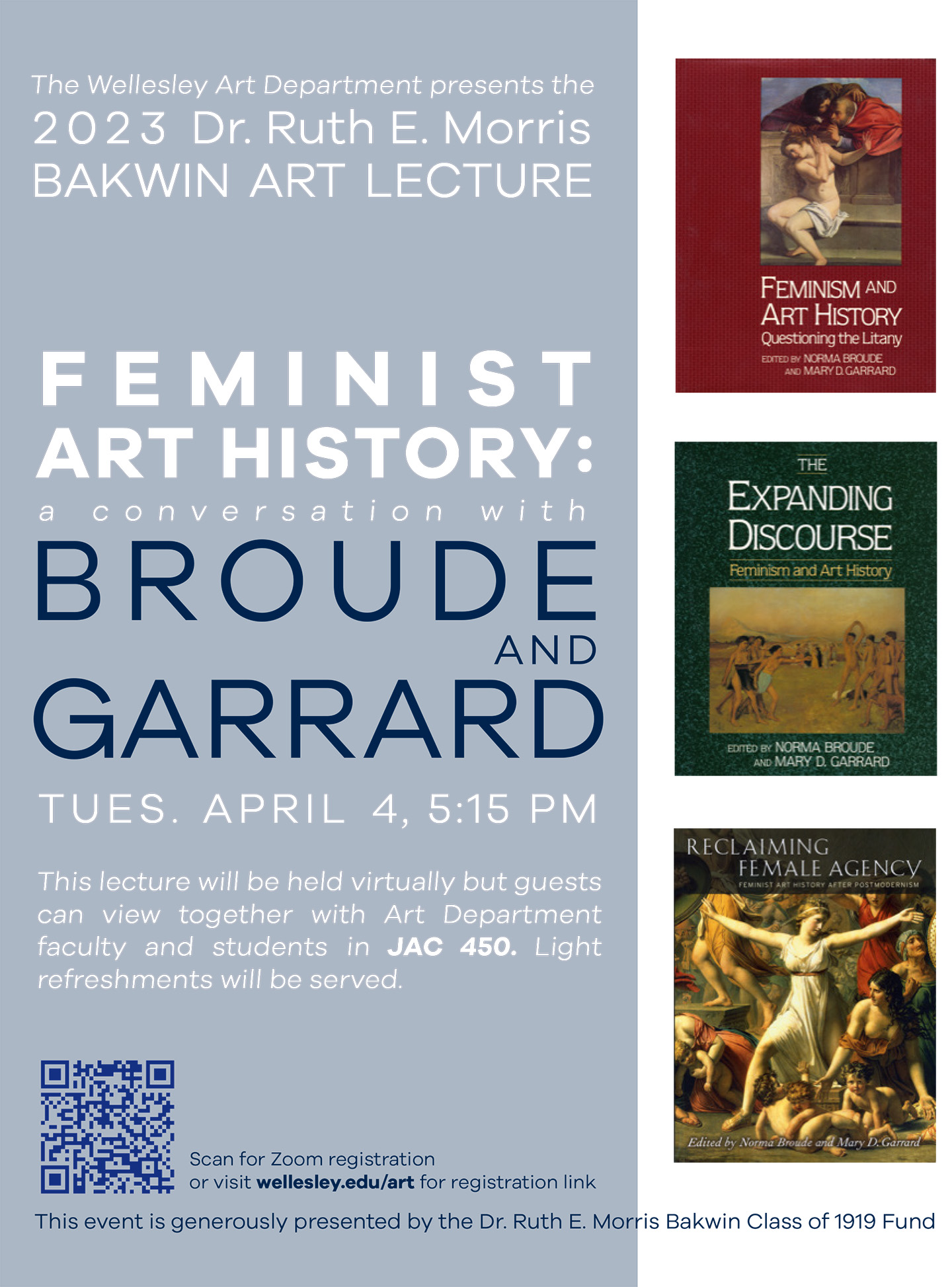 This year's Bakwin Art Lecture will feature eminent feminist art historians Dr. Norma Broude and Dr. Mary D. Garrard.
Dr. Broude is a specialist in 19th century French and Italian painting. She has offered critical scholarship and reassessments of Impressionist painters, including Degas, Cassatt, and Seurat. Dr. Garrard focuses on the Italian Renaissance-Baroque period in her own research. In addition to their numerous publications seperately, together they co-edited four books on feminism and art history that created the basis for feminist art historical education in America. The first of these, Feminism and Art History: Questioning the Litany, was originally published in 1982, at a time when conservative art critics and historians were still questioning whether contemporary feminist art had any place at all in the canon, let alone whether already-canonical works could be interpreted through a feminist lens.
Authors of what would become some of the most essential and foundational feminist art history texts, Drs Broude and Garrard forever changed the conversation around art history and feminist thought in the US.
Tuesday, April 4
5:15 pm EDT
The lecture will take place on Zoom, advance registration required. Register online here!
Members of the campus community and invited guests have the option of watching the talk together in JAC 450, where refreshments will be served.
Email Meghan Murray with any questions.
---
The Spring 2023 Frank Williams Visiting Artist: Emily Hass

Friday, March 24, 2023, 11:00 am, Jewett Auditorium
The Spring 2023 Frank Williams Visiting Artist will be Emily Hass, a New York-based contemporary artist. Hass holds degrees in design and psychology from Harvard University. Much of her work is structured around the topics of forced migration and exile, looking at the destruction of Jewish homes and neighborhoods in WWII and current mass displacements in Syria and elsewhere. Experiments in architectural mapping intersect with installation and sculpture to explore concepts of home remembered and lost. Hass has been a Howard Foundation Fellow and a MacDowell Fellow. She was awarded the McCloy Fellowship in Art and has received grants from the Jerome Foundation, the Adolph and Esther Gottlieb Foundation, and the New York Foundation for the Arts. Her work has been exhibited internationally and in the US, and is in the permanent collection of the Jewish Museum Berlin.
For this event Hass will be in conversation with curator Rachael Arauz '91 in the Jewett Auditorium.
This event is open to the campus community and invited guests only.
---
The 2023 Wellesley/Deerfield Symposium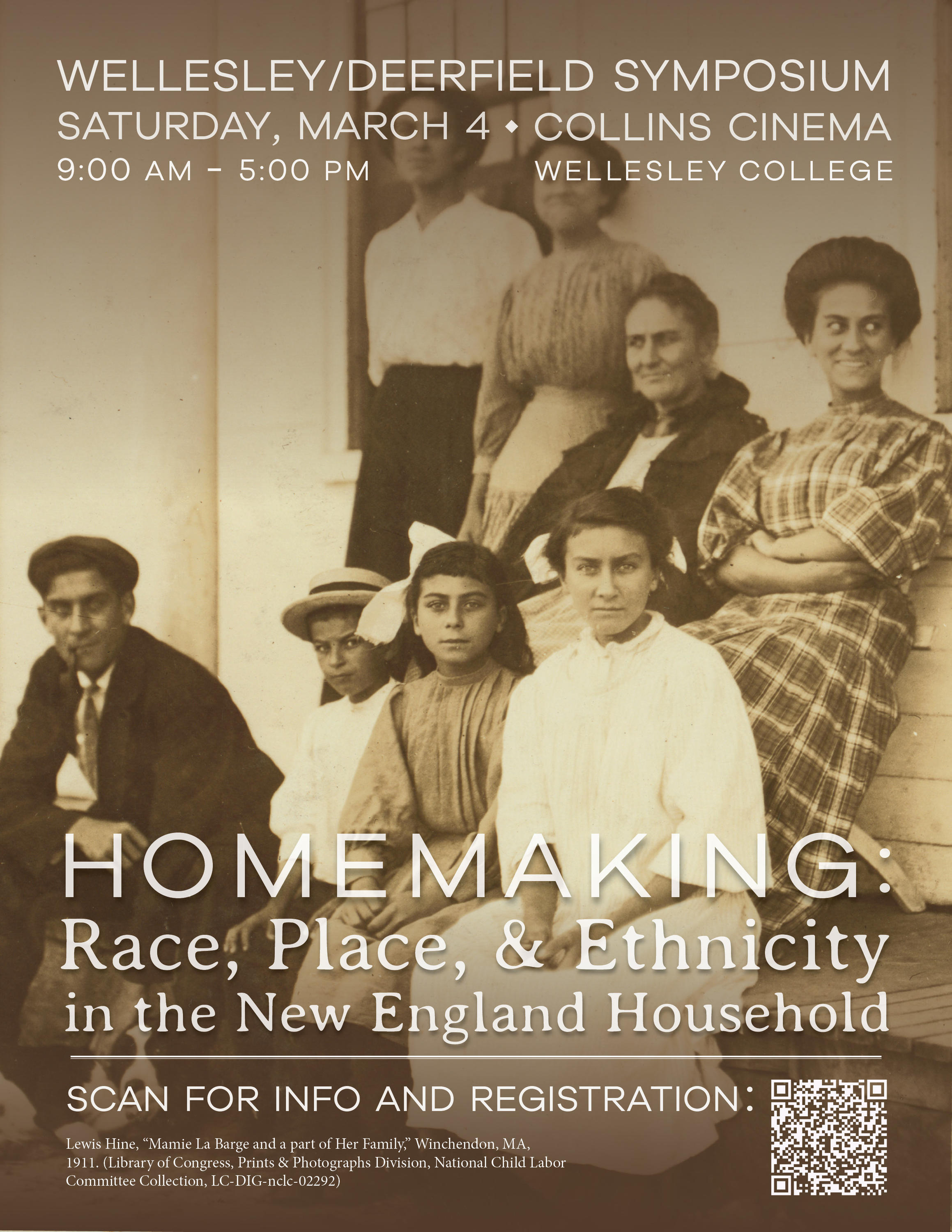 Saturday March 4, 2023
Collins Cinema (in person) and on Zoom
9:00 am - 5:00 pm
Join the Art Department and the Wellesley College Architecture Program for the 2023 Wellesley/Deerfield symposium, Homemaking: Race, Place, & Ethnicity in the New England Household.
This one-day symposium will explore the visual and material cultures of race and ethnicity in New England's domestic sphere from the 17th to the 20th centuries. Cultural and racial diversity have long characterized New England's domestic environments, and symposium participants will present research on the varied ways in which the region's households were shaped by perceptions of, ideas about, and attitudes towards race and ethnicity.
The symposium will be a hybrid event this year, where attendees can choose to come in person to see the talks in Collins Cinema, or can watch remotely on Zoom. Registration is required for both in-person and virtual attendance.
Register here to attend!
Fall 2022 Events Update
The Art Department hosted a number of fantastic visitors and events in Fall 2022. See below for details!
September 6 - October 28: Gospel of Three Dimensions
Massachusetts-based artist Mika Obayashi was on campus for the closing reception of
Gospel of Three Dimensions
, her installation in the Jewett Art Gallery. The day before she ran an indigo dyeing workshop for students in ARTS 112 Introduction to Book Studies in the quad tent, where students learned how to use this natural, ancient technique to dye paper that they had made themselves earlier in the semester.
October 31: Art Dept Halloween Party
The Art Department hosted an outdoor Halloween party this year. OK, technically it was our Spring Course Preview event, where students can hang out with professors and ask questions about the various Art Dept majors, minors, and courses on offer in the coming semester. But this year it involved pizza, candy, and so many great costumes!
November 2: McNeil lecture, Memoryscapes of Slavery
Brown University's Renée Ater gave the first McNeil lecture of the year, titled Memoryscapes of Slavery, followed by an on-stage conversation with professor Nikki Greene.
November 4: Fall 2022 Frank Williams Visiting Artist
The Fall 2022 Frank Williams Visiting Artist was internationally renowed multidisciplinary artist Liliana Porter. The College was lucky to have the opportunity to welcome her back to campus, where she gave a talk and met individually with advanced senior studio art students.
November 17: McNeil lecture, The Materials of Shame: Decoration, Masculinity, and the Birth of Modern Interior Design
Concordia University's John Potvin, in conversation with Vanderbilt University's Kevin Murphy, gave the second McNeil lecture of the year.
November 18: INNER PEACE
Students in ARTS 307 Advanced Sculptural Practices opened INNER PEACE, a transformative installation in the Jewett Art Gallery. The artwork featured all reclaimed materials from campus building projects.
December 8, 3...2...1...
Students in ARTS 321 Advanced New Media opened 3...2...1..., an exhibition of their final projects. The works on display feature a wide range of materials, from video art to traditional stained glass, traditional embroidery to hand-sewn vinyl gloves, inkjet-printed digital compositions to traditional painting and ceramics.
The Digital Image as Material Object: Archaeologies of Computer Graphics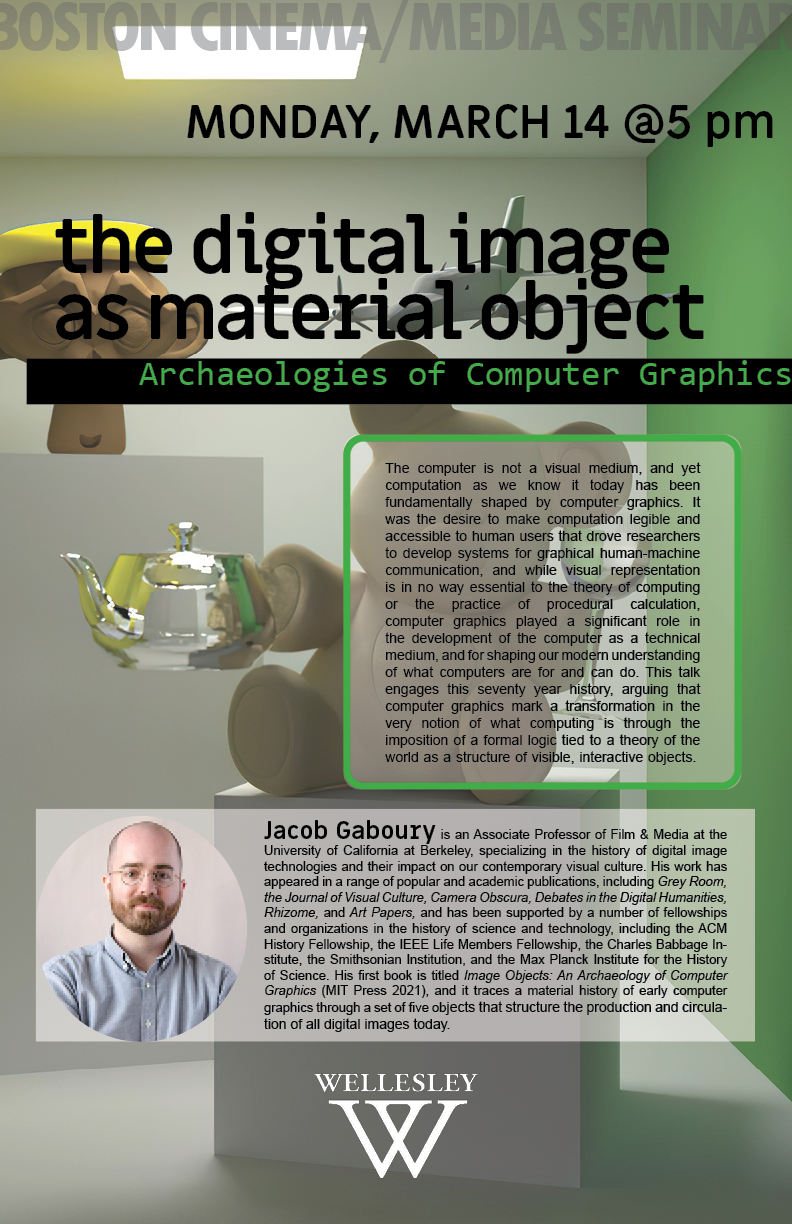 The Cinema and Media Studies program invites you to 
The Digital Image as Material Object : Archaeologies of Computer Graphics
presented by Professor Jacob Gaboury, Film & Media, UC Berkeley
questions? please reach out to Prof Nick Gutierrez [
ng102@wellesley.edu
]
The computer is not a visual medium, and yet computation as we know it today has been fundamentally shaped by computer graphics. It was the desire to make computation legible and accessible to human users that drove researchers to develop systems for graphical human-machine communication, and while visual representation is in no way essential to the theory of computing or the practice of procedural calculation, computer graphics played a significant role in the development of the computer as a technical medium, and for shaping our modern understanding of what computers are for and can do. This talk engages this seventy year history, arguing that computer graphics mark a transformation in the very notion of what computing is through the imposition of a formal logic tied to a theory of the world as a structure of visible, interactive objects.
Jacob Gaboury
 is an Associate Professor of Film & Media at the University of California at Berkeley, specializing in the history of digital image technologies and their impact on our contemporary visual culture. His work has appeared in a range of popular and academic publications, including 
Grey Room
, the 
Journal of Visual Culture
, 
Camera Obscura
, 
Debates in the Digital Humanities
, 
Rhizome
, and 
Art Papers
, and has been supported by a number of fellowships and organizations in the history of science and technology, including the ACM History Fellowship, the IEEE Life Members Fellowship, the Charles Babbage Institute, the Smithsonian Institution, and the Max Planck Institute for the History of Science. His first book is titled 
Image Objects: An Archaeology of Computer Graphics
 (MIT Press 2021), and it traces a material history of early computer graphics through a set of five objects that structure the production and circulation of all digital images today.
The 2022 Dr. Ruth E. Morris Bakwin Class of 1919 Art Lecture: Professor D. Fairchild Ruggles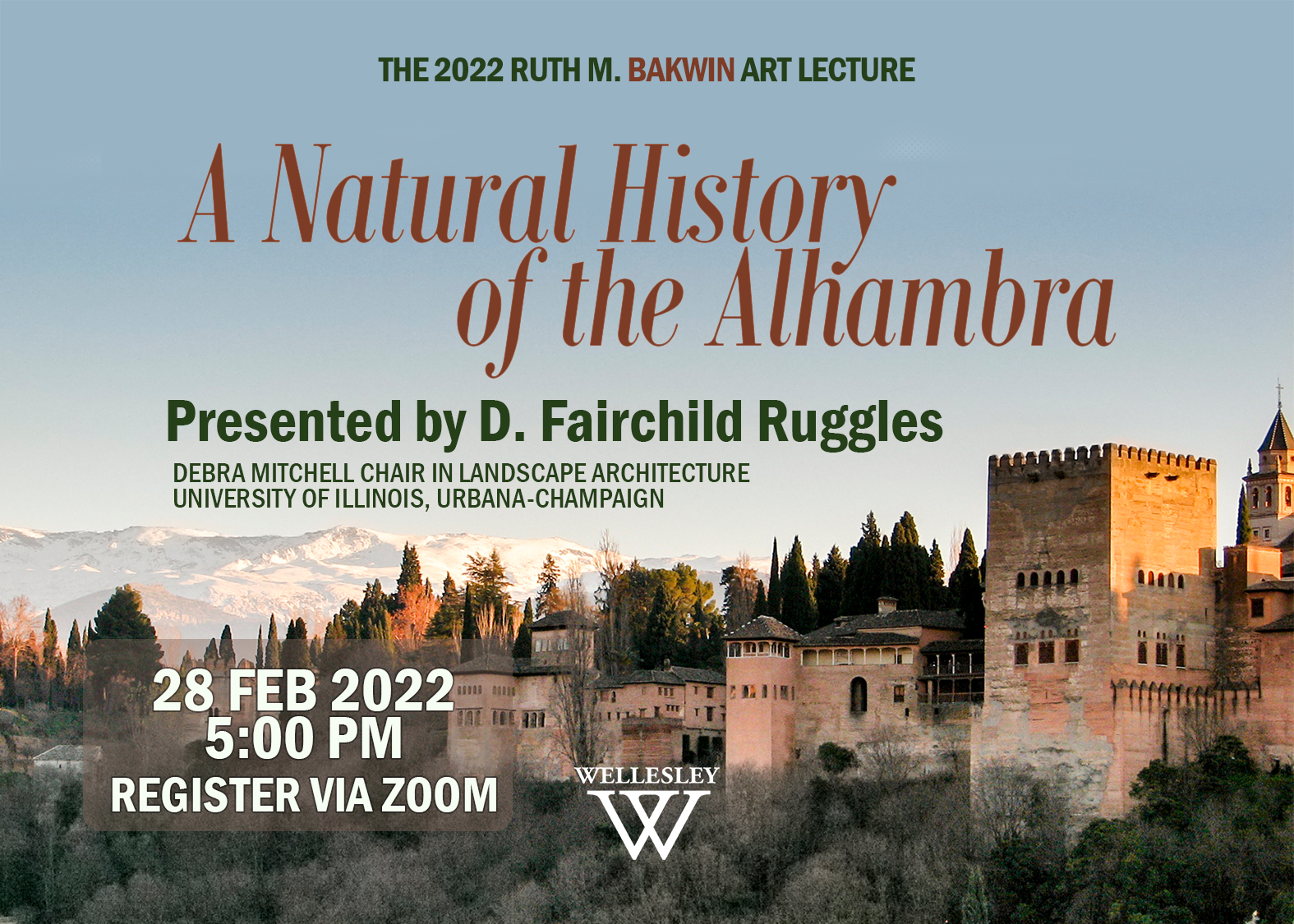 A NATURAL HISTORY OF THE ALHAMBRA
presented by 
D. Fairchild Ruggles
,  Debra L. Mitchell Chair in Landscape Architecture at the University of Illinois at Urbana-Champaign
An historian of Islamic art and architecture, Dr. Ruggles' research examines the medieval landscape of Islamic Spain and South Asia and the complex interrelationship of Islamic culture with Christianity, Judaism, and Hinduism and the precise ways that religion and culture are often conflated in the study of these. She is the author of two award-winning books on gardens: Gardens, Landscape, and Vision in the Palaces of Islamic Spain (2000), and Islamic Gardens and Landscapes (2008). Additionally she has edited or co-edited numerous works, including Women, Patronage, and Self-Representation in Islamic Societies (2000), the award-winning Sites Unseen: Landscape and Vision (2007), Cultural Heritage and Human Rights (2007), Intangible Heritage Embodied (2009), On Location (2012), and Islamic Art and Visual Culture: An Anthology of Sources (2011).
---