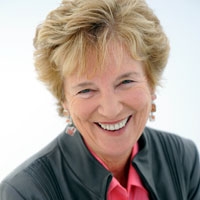 cbauman@wellesley.edu
(781) 283-2015
Faculty emerita
B.S., Illinois State University; M.S., Arizona State University; Certificate, Indiana State University
Connie Lynn Bauman
PERA Professor Emerita of the Practice
Sports Medicine Outreach project; engaged in predictive injury study; director, Employee Wellness Program.
My research and teaching interests are in Sports Medicine and interactive pedagogical approaches to teaching anatomical medicine.  My most recent research project included a prospective, three-year longitudinal study identifying the strength and flexibility imbalances associated with athletic injuries.
In 2001, I developed a sports medicine course for students interested in health and medical professions with an emphasis on orthopedics. The course combines functional anatomy, biomechanics, and kinesiology. On-site labs and an off-site cadaver prosection at Harvard Medical School provide hands-on, clinical knowledge and application of musculoskeletal anatomy.  A Sports Medicine Outreach program was founded in 2009 with Science Club for Girls to provide mentoring and service-learning opportunities for Wellesley students, and promote science awareness among middle-school underrepresented girls. I was honored with the Wellesley's Anna and Samuel Pinanski Prize for Excellence in Teaching in 2010.
My background in the promotion of Title IX combined with my interests in sports and medicine create an engaging forum to raise awareness of sport injury prevention, treatment, and rehabilitation protocols. 
I developed and direct an on-site wellness program for Wellesley employees. I recently published an article with the National Wellness Institute on engaging ways to build a diverse college community through exercise and wellness programs.
I enjoy traveling, photography, and engaging in a variety of sports.  I am most proud of being an athletic trainer for the Olympic Games and the US Women's Rowing Team.