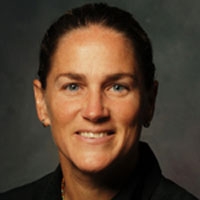 jkroll@wellesley.edu
(781) 283-2013
Physical Ed. Recreation & Athletics
B.S., Northwestern University; M.S., University of Kentucky
Jennifer A. Kroll
PERA Associate Professor of the Practice
Varsity basketball coach; promoting and teaching physical fitness and lifelong positive health habits.
As a head varsity basketball coach and instructor I am constantly seeking new and innovative ways to train and teach my players and students. Nutrition, fitness, and mental training are keys to success for any athlete. These are the areas that drive my interest and research.
I enjoy teaching various physical education courses, including cardio fitness, weight training, and basketball. Helping students achieve balance by engaging in a healthy, active lifestyle is the goal. That balance will benefit them for a lifetime.
As the head coach of Wellesley's basketball team, I am constantly working to promote our sport and team. I have served as a member of the NCAA East Regional Committee as well as on the WBCA Kodak All-America Committee and the WBCA/USA Today Coaches' Poll.