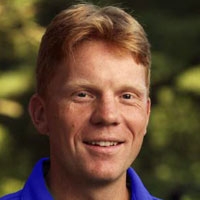 bkuscher@wellesley.edu
(781) 283-2014
Physical Ed. Recreation & Athletics
B.A., Franklin Pierce University; M.A., Concordia University
Brian K. Kuscher
PERA Associate Professor of the Practice
Coaching and teaching tennis for more than 17 years, including private coaching, club coaching, college coaching, and national teams.
My main focus is on teaching high-performance college-level tennis players. I have had more than 17 years' experience dealing with all levels of instruction─from Pee Wee tennis for three-year-olds, all the way up to senior national-level players. Being a private tennis coach for so many years has allowed me to broaden my horizons within tennis itself. Each level or age brings its own challenges, which only makes me a better, more well-informed teacher not just in tennis but of whatever I teach, like life skills to the players on the tennis team.
I have been active recently in outreach programs in the Far East. I have spent time in Japan, Hong Kong, and China trying to gain knowledge of their tennis culture. In addition to gaining knowledge, I have looked to spread information about college tennis in the United States to these areas.
My beautiful wife, Yumi (who is in collegiate sports medicine), and I have a young son, Aiden. I enjoy computers and anything that involves a video camera and editing software. I am a sports junkie and fan of the Red Sox, Bruins, Patriots, and Celtics.