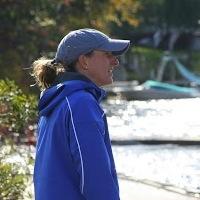 tspillan@wellesley.edu
(781) 283-2007
Physical Ed. Recreation & Athletics
B.A., Mount Holyoke College; M.S., Smith College
Tessa Spillane
PERA Professor of the Practice
Varsity crew coach and director of intramural rowing programs; instructor in sailing and canoeing.
I am the varsity crew coach.
I teach physical education courses in sailing and canoeing. I also direct the recreational programming in rowing—Dorm Crew in the fall and Class Crew in the spring.
I serve as the New England representative to the NCAA Rowing Committee. I am also on the board of directors for the Collegiate Rowing Coaches Association.
As for my other interests, essentially, if it has to do with water, I love it. I also enjoy running, hiking, reading (particularly anything pertaining to 20th century history and/or politics), and walking on campus with my dog--who is also the rowing team mascot!