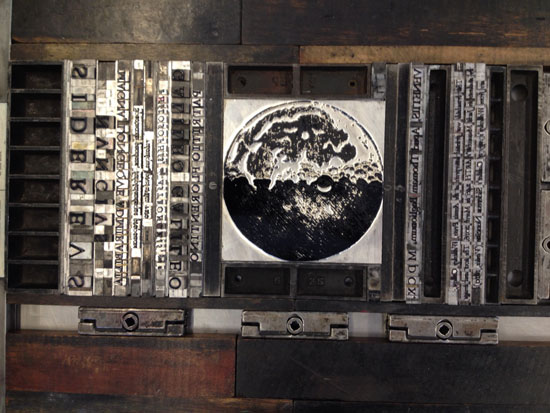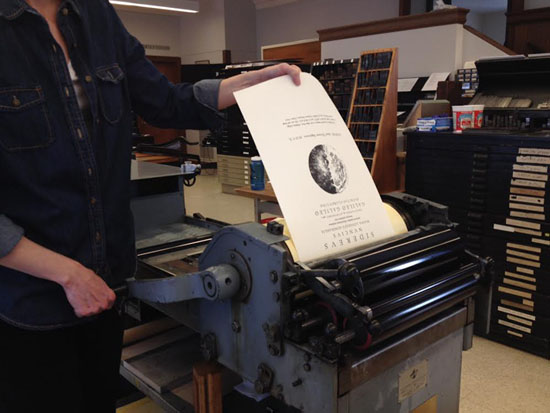 Broadside Inspired by Galileo's Siderius Nuncius. In March 2016, Professor of Art Jacki Musacchio and the students in her ARTH 246 seminar "Collectors, Saints, and Cheese Eaters in Baroque Italy" printed a collaborative broadside based on Special Collections' copy of Galileo's Siderius Nuncius. Working with Katherine M. Ruffin, Book Studies and Book Arts Program Director, the class printed a limited edition broadside from hand-set metal type and a magnesium engraving using the Vandercook SP-15 press in the Book Arts Lab. This is the most recent limited edition broadside in a series that Professor Musacchio began with the Annis Press, the Book Arts Lab imprint, in 2011.
Nick Wilding, Associate Professor of History, Georgia State University, "Forging the Moon; Or, How to Spot a Fake Galileo," Wednesday, February 3, 2016, 12:30 pm, Science Center 277. Co-sponsored by Book Studies, the CLCE's Edwards Fund, and the Science Center.
The integrity of the historical record is a prime concern for any historian. It follows that the art of detecting forgeries is crucial to our craft. Early modern print materials have generally been held above suspicion as a technologically impossible, or at least unprofitable, subject for forgery. But the emergence in 2005 of a spectacular copy of Galileo's cosmos-changing Siderius Nuncius, furnished with an autograph inscription and hand-drawn lunar illustrations, forced a reconsideration of this assumption. By reconstructing the recent history of the analysis of this single and singular object, Professor Wilding shows how, when viewed from different perspectives, within shifting contexts, and alongside a choice of control copies, a seemingly rigorous and secure authentication can gradually lose its certainty and eventually become proof of forgery.
To learn more about Dr. Wilding's discoveries, please see "A Very Rare Book: The Mystery Surrounding a Copy of Galileo's Pivotal Treatise" in The New Yorker from December 16, 2013. Click here for the article.
Latin 302: Roman Poems and Poetry Books collaborates with Special Collections and the Book Arts Lab. In the fall of 2015, Latin 302 encountered ancient papyri, made and wrote on their own papyrus sheets, and connected ancient reading mannerisms to modern artists' books. Click here to see photos and learn more.
Art History 299: History of the Book from Manuscript to Print creates its own laser block. In the spring of 2015, Art History 299 had a series of classes in the Book Arts lab, where they experimented with various presses, designs, and methods to create their own prints. Click here to view a video of their work and learn more.