Welcome to Career Education at Wellesley
Hive 2020: Our strategy for supporting students in the wake of Covid-19
From need-blind admissions, through student support services, and into career planning, Wellesley is committed to creating equity and access to opportunity for all students. To meet the challenges of this moment, Career Education has designed a holistic strategy to focus our advising, generate new opportunities, and activate the Wellesley network. 
Summer 2020 Career Resources
There's plenty you can do this summer to continue your career development, but sometimes it can be difficult to know where to begin. We've added easy links below to some of the resources that may be the most helpful for you in the coming months.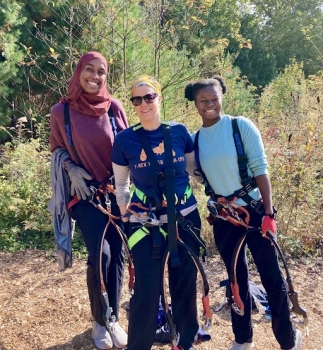 Alumnae: share a job or internship opportunity!
Sharing opportunities on The Wellesley Hive is one critical way you can support students (particularly seniors) and alumnae who are navigating the challenging job market created by the COVID-19 pandemic. The Hive is also a place you can search for opportunities and mentorship if you have been affected by the outbreak.
Throughout my time at Wellesley, the advisors at Career Education were instrumental in helping me navigate the labyrinth of academia and pointing me toward resources and opportunities that would help me achieve my goals.
I am incredibly thankful for the part Career Education played in my internship journey. From the beginning, my career mentor was there to brainstorm, encourage, and motivate me to pursue an internship that aligned with my interests.
student satisfaction in 2018–2019 after in-person appointments (on par with 98% in 2017–2018)
2017 NACE Career Services Excellence Award & 2017 Eduventures Innovation Award
96% of Class of 2019 graduates were employed, accepted to graduate school, participating in a service/volunteer program, or serving in the military within 6 months of graduation