Commencement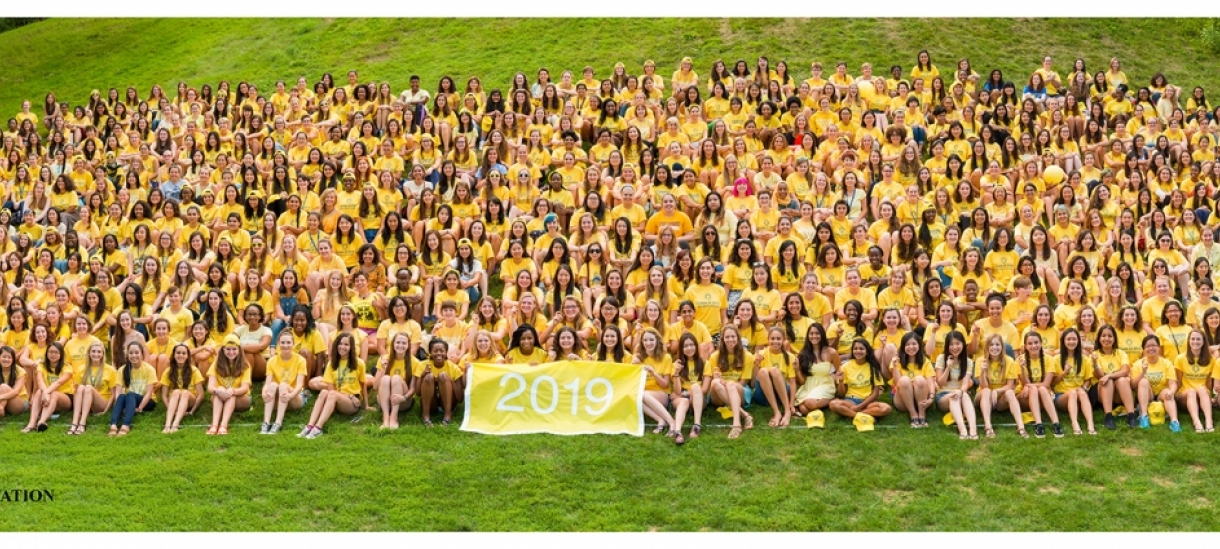 Schedule of Commencement Events for the Class of 2019
+
RELIGIOUS OFFERINGS: Our goal is to be inclusive of all religions. Learn about plans for commencement Religious Accommodations.
The Wellesley College 2019 Commencement coincides with the month of Ramadan, a special time for Muslims commemorating the revelation of the Quran. The month occurs this year between May 5 - June 4, 2019, and many Muslims will be observing the traditional fasts from dawn to sunset. The following arrangements have been made to make this experience as comfortable and enjoyable as possible:
The Office of Religious and Spiritual Life is hosting a Commencement Iftar Dinner on May 30, 2019 for seniors, their families, and friends. Please RSVP here. For questions, please contact Amira Quraishi Interim Dean of the Office of Religious and Spiritual Life at aquraish@wellesley.edu.
While families are on campus for Commencement, a comfortable lounge area in the library (first floor) and Lulu 305 (from 5pm-9:30pm) will also be set up for a place to rest or perform their daily prayers.
For family members who would like to view the ceremonies from air-conditioned spaces, they are welcome to do so in the Library Lecture Room for Baccalaureate on May 30th and in Collins Cinema, Jewett Auditorium, and Pendleton East for Commencement on May 31.
This schedule is subject to change with the exception of Commencement Exercises.
Wednesday, May 29, 2019
2:00 p.m. Commencement Rehearsal (seniors only, attendance is required)
Severance Green Tent
Students should arrive to the Academic Quad by 1:45 p.m.
Thursday, May 30, 2019
10:30‐11:45 a.m. Sigma Xi Initiation (seniors and guests)
Jewett Auditorium
Noon‐1:30 p.m. Picnic Lunch (seniors and guests)
(Tickets may be purchased; Ticket cost and reservation method will be posted by March 2019)  
Tower Courtyard and Dining Hall
1:15 p.m.‐1:30 p.m. Senior Class Picture (seniors)
(photos available for purchase from Panfoto)
Severance Green Hill
2:00 p.m. Baccalaureate Celebration (one guest ticket per senior)
(One ticket distributed to on-campus mailboxes of each graduate)
Houghton Chapel, Multifaith Center, adjacent Lawn Tent, and Library Lecture Room
3:45‐4:45 p.m. Reception following Baccalaureate (seniors and guests) 
Lulu Chow Wang Campus Center, first floor
4:30 p.m. Legacy Photograph 
Hay Outdoor Theater
5:00 p.m. Phi Beta Kappa Initiation (seniors and guests)
Jewett Auditorium
8:00 p.m. Baccalaureate Concert (seniors and guests)
Houghton Chapel and Multifaith Center
8:00 p.m. Community Dinner, Celebrating Ramadan (advance reservations required)
Please RSVP here. For questions, please contact Amira Quraishi Interim Dean of the Office of Religious and Spiritual Life at aquraish@wellesley.edu. 
Location TBD
Friday, May 31, 2019  (Commencement Day)
9:20 a.m. Procession Formation (seniors and faculty)
Seniors - Academic Quad,  alphabetically
Faculty - Outside of Founders Hall, on Jewett Road
10:30 a.m. Commencement Exercises (seating opens at 8:30 a.m.)(also live streamed)
Severance Green Tent, air conditioned spaces in Collins Cinema, Jewett Auditorium, and Pendleton East
1:15‐3:30 p.m.* Complimentary Light Lunch & Reception (seniors and guests)
Chapel Lawn Tent, *Following Commencement
1:00 - 2:15 p.m. Diploma Pick-Up (seniors only)
Clapp Library
Class of 2019 orientation photo courtesy of Panfoto