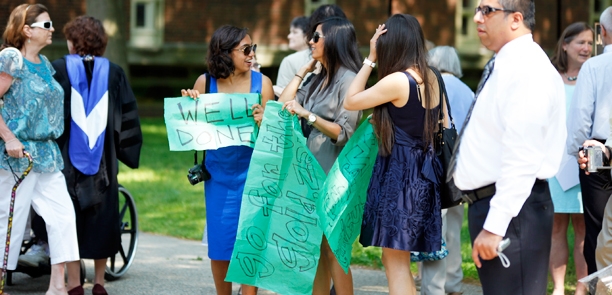 We aim to make Commencement activities accessible to all students and their supporters.
Students or guests needing disability accommodations during Commencement should make accommodation requests using the Disability Accommodation Requests online form by May 17, 2019. Late requests will be responded to depending on availability.
Commonly Requested Accommodations
Manual Wheelchair for use during Commencement
Requested wheelchairs will be available on the morning of Commencement. Your family member will need to sign for the chair at pickup and return it by 3:00 p.m.  To rent a wheelchair privately, you may contact Byrne Home Health Center in Natick by calling 508-655-3656.
Accessible Seating because of a mobility, hearing, seeing, or health-related disability or impairment
There is limited seating capacity in the accessible areas of the Severance Green Tent, as well as indoors at Alumnae Hall Auditorium.  When registering for accommodations, please alert us if you would prefer to use one of the tickets for the main tent your student has been allotted, or if you would prefer to have seating indoors at Alumnae Hall Auditorium, which is air conditioned.  We will do our best to accommodate your first choice.  
Accessible Seating with Aisle Space for a guest using a wheelchair
Please make a request to ensure enough maneuvering and aisle space.
Accessible Drop-off Area.
There will be a drop-off area at Commencement for guests with disabilities who request this and are being driven to the ceremony.
Accessible Parking Area
A designated parking area will be provided for guests who have mobility impairments and are driving themselves and make this request.
Transportation between Parking Area, Ceremony, and Reception with lift-equipped Van
Transportation will be available upon request to get guests with disabilities to and from parking, the ceremony, and the reception.
Interpreters, Transliterators, and Captioning for  individuals  who are deaf or hard of hearing
Requests may be made for a sign language interpreter for American Sign Language (ASL), Signed English, Cued Speech, and Video Captioning Seating.
Alternative-Format Programs for individuals who are blind or have low vision 
Requests may be made for audio, large print, or Braille Commencement programs: Please make your request for a large print or Braille Commencement program early to allow for production time.
Accessible Routes Campus Map
This map contains accessible entrance locations and the most level pathways across campus is available online and may be printed as a  PDF
For Disability Accommodations needed during Commencement, please make requests using this online form.  If you have questions about any disability-related need, please email DisabilityServices@wellesley.edu, or call 781-283-2434.