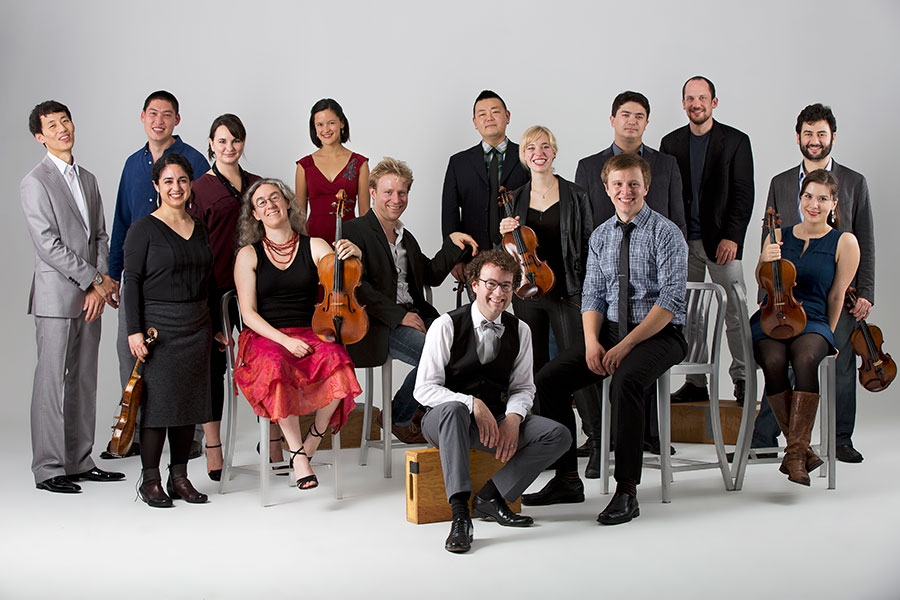 A Far Cry in Concert
The acclaimed Boston-based, self-conducted chamber orchestra's performance kicks off its Music Department fall residency.
Sep 22, 2018, 7:30 PM
Jewett Auditorium
Free and open to the public
A Far Cry stands at the forefront of an exciting new generation in classical music. According to the New York Times, the Grammy-nominated self-conducted orchestra "brims with personality or, better, personalities, many and varied." A Far Cry was founded in 2007 by a tightly knit collective of 17 young professional musicians—the Criers—and since the beginning has fostered those personalities, developing an innovative structure of rotating leadership both on stage and behind the scenes. A Far Cry expands the boundaries of orchestral repertoire and experimenting with the ways music is prepared, performed, and experienced; the group has been embraced throughout the world, with hundreds of performances coast to coast and across the globe, and hundreds of thousands of online views of live-streamed concerts and YouTube archives. Dreams and Prayers and Law of Mosaics, the first albums from A Far Cry's in-house label, Crier Records, have collectively garnered a Grammy nomination and critical acclaim from the New Yorker's Alex Ross.
The Criers are proud to call Boston home, and they maintain strong roots in the city, rehearsing at their storefront music center in Jamaica Plain and fulfilling the role of Chamber Orchestra in Residence at the Isabella Stewart Gardner Museum. Collaborating with local students through an educational partnership with the New England Conservatory, A Far Cry aims to pass on the spirit of collaboratively empowered music to the next generation.
For this concert, A Far Cry presents a program inspired by explorers seeking out the fringes of the known world. John Corigliano's Voyage, which depicts Charles Baudelaire's poem "L'Invitation au voyage," serves as prelude, giving way to a suite from Rameau's Les Indes galantes, the French baroque composer's imagining of the music of the New World. Then, they will present two works inspired by famed travelogues: Claude Vivier's Zipangu, the name Marco Polo gives to Japan, a land he never visited but heard about from other travelers, and a new work composed by and featuring Turkish American composer Mehmet Sanlikol, based on the fantastical travelogues of 17th-century Ottoman Evliya Çelebi.
This event will be livestreamed via https://www.wellesley.edu/live
Residency and concert generously supported by the Wilson Fund and the Florence Jeup Ford '22, Mary M. Crawford '22, and Virginia Ford '48 Artist in Residence Endowment Fund.