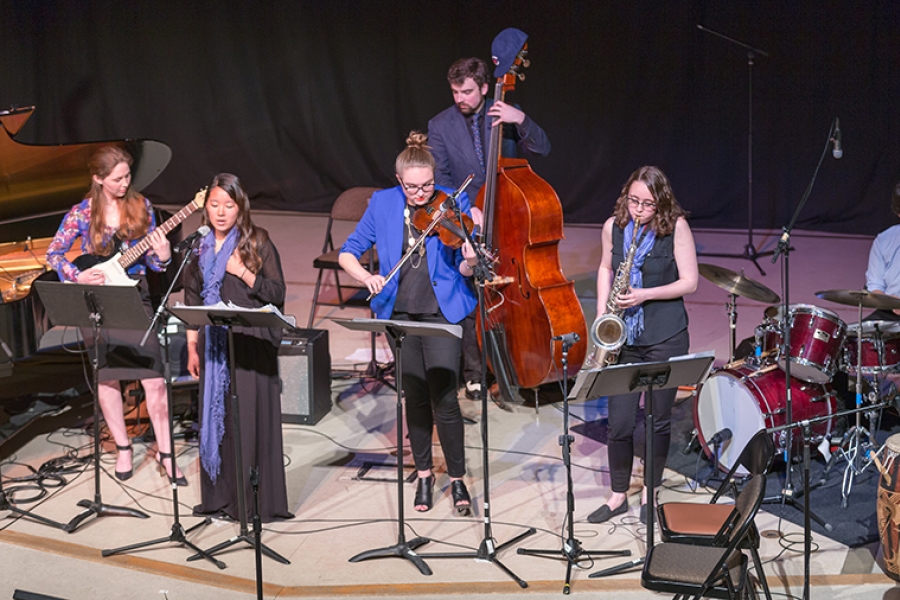 BlueJazz Strings and Combos Spring Concert
Paula Zeitlin, Director
Apr 26, 2019, 7:30 PM
Jewett Auditorium
Free and open to the public
Join us for a lively cabaret-style evening as our wonderful instrumentalists and vocalists create the interplay between group and individual expression, weaving together musical influences from around the world, in the best of small-ensemble jazz.
The Wellesley BlueJazz Ensemble Program includes Wellesley BlueJazz Big Band and BlueJazz Combos. Students are immersed in a rich jazz repertoire, from classic to contemporary. Faculty-directed rehearsals encourage the development of fluency in jazz improvisation, and guest artists offer workshops and clinics. The ensembles perform throughout the year on campus and with other colleges in the Boston area.
This performance will also be livestreamed at wellesley.edu/live.
For questions, please contact: concerts@wellesley.edu. For disability services, please contact: jwice@wellesley.edu.