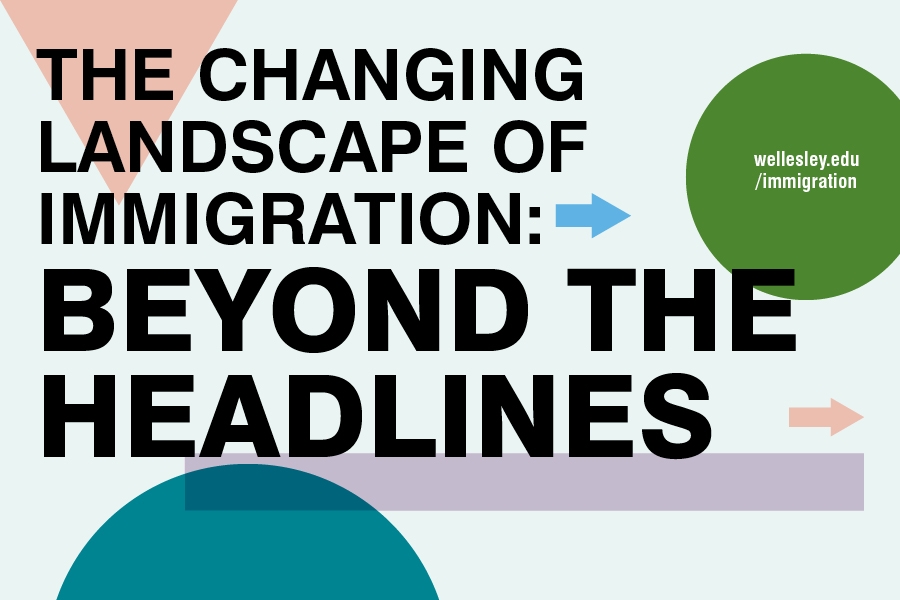 The Changing Landscape of Immigration: Beyond the Headlines
Feb 27, 2019, 12:30–1:45 PM
Alumnae Hall Ballroom
Free and open to the public
The Slater International Center and Working Group on Immigration Policy invite you to a disucssion on the state of immigration today. Lunch will be provided. Please RSVP here.
Much of immigration policy is quietly affecting our communities. The three panelists will offer points of view we don't usually hear in the news and will bring the national conversation to our local community. The panelist will discuss various topics including DACA, asylum, changing immigration policies, and ways to be involved. They will discuss these issues through the lens of law, social justice, history, and advocacy.
Moderator:
Jennifer Musto is an associate professor of Women's and Gender Studies at Wellesley College. Her scholarship and teaching explores gender, sexuality, race, technology, neoliberalism, and globalization.
Speakers:
Patricia Montes is the executive director of Centro Presente, one of the longest standing immigrant-led, immigrant rights organizations in Massachusetts. She is a recognized immigrant rights leader and a tireless advocate for just economic and social policies, including a just U.S. immigration policy. She has served as the Board Chair of the Boston Women's Fund and is currently on the Executive Board of Alianza Américas. She has also been a member of an international human rights mission to Mexico and Central America assembled by Consejería CAMEX which has documented the violations of human rights of migrants in their travels from Central America to the United States. Patricia has presented on the results of the mission in Latina America, Washington, DC and Geneva. She is also the producer of the The Invisible Crisis: the Female Face of Forced Migration documentary.
Dan Berger, Esq., is a partner at the immigration law firm of Curran, Berger & Kludt in Northampton, MA. He is a founding member of the US Alliance of International Entrepreneurs usaie.org, an Honorary Fellow of the American Academy of Adoption Attorneys, the Regulatory Practice Coordinator for the National Association of Foreign Student Advisers (NAFSA), and a member of the USCIS Headquarters liaison committee for the American Immigration Lawyers Association (AILA). He wrote an Issue Brief for the American Council on Education (ACE) after the 2016 election, and was a co-author on a on immigration in 2017 for the National Association of College and University Attorneys (NACUA).
Aviva Chomsky is a professor of history and coordinator of Latin American, Latino, and Caribbean Studies at Salem State University. Her books include Undocumented: How Immigration Became Illegal (2014), A History of the Cuban Revolution (2011), Linked Labor Histories: New England, Colombia, and the Making of a Global Working Class (2008), and They Take Our Jobs! And Twenty Other Myths about Immigration (2007). She has been active in Latin America solidarity and immigrants' rights movements for several decades.
For questions, please contact: slatercenter@wellesley.edu
This event is co-sponsored by the Slater International Center and Working Group on Immigration Policy.