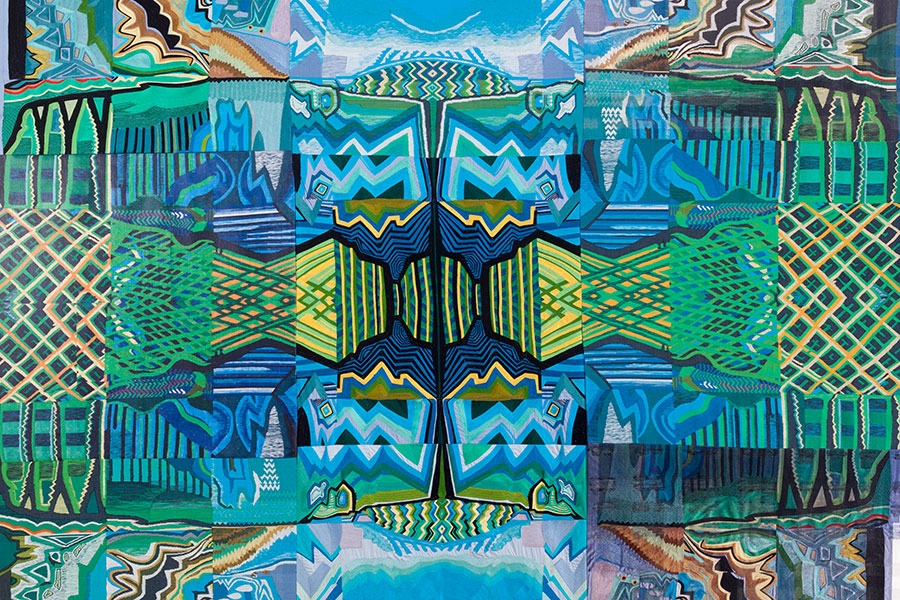 Kanishka Raja: I and I
Sep 13, 2019–Dec 15, 2019
Joan Levine Freedman '57 and Richard I. Freedman Gallery
Free and open to the public
Painter Kanishka Raja transforms a hybrid inheritance—the post-colonial confluences of an urban Indian childhood, familial roots in textile manufacture and clothing design, liberal arts and studio education in the US, bi-national footing in New York and Kolkata—into gorgeously patterned and painted work that both reflects and exceeds its foundational elements. As the artist put it, his practice "explores the intersection of representation, craft, technology, and the gaps that occur in the transmission of information." At once conceptually heady and aesthetically alluring, Raja's series, I and I, combines traditional painting with woven, scanned, printed, embroidered, and reproduced counterparts. Strategies of variation, repetition, reversal, and mirroring converge in "composite fields that tap into oppositions—the technological versus the handmade, original versus reproduction, and neutral versus contested."
Born in Calcutta in 1969, Kanishka Raja lived and worked in New York and Kolkata until his death in 2018. He received a BA from Hampshire College, an MFA from the Meadows School of the Arts at Southern Methodist University, and attended the Skowhegan School of Painting and Sculpture. 
Raja's work has been exhibited nationally and internationally with solo presentations at the Barbara Walters Gallery at Sarah Lawrence College, the Rosenwald-Wolf Gallery at the University of the Arts, Philadelphia, Greenberg van Doren, Jack Tilton Gallery, and Envoy, in New York, and Galerie Mirchandani + Steinrücke, Mumbai; and group exhibitions at the Asia Society Museum, NY, the Institute of Contemporary Art, Boston, the Dorsky Museum of Art at SUNY, New Paltz, ICA Philadelphia, and the Rose Art Museum, among others.
Raja received a Painters and Sculptors Grant from the Joan Mitchell Foundation and the ICA Artists' Prize from the Institute of Contemporary Art, Boston; and was awarded a Lower Manhattan Cultural Council (LMCC) Workspace Residency, a Fellowship at the Civitella Ranieri Center in Umbertide, Italy, and an NEA funded residency at the International Studio & Curatorial Program (ISCP), New York. In 2016, he completed work on a major Percent for Art commission from the Department of Cultural Affairs, New York City for a permanent public artwork.
Co-curated by Lisa Fischman, Ruth Gordon Shapiro '37 Director of the Davis Museum, with Laylah Ali, the Francis Christopher Oakley Third Century Professor of Art at Williams College.
Generously supported by:
the Wellesley College Friends of Art at the Davis, the Alice Gertrude Spink Art Fund (1963), the June Feinberg Stayman '48 Art Fund, Davis Museum Endowed Fund for International Cultural Programs, The Helyn MacLean Endowed Program Fund for Contemporary and South Asian Art, and The Mildred Cooper Glimcher '61 Endowed Fund. The catalogue has been realized with additional funds generously provided by Prateek and Priyanka Raja, Jane DeBevoise, Jane Penner, and Juli Raja.
Image Credit:
Courtesy of the Artist's Estate and Juli Raja, © Kanishka Raja,
Photo: Steve Briggs