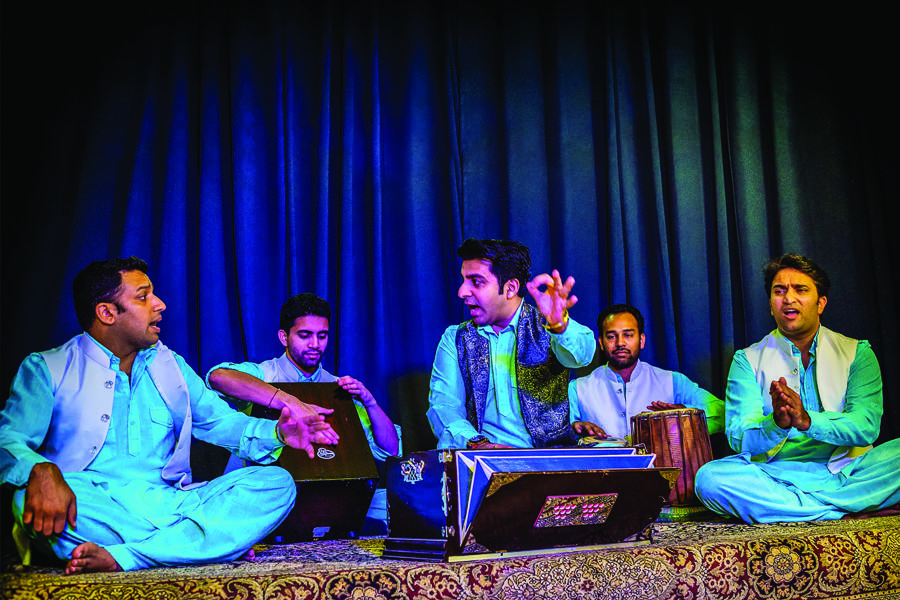 Guest Artist: Riyaaz Qawwali
Feb 23, 1 PM, Feb 24, 7:30 PM
Jewett Auditorium
Free and open to the public
Riyaaz Qawwali performs the gripping music style called Qawwali or Sufi Music. The qawwali singers represent the diversity and plurality of South Asia. The ensemble's musicians, who are settled in the United States, hail from India, Pakistan, Afghanistan, and Bangladesh and represent multiple religious and spiritual backgrounds. Trained in eastern and western classical music, the members have been professionally performing qawwali for the past 15 years. With conservative growth and heightened attention to quality, Riyaaz Qawwali has performed across the continental U.S., in Panama, and debuted in Europe in 2017.
Midday Muse: February 23, 1:00pm
Concert: February 24, 7:30pm
Riyaaz Qawwali's mission is to expose qawwali to new audiences, while still paying homage to traditional qawwali that has been in existence for 700+ years. Riyaaz Qawwali combines the unique genre of qawwali with works from poetic giants like Mirza Ghalib, Amir Khusrow, Bulleh Shah, Mir Taqi Mir, Sant Kabir, and Guru Nanak, and in doing so, hopes to expose these poets' works to new audiences and younger generations.
Masks are required in the venue. Please note, all visitors to the College must be vaccinated and complete the visitor registration form (the Wellesley contact for the form is concerts@wellesley.edu).
The Friday concert will be livestreamed on the Concert Series YouTube channel, and the Thursday Midday Muse can be viewed online within two weeks of the event date.
For more information, please contact:
concerts@wellesley.edu