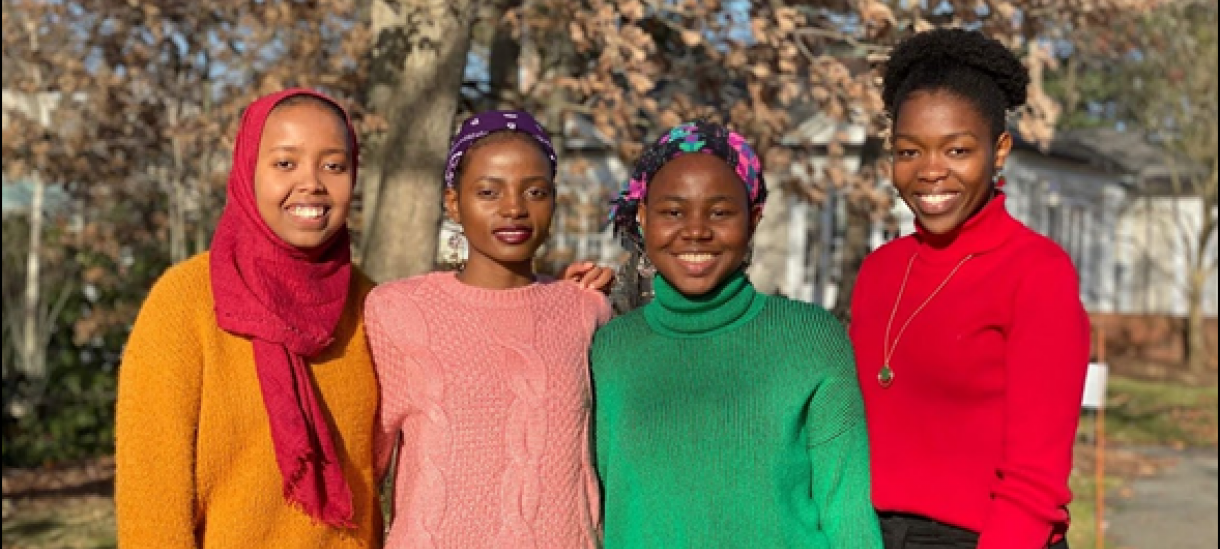 About Our Mastercard Foundation Scholars Program
Mastercard Class of 2021 members Shukri (left), Yeukai (center left), Oluwakemi (center right) and Irene (right) enjoying a 2019 cool winter breeze on campus.
Holistic Support Enables Scholars' Success
This Program, in tandem with its carefully selected partners, will help promising young people build experiences, values, and competencies critical to success in the economy, such as critical thinking, problem solving, and working across diverse groups. Please note, the last Mastercard Foundation Scholars at Wellesley College were admitted in Fall 2019.
Wellesley College is one of the partners carefully selected for its shared values, academic excellence, nurturing environments, and programs relevant to growth in Africa. From the Class of 2017 through the Class of 2023, Wellesley will provide a total of 23 African women with comprehensive support that includes scholarships, mentoring, and internship opportunities. Scholars will build experiences, values, and competencies that are critical to success in the global economy and enable them to give back to their communities and home countries. 
The Mastercard Foundation Scholars Program at Wellesley, a women's college, goes beyond traditional scholarships. The holistic, four-year support includes: (1) Comprehensive scholarships: Support for tuition, fees, books and supplies, room and meal plan, and more. (2) 21st-century skills: Training in skill areas relevant to employment success. (3) Transition assistance: Mentoring, career counseling, leadership development, and other life-skills coaching. (4) Internships and career opportunities: Access to job opportunities across the African continent. (5) Give-back support: Experiential learning and opportunities for volunteerism and community service.