Supported Browsers
Windows: Internet Explorer 8+; Firefox 52+ ESR (here are the instructions); Chrome 50+
Macs: Safari 4+; Firefox 52+ ESR (here are the instructions); Chrome 50+
Known Browser Issues
General Error: When you're off campus, Banner Self-Service doesn't load or times out when you try to access it.
Solution: Certain internet service providers block ports that Banner Self-Service needs to run. The best solution is to log into Wellesley's SSL VPN and to try accessing Banner Self-Service again.
General Error: You can print only one page when you try to print from MyWellesley.
Solution: Follow the instructions at Print from Banner Self-Service in MyWellesley to print multiple page documents.
General Error: You try to login and see this error message: "A break-in attempt was attempted".
Solution: The error message means that you are logged into MyWellesley/Banner Self-Service twice.  Log out of all pages, close all browsers, and open a new browser. Do not clear cookies or cache to try to fix this issue.
General Error: You try to access Banner Self-Service and see strange code.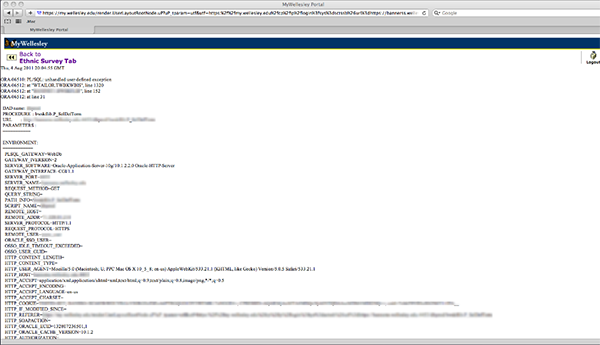 Solution: Email the Computing Help Desk to report your issue. Please include either a screen shot or copy and paste the code into your email. There is an issue with your account.