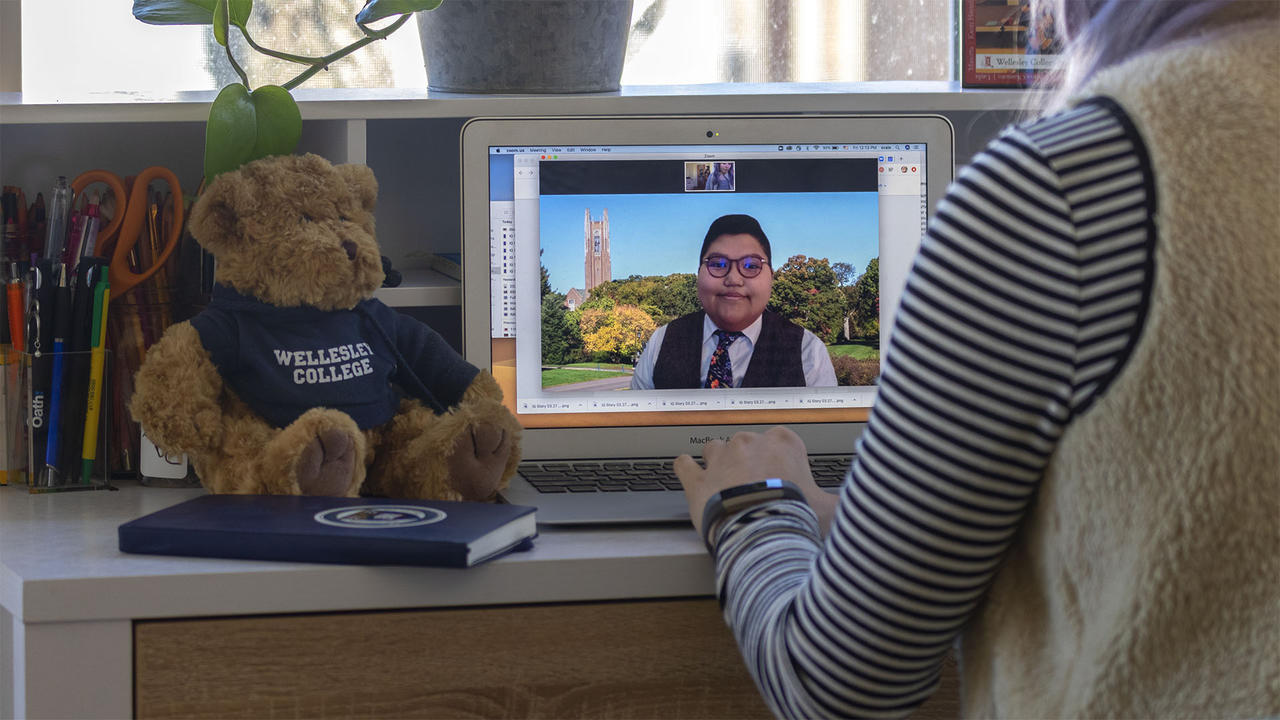 Meet AJ Guerrero, Wellesley's New Coordinator for LGBTQ+ Programs and Services
On International Transgender Day of Visibility (TDOV), the Wellesley community comes together to raise awareness of the discrimination faced by transgender people worldwide. Though the College can't honor the day on campus as planned, because of the shift to remote instruction for the rest of the semester, AJ Guerrero, Wellesley's new coordinator for LGBTQ+ programs and services, encourages the community to participate in an online presentation by the TDOV SF 2020 Planning Committee, and to follow the LGBTQ+ programs and services on their Facebook and Instagram channels, where they will be featuring various transgender leaders throughout the day. Guerrero also suggests reading about how to be a supportive ally, practicing and being intentional about inclusive language, and learning about transgender and gender nonconforming history.
Guerrero, who joined the College in January, shares more about why she came to Wellesley, and the resources and programs available to students throughout the academic year, especially during this time of remote instruction.
What drew you to Wellesley, and what excited you the most about joining the Student Life division?
My friend Ayana McCoy, assistant director of the Science Center, discussed enjoying her work at Wellesley College and participating in the inclusive excellence initiative. I knew I wanted to be a part of the active change that would promote success and strengthen a learning environment where students from all backgrounds feel supported, empowered, and challenged.
I was most excited about all the different possibilities to improve our LGBTQ+ students' experiences through the Student Life division. I have a few ongoing plans with campus partners, but in particular, I'm currently working with Residential Life community directors Pamela Cortés Ortiz and Martha Zamora to create more LGBTQ+ inclusive spaces, programs, and events. I believe it's important to cultivate inclusive learning communities, starting with where the majority of our students reside.
What was your college experience like?
During my time in college and graduate school—where I earned my BA in psychology with a minor in women's studies and LGBT studies from the University of North Texas and an MS in mental health counseling from UMass Boston—I had LGBTQ+ mentors who believed and were invested in my well-being and future. I believe those strong connections, seeing my mentors who were living their best lives and being authentically themselves, modeled for me what I want to recreate in the relationships I foster with the students I advise. These relationships also inspired me to focus my research on underrepresented and underserved communities and their psychological quality of life.
"LGBTQ+ mentors modeled for me what I want to recreate in the relationships I foster with the students I advise."

AJ Guerrero
What experiences are you hoping to create for students here at Wellesley, and how can students on campus and off campus access Wellesley's LGBTQ+ resources?
I'm planning programs and services that address our LGBTQ+ students' needs and support their academic, physical, emotional, and mental well-being that are assisted and encouraged by the different campus partners (both staff and faculty) here at Wellesley College. For TDOV, I had organized an in-person panel with transgender alums on careers as well, but we have postponed that event until the fall semester.
Considering the unknown length of time the COVID-19 pandemic will take place, I am uncertain of what types of programming and resources we're able to offer in the near future. My tentative plan is for the Office of LGBTQ+ Programs and Services to offer LGBTQ+ students virtual peer support groups in the next few weeks.
Currently, we are not able to offer on-campus access or appointments per Wellesley College's Response to Governor Baker's Stay-at-Home Advisory. However, we are continuously improving our online presence for students at home and on campus to still be able to access our services.
Students can feel free to email me to make an appointment to virtually meet over Zoom, follow our office on Facebook and Instagram, and sign up for the LCBTQ+ listserv for updates, resources, and fun opportunities for engagement.
Right now, many students may be feeling overwhelmed both physically and mentally with the ongoing pandemic. What advice would you give to our community members?
The COVID-19 pandemic is changing our personal realities as we continue to cope with our daily lives. It's understandable and natural that people are feeling overwhelmed by the change. I would suggest our community members reframe our goal to be present, actively explore the ways we are feeling and thinking. Do what is in our control (i.e. staying in our homes, washing our hands, and keeping six feet away from each other) and accept the things we can't. Be generous with our compassion—everyone is handling this pandemic in the best ways they believe they can while managing their own fears and anxiety, so practice patience with yourself and others.
Can you share one random fact about yourself with us?
I'm a part of an axe-throwing league in the Boston area. It's an exciting hobby and a great way to bury the hatchet!