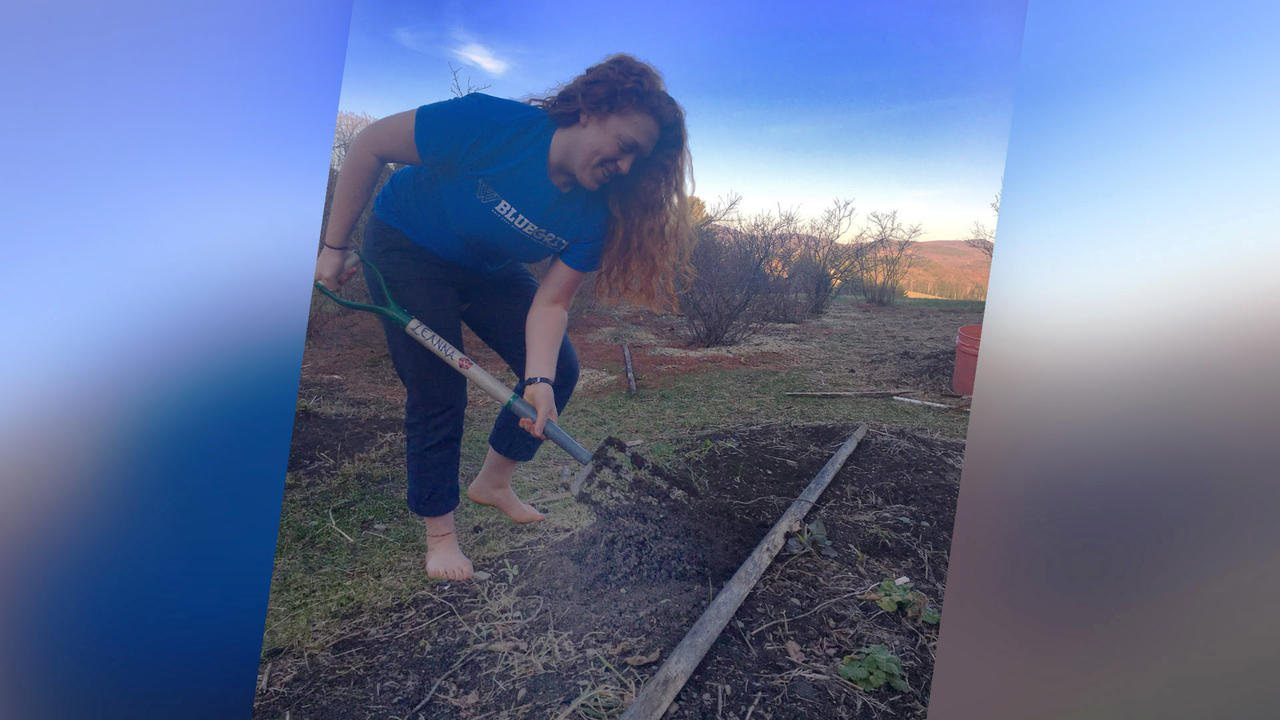 From Gardening to Climate Activism: How Wellesley Students Are Bringing Sustainability Home
When Wellesley students headed home early this spring, they brought their sustainability practices and activism with them—into their homes and communities, and to their fellow students as well.
Kelsey Gosch '20, an environmental studies major with minors in economics and engineering, started volunteering at the Natick Community Farm her sophomore year at Wellesley. Now home in Buffalo, N.Y., she's found a way to "keep playing in the soil and working with vegetables." Using locally sourced soil and seeds, she and a neighbor have built a community garden outside their homes, and what started as one raised bed could soon sprout into something bigger.
"You never know who has access [to fresh produce] and who doesn't," Gosch said. "The idea behind these community gardens is that anyone can pick what they need." As part of the Buffalo-area Seeding Resilience initiative, which is combating food insecurity during the pandemic, she plans to give away seedlings to help others build their own gardens. "I hope this project will inspire others to get more involved in growing their own food, whether contributing to existing plots or creating their own," Gosch said.
In East Montpelier, Vt., Cricket Liebermann '23 is continuing the climate activism she began in classes and student organizations when she arrived at Wellesley in the fall. She is taking courses online through Sunrise School, part of the Sunrise Movement, which have taught her more about the Green New Deal and how to organize effectively—particularly amid the COVID-19 pandemic.
Liebermann was also part of a group of Wellesley students who planned online activities to mark the 50th anniversary of Earth Day on April 22. Joining forces with other colleges and groups across the country, participants called for governments, institutions, and organizations to address climate change and advocated for a Green New Deal, continuing the global efforts related to worldwide climate strikes that started in the fall of 2019. "It has been challenging to figure out how to be an effective organizer and to get folks involved virtually," Liebermann said, "but we are taking advantage of the fact that many students are spending lots of time on social media."
When she's not organizing or honing her activism skills, Liebermann and her family are doing their part for the environment by growing their own food (including hydroponics for indoor growing) and composting—one of the easiest sustainability steps people can take at home. "Less trash and rich soil seems like a win-win to me!" she said.
"Being able to continue my work with EnAct has provided me with some semblance of normalcy. It's been a big part of my community at Wellesley, so staying connected helps make things feel a bit more OK."

Jess Ostfeld '20
As president of EnAct, Wellesley's student environmental action organization, Jess Ostfeld '20 has been keeping the group's members engaged from Bothell, Wash. Weekly dinnertime meetings in Lulu have now become a collection of faces on Zoom. "Being able to continue my work with EnAct has provided me with some semblance of normalcy," said Ostfeld, a biological sciences and environmental studies double major. "It's been a big part of my community at Wellesley, so staying connected helps make things feel a bit more OK."
On April 24, EnAct hosted its annual "Trump and the Environment" panel over Zoom. EnAct has been holding this event since Ostfeld's first year so that students can stay informed and discuss what the Trump administration means for environmental regulation and policy. During the panel, students asked faculty members about current environmental policy and how the pandemic is affecting the environmental movement. This year, EnAct was joined by Jay Turner, Erich Hatala Matthes, Jackie Hatala Matthes, Beth DeSombre, and Natali Valdez. "We are so lucky to have such well-informed and eloquent faculty willing to participate," Ostfeld said.
In addition to her work with EnAct, Ostfeld has been practicing sustainability from home while sheltering in place. Her family is getting produce through a community supported agriculture (CSA) share with a local farm, and she has been mending her clothes to make them last longer. She's also planning to plant fruit trees in her yard in the fall.
As an intern in the College's Office of Sustainability, Shruti Samala '21 has learned all about food processes and consumption at Wellesley: where dining hall food comes from, how scraps are processed, and how to properly dispose of different kinds of waste. Using this knowledge, she's helped Olivia Shehan, the campus sustainability coordinator, put together a list of zero-waste guidelines. This semester, she began making stronger connections between this knowledge and her own actions, incorporating practices from her mindfulness class into her everyday life. "For instance, I would walk around campus without looking at my phone, I would note five things I was grateful for at the end of the day, and I would dedicate some time in the morning to do focused breathing," she said.
As a double major in psychology and environmental studies, Samala understands that mindfulness can play an important role in sustainability, and these practices "have helped me be more conscious of my actions and consumption patterns." Now home in Bangalore, India, Samala continues to separate trash from recyclables, take short showers, and eat vegetarian.
For those interested in beginning to practice mindfulness, Samala recommends starting with small goals and taking it one day at a time. "Start by taking five or 10 minutes to sit without distractions every day," she said. "If you're looking for more structure, download an app that offers guided meditation, or join Buddhist chaplain John Bailes' mindfulness classes on Zoom."