Relive Memorable Moments from the 2019-2020 Athletics Season
Take a look back and celebrate some of the highlights from the 2019-2020 season from the Department of Physical Education, Recreation, and Athletics (PERA), one that was left largely unfinished due to the COVID-19 pandemic.
"Despite the disappointment and heartbreak that has come with these circumstances, it is important to reflect on and to celebrate everything that our student-athletes, especially our seniors, have accomplished." said Bethany Ellis, director of athletics and chair of PERA. "While we could not cheer for them in competition this spring, we should not forget the enthusiasm, commitment, and pride that they have exuded over their time at Wellesley."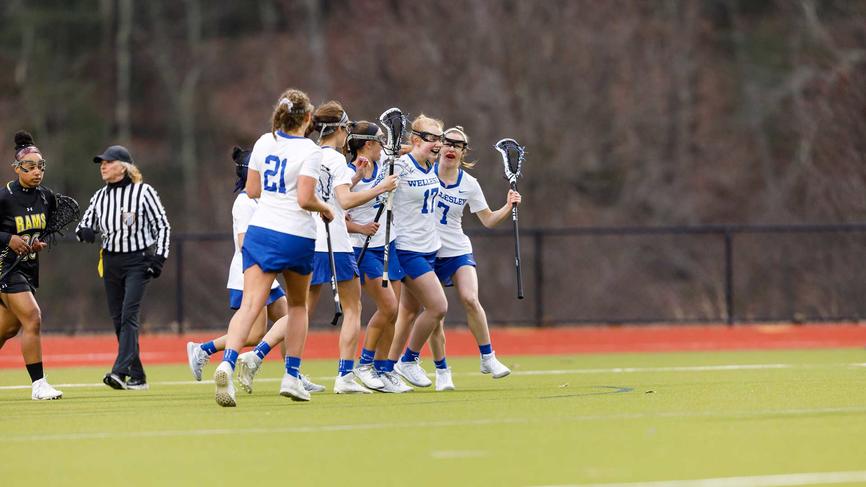 PERA reached new heights last fall, including a program-best finish for the Blue crew team and a third straight NCAA appearance for the Blue volleyball team. That success continued into the winter season, where the fencing team set a program record for victories in a season, Caitlin Aguirre '20 became the 12th basketball player in program history to score 1,000 career points, and swimmer Jessica Wegner '22 qualified for her first NCAA Championship appearance.
Unfortunately, just days before Wegner's scheduled trip to NCAAs, COVID-19 forced the cancellation of all NCAA winter championships and the entire spring athletics season. The lacrosse season came to an end after four games, the tennis season stopped following a victory that propelled the team into the national rankings, and the crew team, ranked No. 2 in the nation following a record-breaking fall, missed the chance to compete for a national title.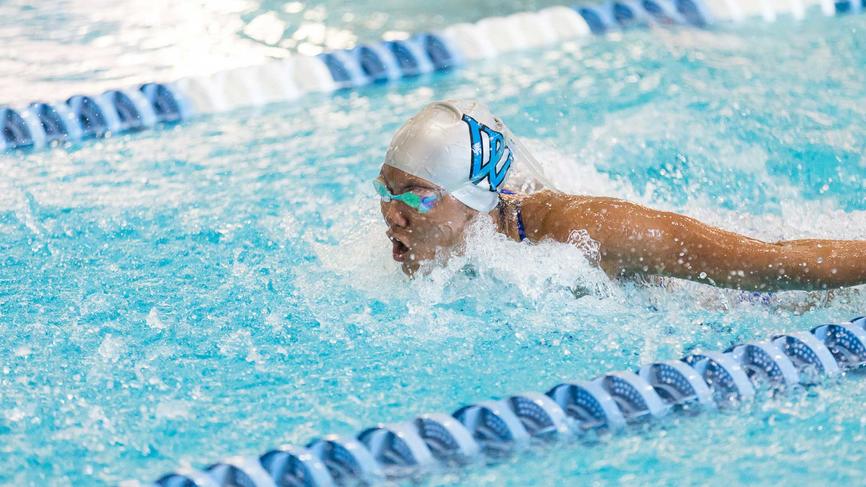 While Wegner was unable to compete at the NCAA Championships, each of this year's qualifiers was named an All-American by the Collegiate Swimming Coaches Association (CSCAA). "Jess was thrilled to have the opportunity to represent Wellesley College at the national level and was poised to swim very well," said Bonnie Dix, head swimming coach. "Her resiliency and competitiveness will undoubtedly help guide her back to an NCAA appearance."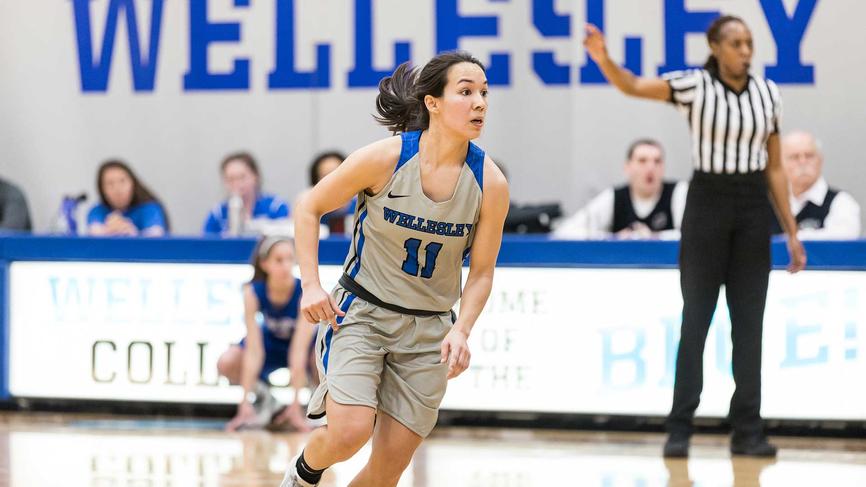 Aguirre was named co-recipient of the Barbara Barnes Hauptfuhrer '49 Scholar-Athlete Award, PERA's highest honor for a graduating student-athlete. "She is someone that understands and values differences," said Jennifer Kroll, head basketball coach. "Knowing that differences can be a barrier to building positive relationships with others, Caitlin possesses the emotional intelligence and experience to be able to break down those barriers. This is what has helped her to be such a successful and impactful leader for our team, but more importantly, for our campus."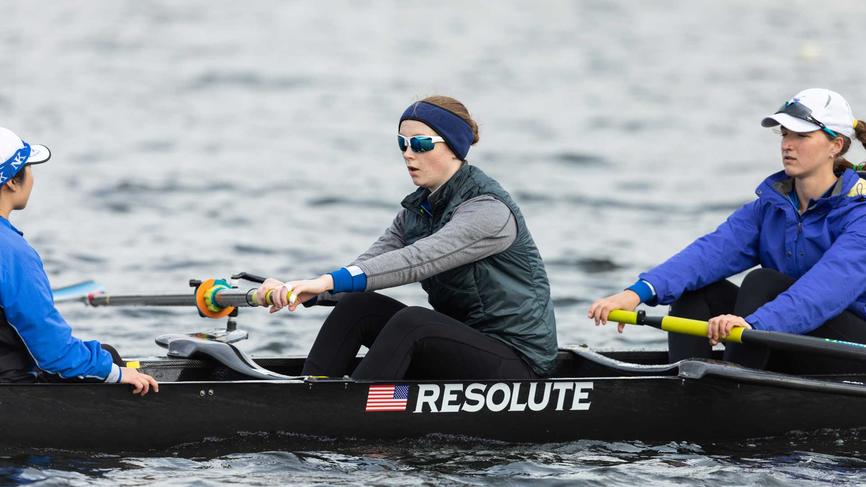 Aguirre shared the Hauptfuhrer Award with Frances Dingivan '20 of the crew team. Dingivan joined the team as a walk-on in 2016 and worked her way to its top boat. "She has been the heart and soul of our varsity eight since her sophomore year," said Tessa Spillane, varsity crew head coach. An All-American in 2019, she, like her senior classmates, had hoped to chase the NCAA national title in 2020. "I have no words to ease the pain of losing the chance to win that trophy," said Dingivan to her teammates in emotional acceptance remarks after receiving the award.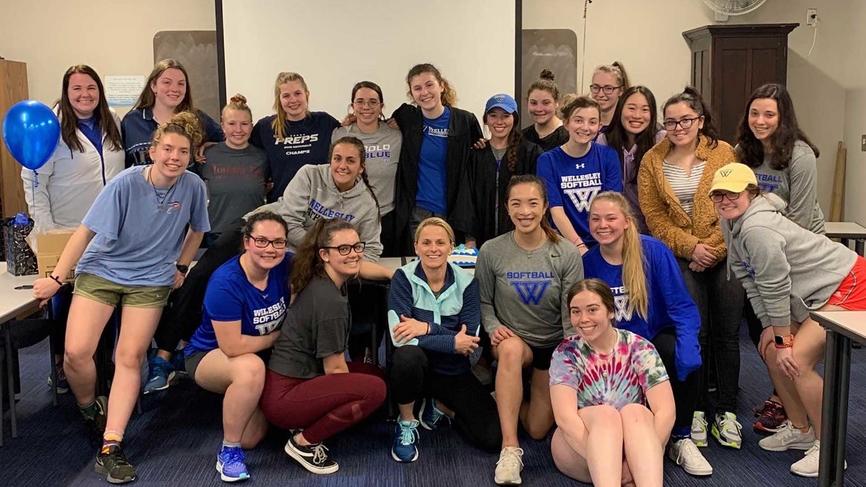 The crew team was one of six that lost the opportunity to compete throughout the spring season, along with golf, lacrosse, softball, tennis, and track & field. The teams quickly found ways to recognize their seniors, including this reception for softball players Autumn Brown '20, Kalei Oliver '20, and Kendall Smith '20, held in the Keohane Sports Center (KSC) classroom. "The KSC and softball field were vital spaces for me on campus," said Brown. "There, I found motivation, routine, and purpose, which helped me get through the hardest times these past four years."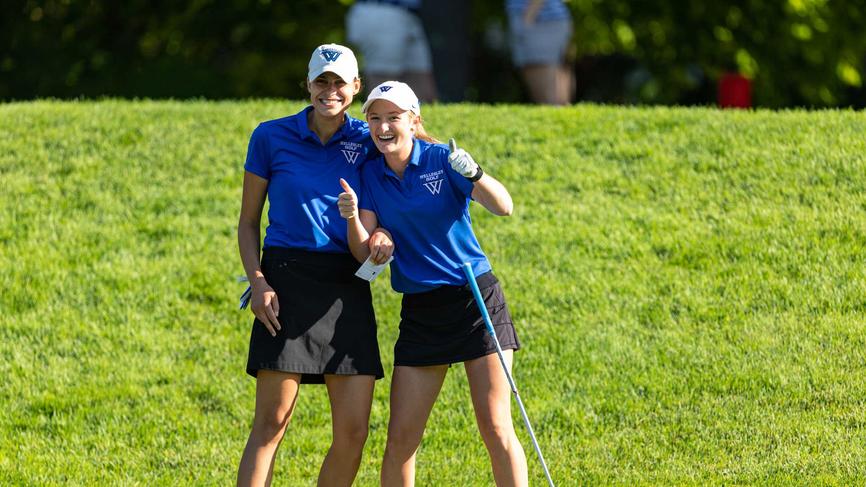 Like Brown, many of the student-athletes in the class of 2020 have been reflecting on the experiences of the past four years, focusing on the positives, their teammates, and their hopes for the future. "I know we were ready to go to great heights this spring," said golfer Olivia de Cuba '20, pictured here with teammate Ella Warburg '22 at last fall's Ann S. Batchelder Invitational. "I cannot wait to see what all of you will accomplish these next semesters and beyond."
To read more senior student-athlete reflections, visit wellesleyblue.com/classof2020.
Images courtesy of Frank Poulin.