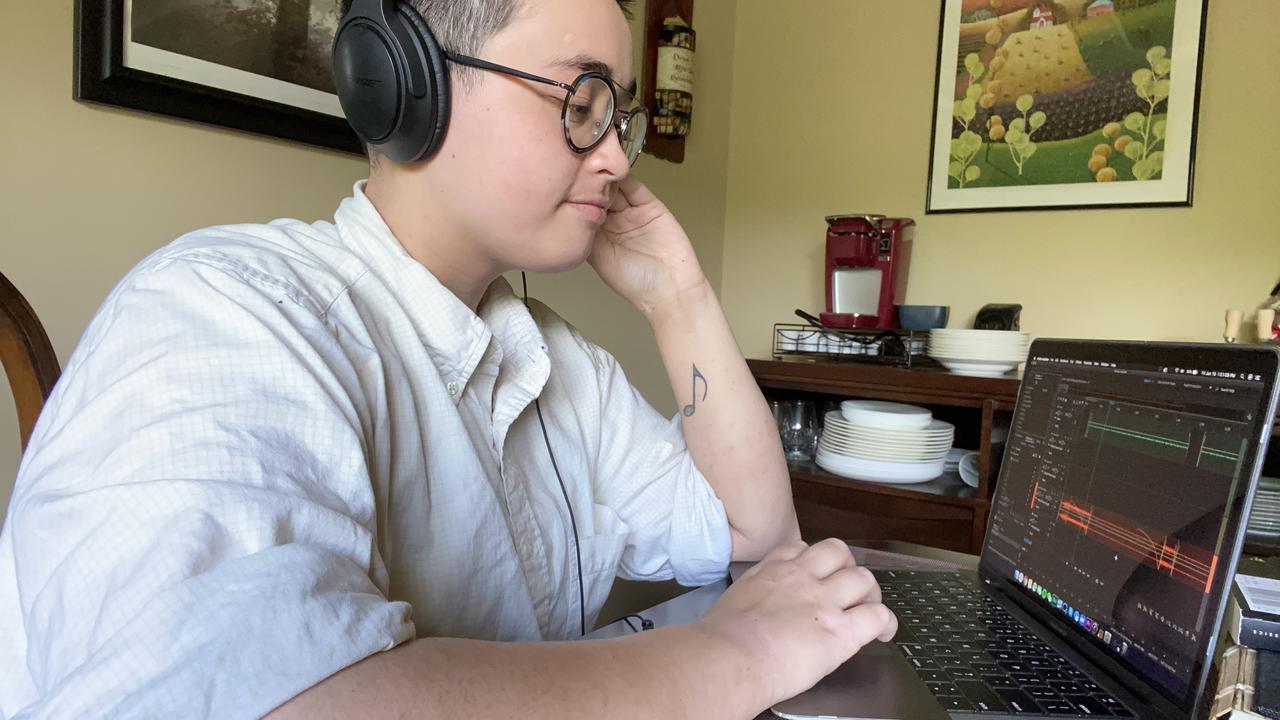 Celebrating Digital Scholarship at Wellesley: Three Student Projects Explore Climate Change, Girls' Education, and Improvisation in Music
On Digital Scholarship Day at Wellesley, the College recognizes the innovative technologies and methods faculty, staff, and students use throughout the year. Typically an in-person celebration, this year members of Library and Technology Services needed to adapt the event amid the COVID-19 pandemic. 
Shane Cox '18, makerspace technology coordinator in LTS, put out a request earlier in the spring for project submissions, and the LTS team developed a website to showcase work like culminations of independent research by students and infographics they had planned to present on campus, as well as non-academic pursuits. Faculty and staff also submitted work, including one professor's description of the experience of shifting to remote instruction this past spring, and another's podcast on Asians in Latin America. 
Below, read about some of the featured projects. All submissions can be viewed here.
"I had to grapple with how my contribution to climate change harms the way of life for past, present, and future Alaskans, especially those in rural communities."

Eva Venema '22
Endangered Alaska by Eva Venema '22
High school students in Alaska must take an Alaskan history course to graduate, said Eve Venema '22, who is from Palmer, Alaska. But climate change is notably absent from the curriculum. "The expectations set by the Alaska Department of Education and Early Development allow for quite a bit of room for interpretation," she explained. For her final project for ANTH 319: Nationalism, Politics, and the Use of the Remote Past, Venema created a lesson plan that draws on her own experience in her high school class. With bright graphics and easy-to-understand text, the plan outlines the imminent effects of climate change on urban dwellers and indigenous communities in Alaska, along with steps to mitigate damage. By posing questions about culture, land, and identity, Venema presents climate change as an issue that continues to impact communities, more visibly in Alaska than in other parts of the world.
Putting the project together was a lesson in itself, Venema said. "I had to grapple with how my contribution to climate change harms the way of life for past, present, and future Alaskans, especially those in rural communities," she said. "It made me realize this topic needs to be discussed not only within a scientific context, but also historically, politically, and culturally. If it isn't, we will never fully understand climate change's impact around the world and close to home." 
Going forward, Venema plans to get feedback from high school students and graduates in her district, and then she'll consider sending the lesson plan to teachers of Alaskan history and theory of knowledge at her high school.
Improving Girls' Education in Afghanistan by Tatia Bolkvadze '22, Taylor Mahlandt '20, and Jennifer Betancourt '22
In POL2 204: Political Economy of Development and Underdevelopment, students learned multiple development theories and discussed and evaluated the effectiveness of different development approaches. 
For their final project, Tatia Bolkvadze '22, Taylor Mahlandt '20, and Jennifer Betancourt '22 set out to "apply the acquired knowledge to design a development project from a practitioner's viewpoint," said Bolkvadze in an email. The three of them believe that education—specifically girls' education—is crucial to, and often overlooked, in development, so they researched why previous local proposals and development projects in Afghanistan haven't achieved widespread success.
"We wanted to offer solutions that would focus on involving and engaging local community members, rather than foreign groups, as it often happens in real-life cases," Bolkvadze explained. In their video, the group explores reasons why so many girls in Afghanistan don't go to school, such as a lack of female teachers, child marriage, and poor facilities, and proposes ways to increase girls' attendance and literacy: training more women to be teachers, organizing nongovernmental community education programs, and opening a women's vocational school. The students chose the video format "to convey a large amount of information in a precise and attention-grabbing manner," said Bolkvadze. 
The Transnationalism of Descarga by Grey Devlin '22
For MUS 300: Latin Jazz and Afro-Latin Experimentalism, Grey Devlin '22 put together a 35-minute podcast about the descarga, a Latin jazz jam session. "It's an idea that's come up throughout class, but I definitely got a more thorough look at its history by making this podcast," they said. Using excerpts from various recordings and information from background research, Devlin traces the descarga from Cuba to Puerto Rico to New York. 
"These fields of music and study are incredibly white-dominated, which is why it's important to study manifestations through the contexts of the various Black and Latinx diasporas I researched about for the podcast," said Devlin, who added that there is much more to improv than just playing notes on the fly. "Many think that improvisation is some ephemeral production of music that comes out of nowhere. In reality, it's a manifestation of practice, jam sessions, and social/cultural context. With that, I find it interesting to see how an artist represents themself in a given moment during a solo."
Devlin chose the podcast format to make their project more widely comprehensible. "I love reading music journals for class, but academic writing for music isn't always accessible, since descriptions of sounds and narratives will always be subjective and jargon-ridden," said Devlin. "I think the podcast format combats that by using conversational language and actually embedding the musical examples. Academic journals have their merits, but auditory learning works better for some students, myself included. I think that's why I'm a music major!"