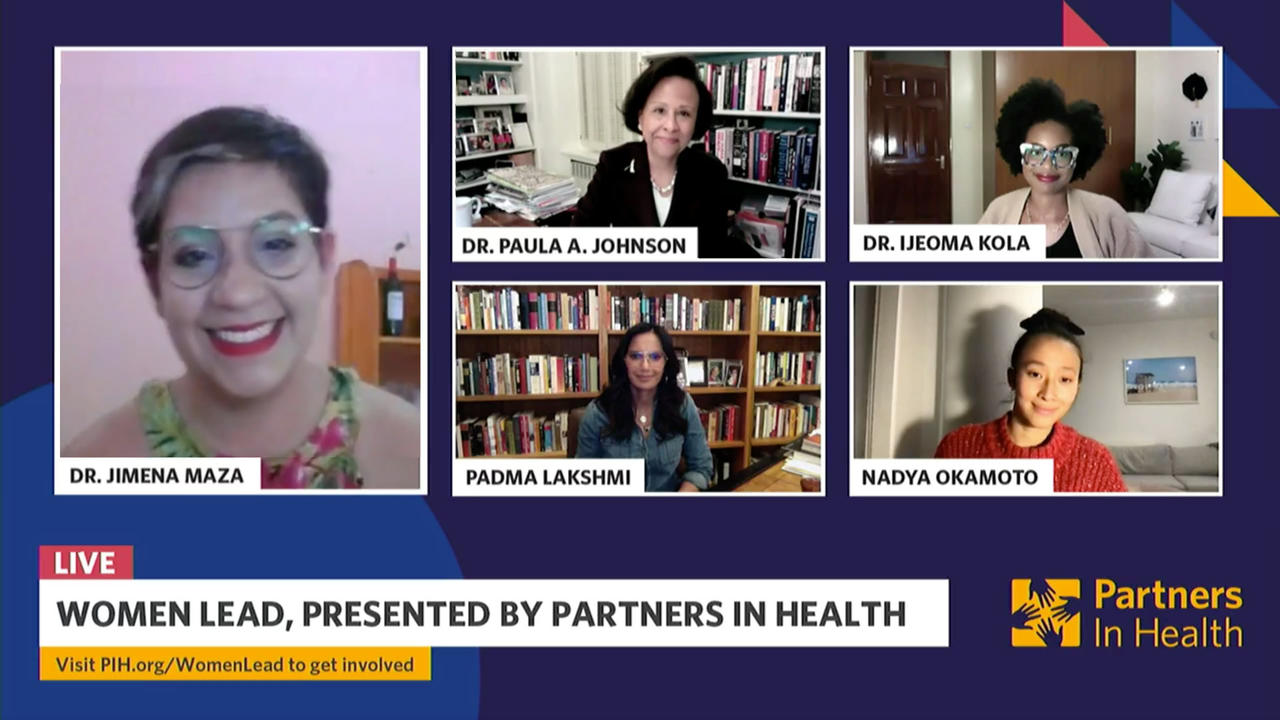 Women in Leadership: President Johnson Joins Conversation to Recognize International Women's Day
On March 8—International Women's Day—Wellesley President Paula A. Johnson took part in a panel sponsored by Partners In Health (PIH) on the topic of this year's theme, "Women in Leadership: Achieving an Equal Future in a COVID-19 World." She was joined by Ijeoma Kola, public health historian and founder of Cohort Sistas; Padma Lakshmi, TV host, producer, author, and UN Goodwill Ambassador; and Nadya Okamoto, author and founder of August and PERIOD. Dr. Jimena Maza, director of teaching and clinical care at PIH Mexico, moderated the conversation.
The discussion was wide-ranging, with the panelists addressing how the pandemic has affected their professional and personal lives, ways to increase the number of women of color in leadership positions, how society benefits from more women in leadership positions, and what they hope young women will gain from this year's International Women's Day.
"We've had years and years of research that has shown, absolutely, that when women are in leadership positions…there is thriving that happens in a way that is different from male leadership," Johnson said, regarding the impact of women leadership. "I think we have to view it as essential, truly essential, to the future of our world."
Lakshmi, while talking about giving women, and particularly women of color, access to leadership opportunities, encouraged women to seek out mentorships or to offer them, if they are in a position to do so. 
"What I really hope for young women and girls is for them to see themselves as the changemakers that can truly make equality possible."

President Paula A. Johnson
"The best thing you can do, and the only way you can have immortality," she said, "is to give your knowledge and your experience and the lessons that you have had to painfully learn to other people, so that they can carry on the work that you tried to do."
The panelists all spoke about their own experiences with the pandemic and lessons they've learned. "I do not understand how single moms do it," Kola said. She is the mother of a 1-year-old, and she said the pandemic has opened her eyes to the amount of support women need in order to work and raise children. Okamoto noted the pandemic highlighted issues with the digital divide, and asked how communities can think about education equality when many students may not have reliable access to the internet.
Johnson said the pandemic has exposed structural disparities in our society, but noted that many Wellesley students and alumnae have "really found their voice and have done incredible work in their communities." "I think for some, although it's been difficult, there's also been kind of an awakening and an empowerment in many ways," she said.
Maza asked the panelists what they hoped young women and girls would take away from the evening's conversation. Lakshmi, noting her own struggle with imposter syndrome, said they should not aim to be perfect, but to be the best within their chosen disciplines, and to not be afraid to go after the jobs they want. "I'm going to let someone else tell me 'no,'" she said. "I'm not going to tell myself 'no,' before I even get started."
"Learn. Be hungry to learn. Learn from others," Okamoto said. "I won't ask you what you want to be when you grow up. I will ask you, what are you doing right now? What are you passionate about, and what are you going to do about it right now?"
Kola said she wants those who may have lost opportunities or been overburdened with child care during the pandemic "to not give up hope, to not give up on your goals, not give up on your dreams."
Johnson said International Women's Day is a day to remind ourselves that gender inequality is one of the greatest challenges in our world. "What I really hope for young women and girls is for them to see themselves as the changemakers that can truly make equality possible," she said, "and to embrace that role."
Watch a recording of a panel for the full discussion.