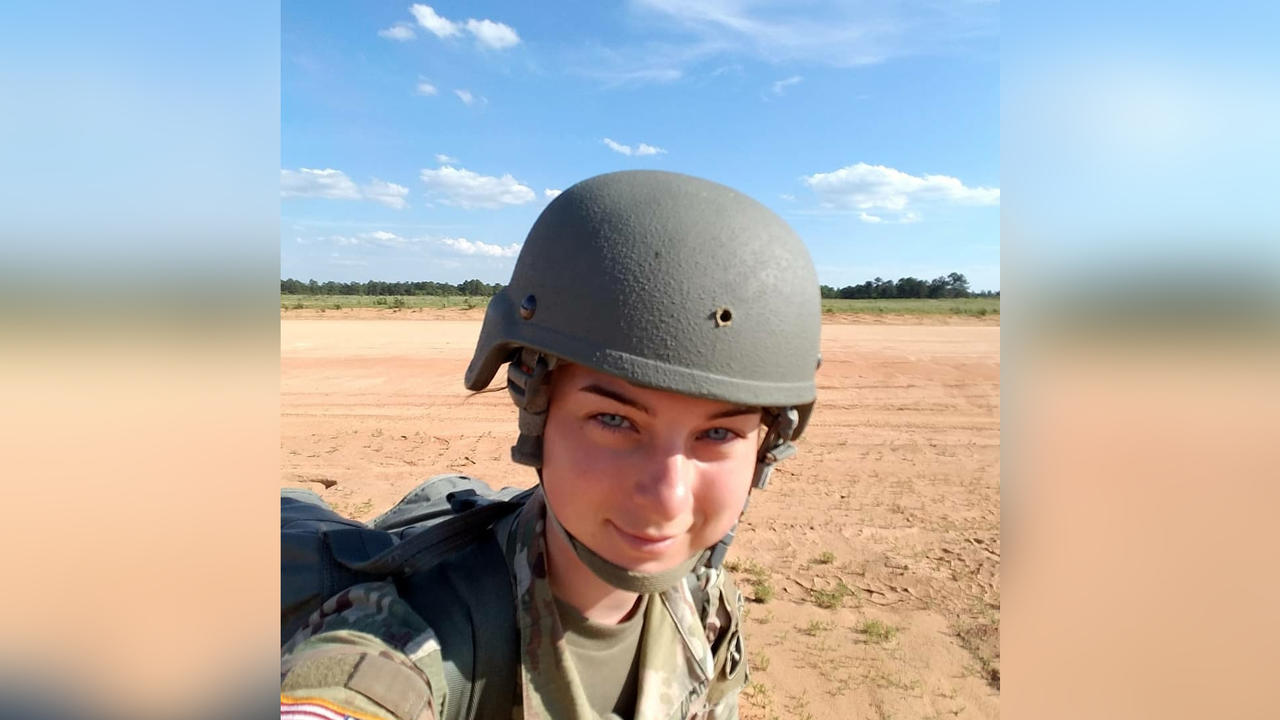 Enlistment and Everything After: How Army Veteran Aurora Daniel DS '23 Came to Wellesley
Content Warning: This story discusses sexual harassment, assault, and rape.
When Davis Scholars––Wellesley students of nontraditional age––arrive on campus, they bring with them a range of life experiences. For some, this includes military service. U.S. Army veteran Aurora Daniel DS '23 grew up in Corvallis, Ore., and chose to enlist after high school rather than attend college. "I had only gotten accepted to in-state schools and was looking for a way to get away from a rough childhood and my family. The Army offered not only a debt-free option, but a paid one," Daniel said. One study has found that almost 50 percent of privates say they enlisted to help meet a basic need: to get out of poverty, escape abuse, or access housing, employment, health care, or education. Daniel was no different. They started basic combat training at 17, right after graduating from high school in 2016.
After training, Daniel was stationed at Fort Bragg, N.C., and served as a motor transport operator and paratrooper. "Being a paratrooper was the highlight of my career," they recalled. "Nothing compares to the adrenaline rush of being on the bird, sounding off hook-up procedures, and launching yourself out the door. Floating down is incredible, too." They worked hard, had a steady paycheck and job security, and also made some great friends. 
But being in the U.S. Army had its problems. Right from the beginning, Daniel came up against barriers because of their gender. They had been interested in pursuing training in underwater welding, but the equipment wasn't designed to be used by someone under 5 feet, 6 inches tall, which Daniel is. "Just because of the limitations of some of the equipment, that automatically prohibits shorter people, which includes many women, from being in certain roles," Daniel said.
Getting out of the military was really scary. I was 19 and had no family support. I was homeless for a month and sleeping on friends' couches.

Aurora Daniel DS '23
Even worse, Daniel reports experiencing sexual harassment, sexual assault, and one instance of rape––all by fellow soldiers in their unit. Eventually, the violence and trauma took such a toll on Daniel's mental health that they were referred for a medical discharge. The process took eight months to complete, and during that time Daniel continued to work and occasionally interact with their abusers. Daniel says this was a painful time, and prompted them to speak out on the issue of military sexual trauma. They recently published an essay about it on Cognoscenti.
After being discharged in 2018, Daniel spent a year undergoing intense mental health treatment. "Getting out of the military was really scary," said Daniel. "I was 19 and had no family support. I was homeless for a month and sleeping on friends' couches." They were unemployed for five months after leaving the Army. Eventually, Daniel's therapist told them about the Women's Trauma Recovery Team at VA Boston. They applied for a job there and moved to Boston to work for the VA in August 2018. 
As their mental health improved, Daniel started taking classes at Bunker Hill Community College and volunteering as a web chat crisis counselor for the Boston Area Rape Crisis Center (BARCC). Daniel also developed an interest in art history while interning at the Isabella Stewart Gardner Museum, and applied to Wellesley because of its strong art history program. 
This fall is their first semester as a student at Wellesley, and so far they love it. As a nonbinary and bisexual person, they love how "accepting and queer" Wellesley is. Of their current classes, History of Photography is their favorite, and Daniel also works as a student visitor assistant at the Davis Museum and plays Ultimate Frisbee with the Wellesley Whiptails. 
Daniel's life at Wellesley may seem like a far cry from their time in the Army, but they pointed out that there are actually a number of similarities. "In the military, there's a collectivist mindset, where the focus is on everyone performing to a certain standard. The expression 'a chain is only as strong as its weakest link' is used all the time to encourage soldiers to help each other, and if you're succeeding you're supposed to put yourself on the back burner to help your battle buddy out," Daniel said. 
"There's a stereotype that Wellesley students are often only focused on their individual accomplishments, but I've found they also want each other to succeed as well. It's not nearly on the same level as the Army, but students here still want to lift each other up. They want to connect and understand each other."