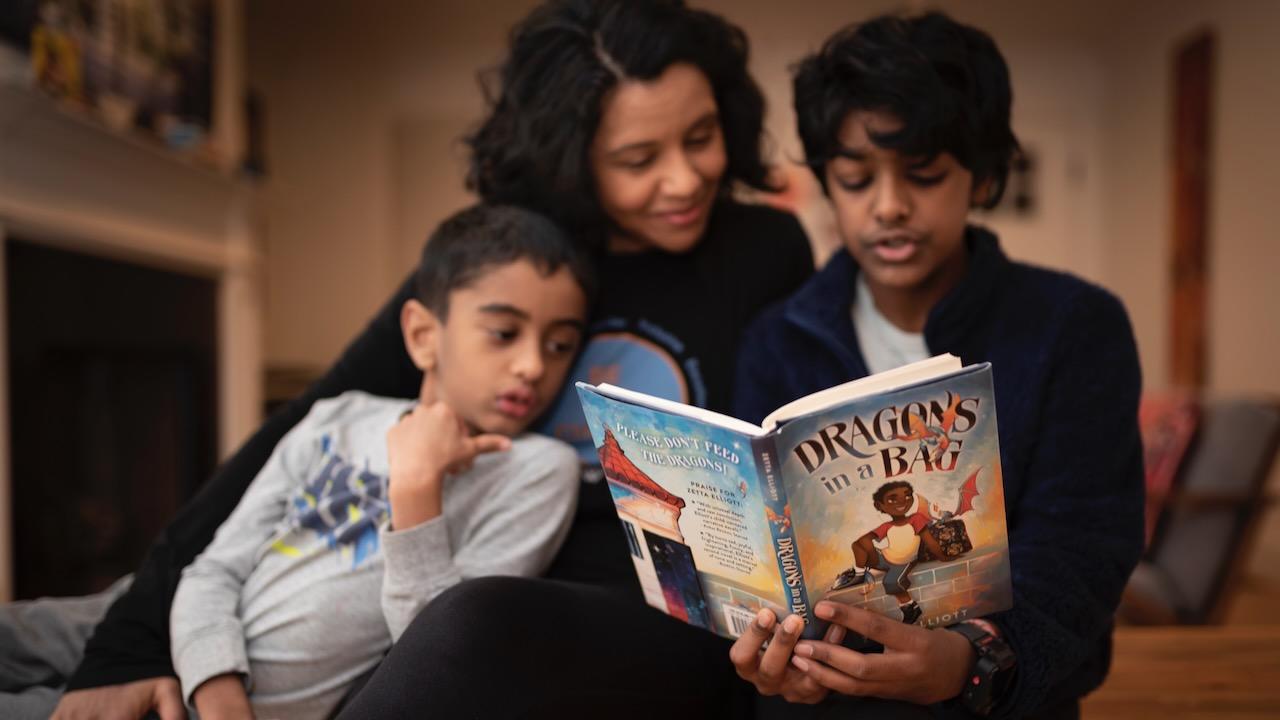 Books Like Me: Wellesley Community Members Advocate for Diverse Literature in Schools
Growing up reading mystery novels, Smitha Radhakrishnan noticed that there were never any Indian protagonists. "There were no books about people who were like me, and I didn't even expect that there would be," said Radhakrishnan, Luella LaMer Professor of Women's Studies and professor of sociology at Wellesley. She is now the mother of two children, and she has a close friend who is a librarian at the Brooklyn Public Library. "After my friend started giving my children diverse titles, I could see what a huge impact it had on them," she said. "Looking at some of these picture books, I reimagined what my childhood would have looked like if I read these instead." 
Reading picture books with brown-skinned characters made a significant difference for her children, who are in elementary school. Previously, her older child in particular opposed reading and didn't enjoy library visits because it was hard to connect with characters in the books. Now that her kids are seeing themselves represented more often, she said, they are excited to read and their self-esteem has increased dramatically. 
Radhakrishnan believes reading representative stories can uplift children and give them a sense of belonging. To help kids in Natick, Mass., where she and her family live, access a wider variety of books, she volunteered to organize a literacy night at her children's elementary school. Based on the success of the event, she met with the school's literacy specialists, who encouraged her to promote diverse books to a broader audience. 
That in turn inspired Radhakrishnan to partner with SPARK Kindness, a local grassroots organization that helps libraries focus on inclusive stories. "People working in different communities, different spaces, doing whatever they can do, began to contribute to SPARK's diversity committee," she said. "I understand that educators are overwhelmed, but there's work to be done in terms of bridging that gap between the books and educators." The primary focus of SPARK Kindness is engaging with families, schools, nonprofits, educators, and community leaders to motivate young people to foster kindness and respect.
There were no books about people who were like me, and I didn't even expect that there would be. Looking at some of these picture books, I reimagined what my childhood would have looked like if I read these instead.

Smitha Radhakrishnan
"SPARK is ideally positioned because we're a nonprofit that's connected to parents in the community, but also has strong links with the schools," Radhakrishnan said.
Now, Radhakrishnan is also working to diversify the collection of books and empower teachers at Wilson Middle School in Natick with Luke Steele, a librarian at the school. He said one of their primary efforts required cataloging the Language and Literacy Department's Lit Center Collection to track how many books feature protagonists of color and to figure out what new books to buy. Steele's book purchase decisions affect over 1,000 students. "What are the responsibilities of those with influence on education? Since this question is large, picking an action item like diversifying one school's collection helps to localize it," said Steele.
In November 2021, in collaboration with Steele, Radhakrishnan conducted a workshop for new Natick public school teachers that emphasized that because the majority of the system's students and staff are white, administrators and educators need to be especially alert to foster an inclusive, well-rounded learning atmosphere. She said they cannot simply state that they "support inclusion" without truly applying strategies to enrich students' education. When schools transition to a curriculum that includes books featuring underrepresented groups as lead characters, students develop emotional intelligence about race, empathy, and inclusion, she added. Offering stories with role models of various races and ethnicities can also build the confidence of students who come across a character who looks like them. Radhakrishnan said administrators and school superintendents have a responsibility to ensure that textbooks and stories reflect their increasingly diverse student bodies.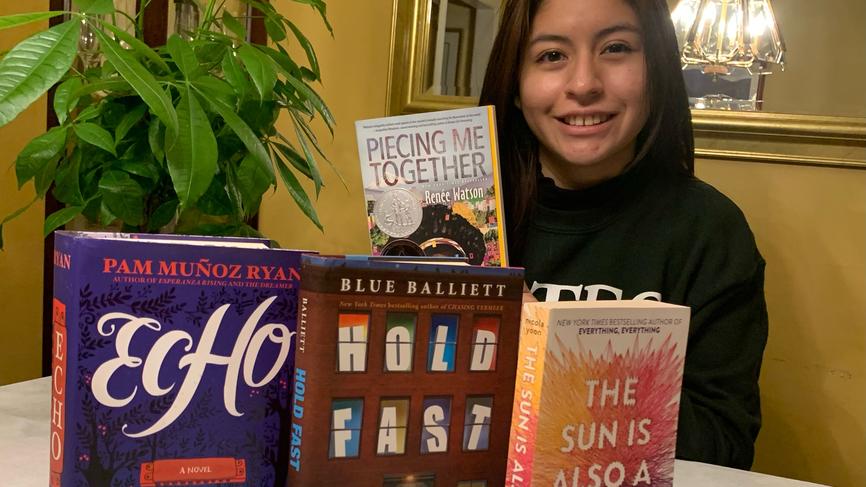 One of Radhakrishnan's students, Jaci Cotaquispe '25, is also involved with the diverse books cause in Natick, her hometown. In summer 2021, she interned in the tech department of the library at Wilson Middle School, where she herself was once a student. She was excited to assist with Radhakrishnan and Steele's work. Cotaquispe, who is Latina, shared that growing up she preferred the world of books but found no stories with characters who resembled her.
Cotaquispe learned that white characters were always the protagonists, while characters of color were often included only as asides or stereotypes. For instance, one of the only novels she was assigned to read in school that had a Black protagonist was Chains, which is about an enslaved African American girl; the author, Laurie Halse Anderson, is white. Books about everyday kids of color or books by authors of color were hard to come by. "I felt the small selection of books that were offered were out of pity for groups of color," said Cotaquispe. As she attends more sociology and education classes in spring 2022, Cotaquispe hopes to educate herself more on diversifying books in education and present at the Ruhlman Conference. "I also plan to reach out to Wellesley professors who might be interested in helping with the diverse books movement at Natick libraries, as well as my old literature teachers at Wilson Middle School or Bennett-Hemenway Elementary School to see what has changed," Cotaquispe said. Like Radhakrishnan, she believes that by providing diverse books in classrooms and libraries, educators and administrators show students of all backgrounds that they are respected and acknowledged. 
"You have to tell the kids that they are there," said Cotaquispe.
If you are interested in the diverse books cause, Radhakrishnan suggests getting involved on the local level. For example, find out what books your own elementary, middle, or high school offers its students and ask the school librarian about ways to help diversify the collection. SPARK Kindness also is offering the Resilient Community Program Series, which promotes "kindness, justice, and respect for all" throughout the winter. Additionally, thanks to Radhakrishnan and the SPARK Kindness team and volunteers, Natick will open its first Little Free Diverse Library this spring, which will accept donations.