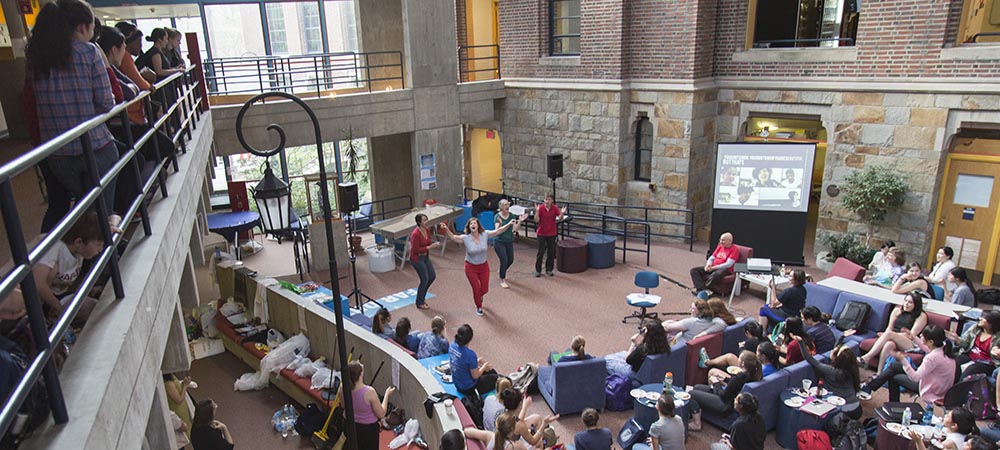 Welcome to the Events Office.  Please read the message below about carefully planning for your upcoming activities.
Updated 4-28-2020: The Stay-at-Home advisory is in effect through May 18th in Massachusetts.  In addition, summer programming for Wellesley College is either moving to a remote format or canceled.  Due to these updates, most programs running on campus are either moving to a virtual platform, postponing, or cancelling.   If you need to modify an existing reservation, please email your scheduling office.  If you need to schedule a NEW virtual reservation, please select "virtual" for your location choices.  The Events Office will only process reservations for on campus locations that are meeting the core mission and servicing essential business at this time.   We will process all virtual activities that you are drawing an audience from the community or public.
Questions?  Contact your schedulers at:
Department-sponsored: eventsoffice@wellesley.edu 
Student organization-sponsored: studentinvolvement@wellesley.edu 
Athletics: athletics@wellesley.edu
Curricular activities:  registrar@wellesley.edu
Planning an event for 2020-21 Please visit the list of KEY DATES before selecting your date to make sure you are not conflicting with a major campus event.
-------------------------------------------------------------------------------------------------------------------------------
Our goal is to provide faculty and staff with tools and information to plan and schedule a successful meeting, program or event.
Scheduling tools on the web
25Live Pro for most users, approvers, and schedulers.  Replaced the classic view in November 2019.
25Live Scheduling the simplest scheduling tool for basic needs (also mobile version) 
KEY DATES is a reference tool to view the major events scheduled on campus.  Please review this form to ensure you are not conflicting with another major event before finalizing your date. 
Scheduling FAQ's for more information related to scheduling space and resources on campus.
Contact your scheduling office for any scheduling questions.
Scheduling a College-Sponsored Meeting, Program, or Event
Basic meetings require a minimum of three business days to process. Events requesting the use of departmentally managed space may take longer to generate all approvals necessary.  25Live will notify approvers in a timely manner.  Events that require resources (such as sound, AV, videographers, special set-ups) require a minimum of 7 days notice.
The Wellesley College Scheduling System is the site you want to visit to check availability, find a space that meets your needs, request space and services on campus, and view all of your scheduled activities. Access to request the use of space and resources and view user preferences is only available after logging into the system with your Domain Wellesley College username and password.
25Live
The only acceptable and recognized method for scheduling events on campus is 25Live. It is the system of record on campus and is used by all requestors, schedulers, service providers, help desk personnel, and dispatchers. It is the only recognized tool for obtaining services, reserving space, publicizing events, obtain space utilization data, and for safety and security purposes.
Scheduling a Non-College Sponsored Meeting, Program, or Event
During the academic year when classes are in session, non-college events are not scheduled on campus with the exception of the College Club.  If you are looking for space for a non-college event during this time frame you can contact the College Club at 781.283.2700 or visit: www.wellesleycollegeclub.com
For non-college sponsored events and/or space inquiries, please contact Anthony Pires by email or by phone at 781-283-2875.
Weddings, Commitments, Memorials, Baptisms
For inquiries about holding your wedding, commitment, memorial or baptism ceremony at Wellesley College, please first visit the Office of Religious and Spiritual Life website or the Ceremonies at Wellesley College website or contact the Chapel Coordinator at 781-283-2615.
Meet Our Staff
Donna Barnes, Scheduler
Physical Plant, 1st floor
dbarnes@wellesley.edu
781.283.2875
Position to be filled, Manager of External Events and Summer Programs
Wang Campus Center, Suite 301
interim contact:   lpayson@wellesley.edu   
interim phone:    781.283.2208
Terri Flutie, Scheduling Manager
Physical Plant, Suite 130       
tflutie@wellesley.edu    
781.283.2372    
Lynne Payson, Director of Events Management, Director of Wang Campus Center
Campus Center, Suite 301        
lpayson@wellesley.edu    
781.283.2208
Sarah Willis, Event Manager and Scheduling System Administrator
Physical Plant, Suite 128      
swillis@wellesley.edu   
781.283.2974
Have a General Question and Not Sure Who to Ask?
Email:   EventsOffice@wellesley.edu