The Physical Education curriculum will develop students' knowledge and skills in physical activities. This base of knowledge and skills is an essential component of the liberal arts education at Wellesley College and is required of all students for completion of their undergraduate degree.
Students must earn eight physical education credits to fulfill the College's graduation requirement. These credits do not count as academic units toward the degree, but are required for graduation. Students may earn PE credits for:
Qualified students may also earn credit for rigorous, instructional
independent programs
 (four credits maximum). 
Learning Outcomes
Students who participate in PERA programs will: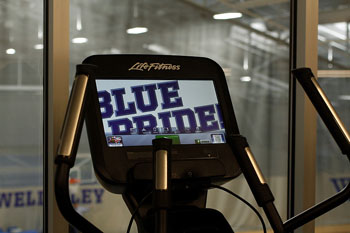 Acquire knowledge of and competence in fundamental and advanced motor skills that will allow students to enjoy regular physical activity.
Demonstrate an understanding of the fundamental training principles that apply to cardiovascular fitness, flexibility, and strength.
Develop strategies for self-assessment and goal-setting to achieve fitness and sport-related objectives.
Understand the link between regular physical activity and improvements in mood, cognition, and academic performance.
Adapt quickly to challenging situations as a result of being exposed to risk-taking opportunities.
PERA also partners with other departments -- including Student Involvement, Health Services, Counseling, and Human Resources -- to provide students, faculty, and staff a variety of fun, active, educational, and engaging fitness opportunities throughout the year.