Library & Technology
Announcing two new exhibits celebrating the Book Arts at Wellesley

The Janus Press
Where and When: Clapp Library, 4th floor, through December 2019
Curators: Ruth Rogers, Mariana Oller, Megan Rahal DS '20
Special Collections announces a new exhibition featuring a range of books made over the past 64 years by Claire Van Vliet, MacArthur award-winning proprietor of the Janus Press. Founded in 1955, the press has since produced more than 90 limited edition artists' books and broadsides.  Van Vliet's innovative work has made significant contributions internationally to the fields of fine printing, papermaking, bookbinding, and printmaking. Wellesley College has had a standing order for her books since the early 1990s and the large collection is frequently used to support classroom teaching. 
Catalog records for Wellesley College's Janus Press holdings
 
Hannah Dustin French and the Book Arts Laboratory at Wellesley College
Where and When: Clapp Library, Lobby and Crozier Reference Room, through December 2019
Curators: Katherine Ruffin, Allison Bobb DS '20, Robin Siddall '20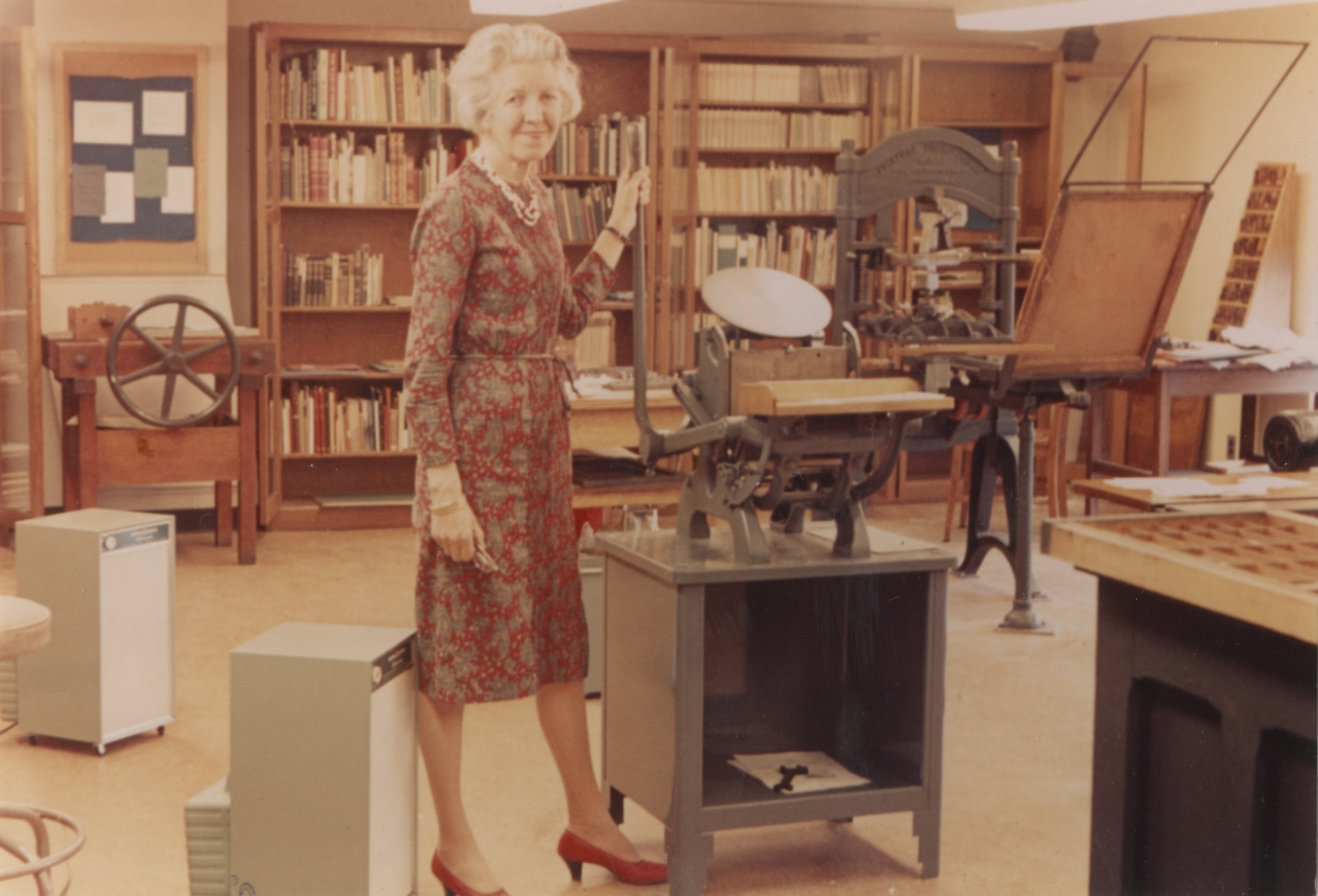 Image credit: Wellesley College Special Collections
In honor of the 75th anniversary of the founding of the Book Arts Laboratory, this exhibition presents items from Special Collections and Archives that tell the story of Hannah Dustin French (1907-1993), a librarian and scholar whose research was focused on the history of American bookbinding. As Research Librarian in Charge of Rare Books and Special Collections at Wellesley College, French established a bibliographic press in the Wellesley College Library in 1944. Encouraged by library administrators to establish a Book Arts Laboratory, she acquired equipment and developed the skills needed to teach students the practices used to create the books in the College's Special Collections.  French taught an extracurricular Book Arts Seminar using examples from the collection and the presses and type in the Book Arts Lab; this was the first phase in the life of one of the longest continuously operating book arts programs in an American college. Over the years, the Book Arts Lab has continued to teach the arts of the book to students who go on to become librarians, conservators, and book dealers.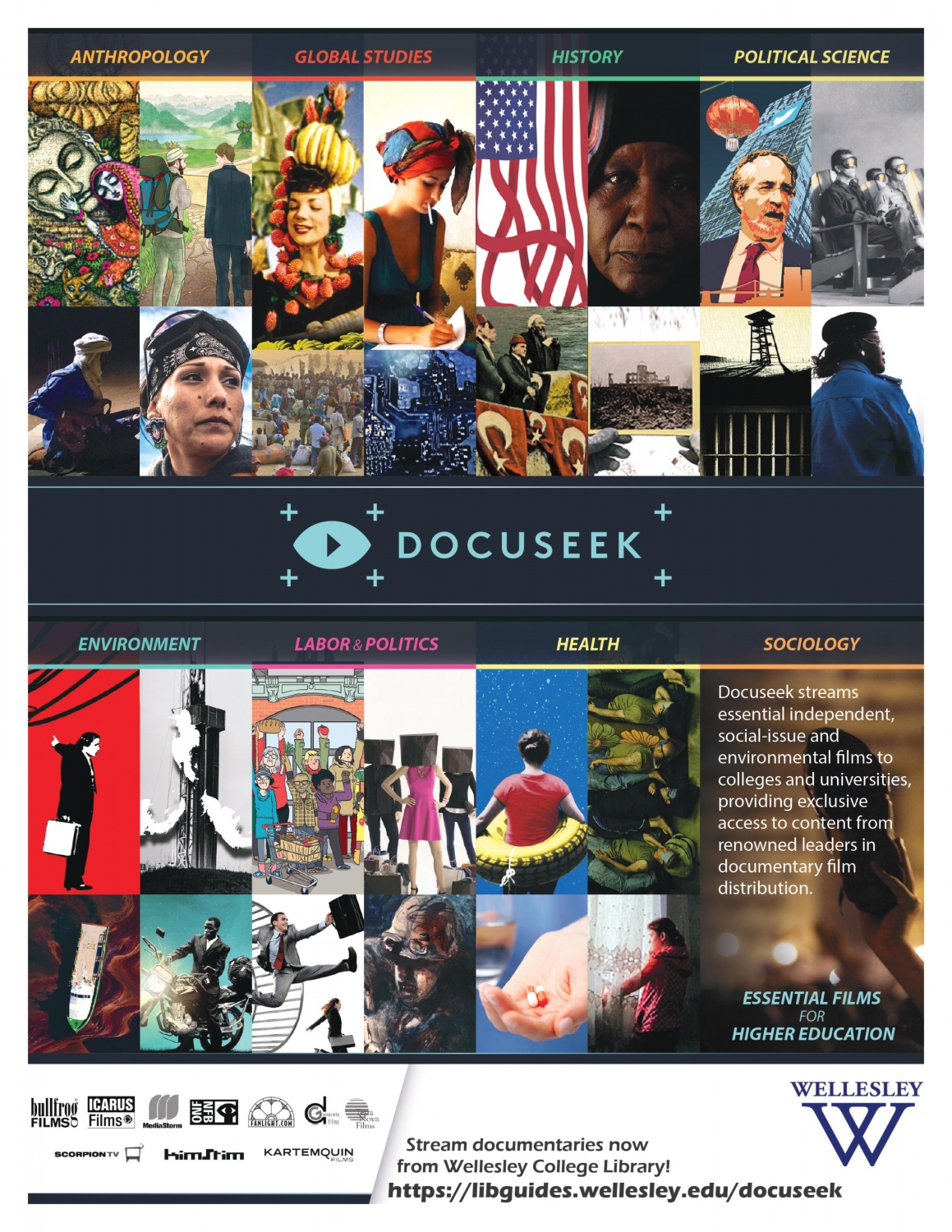 Thanks to generous funding by the Friends of Wellesley College Library, we are now offering Docuseek2, a broad collection of streaming documentary films for education. Check it out!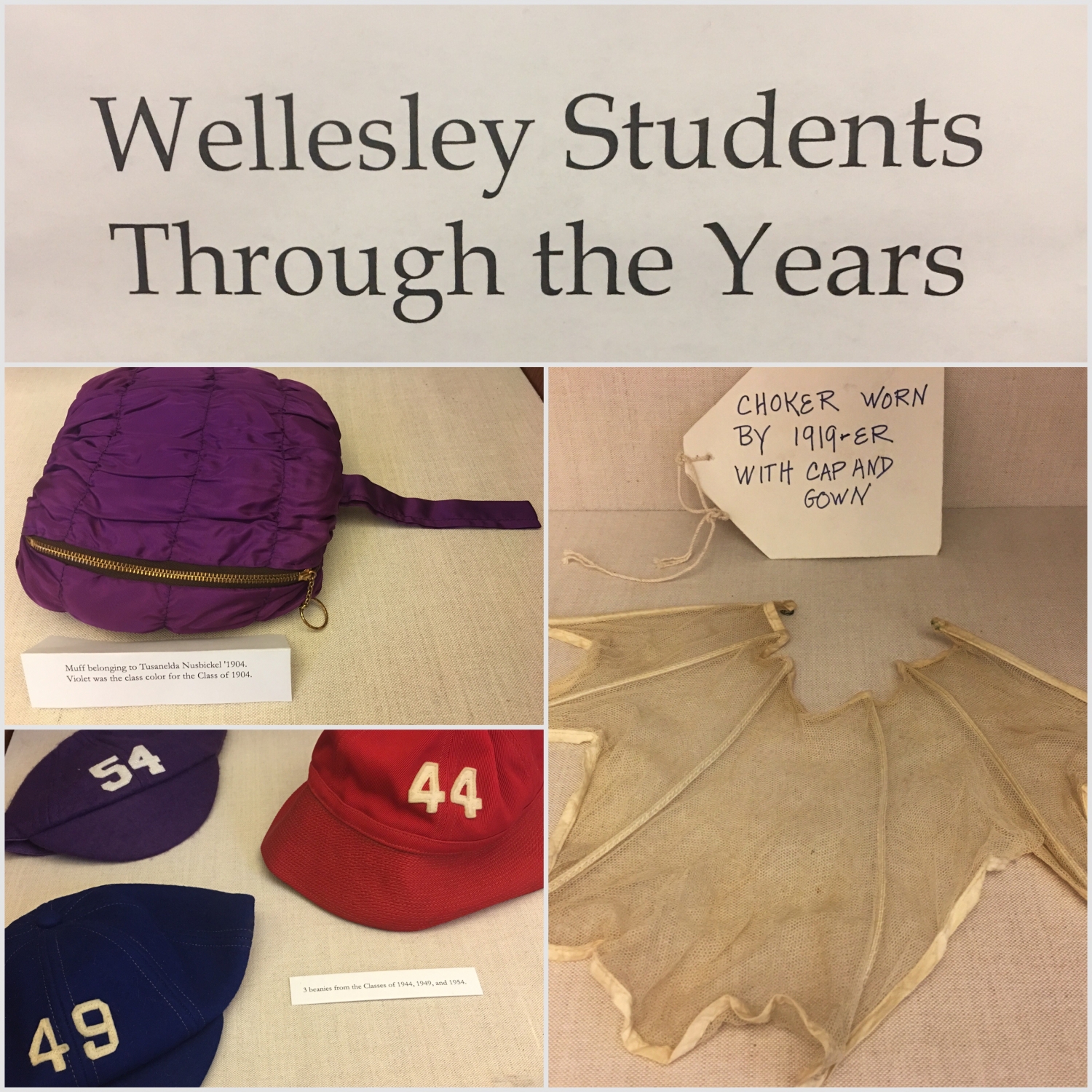 Chokers, Muffs, and Beanies, oh my!
Just in time for Commencement and Reunion 2019, a new exhibit has been mounted in the display cases on the 2nd floor of Clapp Library!
Wellesley Students Through the Years: An exhibition from the Wellesley College Archives, curated by LTS/Archives staff members Rebecca Goldman, Natalia Gutiérrez-Jones, and Sara Ludovissy, features some fabulous ephemera associated with the '4 and '9 classes over the years. Horoscopes, uniforms, and the contents of an ersatz time capsule from the Class of 1919 are featured. Come have a look! 
The exhibit will run through the Summer of 2019.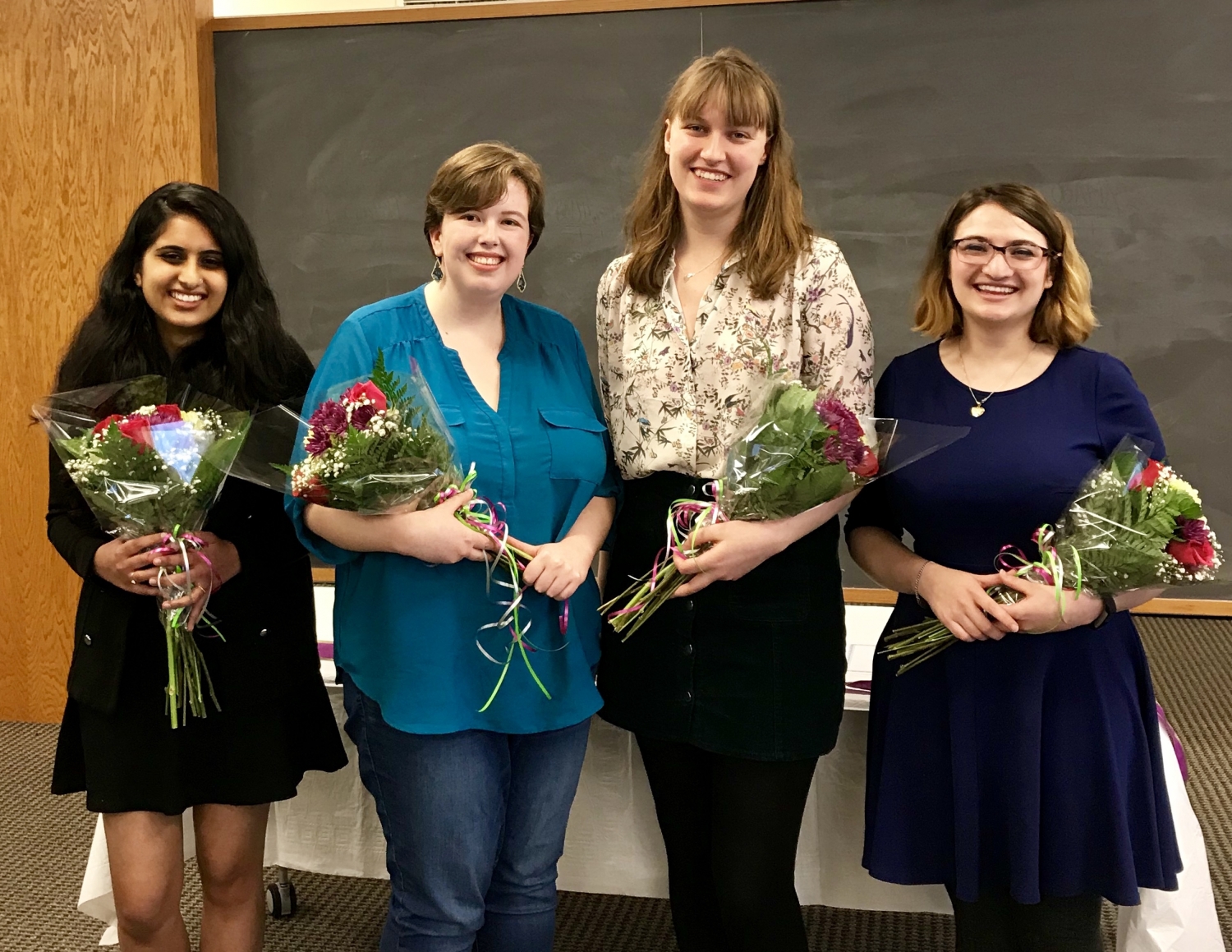 On May 14, 2019 the Student Library Research Awards, generously funded by the Friends of Wellesley College Library, were presented. From left to right, the 2019 winners were:
Sanjana Kothary '21 won the 100/200-level Award for her EDUC 215 paper, "I Am, Because We Are: Intersubjectivity and the Ethics of Care in Student-Teacher Relationships." Supporting faculty: Deepa Vasudevan
Victoria Cottrell '22 won the First Year Award for her WRIT 187 paper, "Sanitationists, Sewers, and Shoe-Leather: Political and Social Subtexts in British Cholera Epidemiology, 1848-1855." Supporting faculty: Simon Grote
Emily Martin '21 won the Independent Study Award for her ANTH 350 paper, "Veganism, Race, and Soul Food: Evaluating Reproductions of Race in Vegan Spaces." Supporting faculty: Justin Armstrong
Angela Coco '19 won the 300-level Award for her HIST 352 paper, "The Powerful Mind is the Healthy Mind: Ralph Waldo Emerson's Representative Men (1850) and the History of Mental Health." Supporting faculty: Simon Grote
Clare Doyle '20 (not pictured here) received an honorable mention for her ECON 350 paper, "Tax Havens and Multinational Corporate Income Tax Avoidance." Supporting faculty: Akila Weerapana