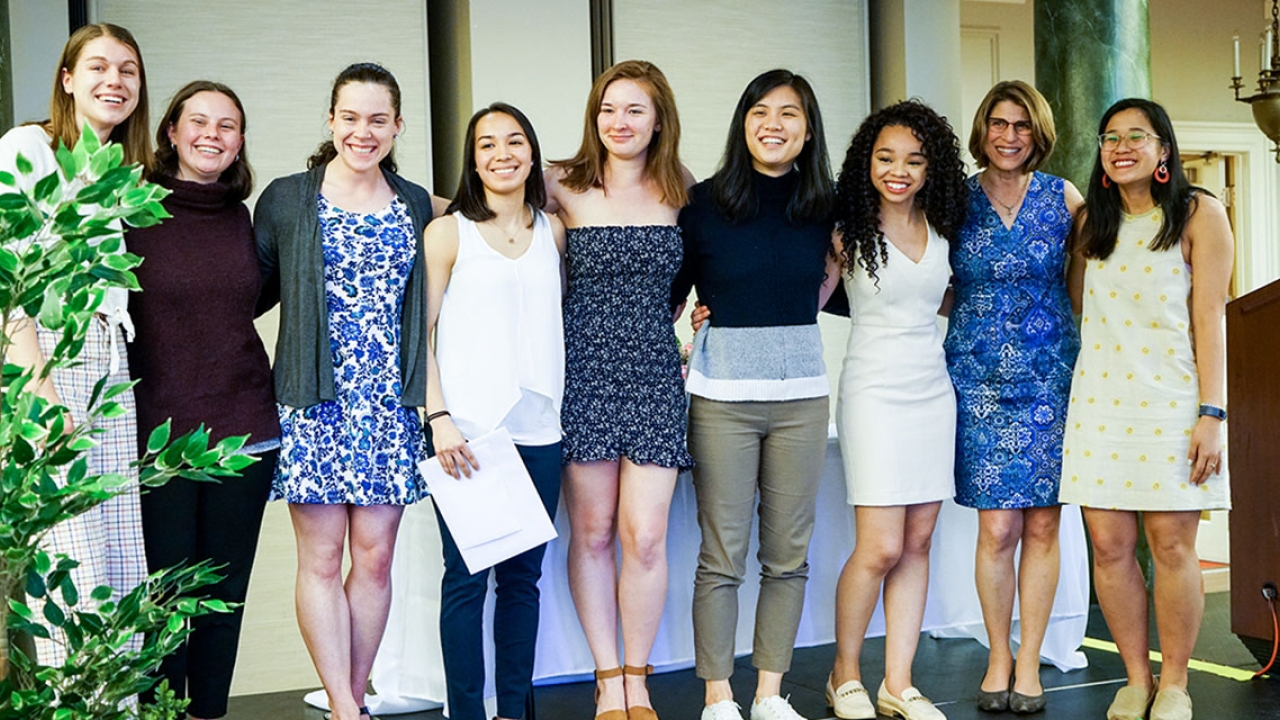 2019 Camellia Awards Honor Outstanding Student Leaders
The second annual Camellia Student Leadership Awards, presented on May 3 in the Alumnae Hall ballroom, recognize student leaders in the Wellesley Community for their work on and off campus. Named after the camellia tree given to the College by its founders, Henry and Pauline Durant, the awards honor commitment to leadership and service.
"The very fabric of the Wellesley experience is defined by a culture of participation, social responsibility, and citizenship," said President Paula Johnson in her remarks at the awards ceremony. "Service is leadership."
"The beauty of this award program, like the Camellia tree itself, is that it offers an opportunity for reflection," Sheilah Horton, vice president and dean of students, told the audience. "Those who nominated students for this award took the time to think about the qualities of leadership that we value, and then consider the students who live these qualities. They reflect not only what they have done, but also the way their leadership played out, showing their depth of involvement, and its connection to relationships and resilience."
The prize recognizes leadership across three over-arching disciplines: self-awareness, engagement with others, and connection to purpose. "The goal of these awards is not to honor the attainment of leadership positions or the accomplishment of tasks," said Carol Bate, associate dean of students. "Instead, they honor the 'how' of leadership, the ways in which challenges were overcome, dialogues were fostered, partnerships were created, understanding was developed, and goals were accomplished."
The 10 awards categories include community cultivation leadership, resilience in leadership, team leadership, community partnership leadership, and creative leadership. From the pool of nominees submitted by students, faculty and staff, Bate and a team of representatives from Student Life and Career Education selected individual student leaders and groups for awards.
Jess Abramson '19, who won the community cultivation leadership award, described the nomination process as "an invitation for us all to reflect on what those around us are doing to include others, promote connection, or make marginalized voices heard." 
The awards themselves serve as "a valuable reminder that we should strive to be engaged not only in the classroom, but also in our communities," said Emily Moss '19, winner of the community partnership leadership award. "Service is an integral part of Wellesley's mission, and I'm glad it is being spotlighted and celebrated."
Saafia Masoom '20, winner of the resilience in leadership award, agreed. "Being able to honor leadership is a testament to the way students engage in what they're passionate about here," she said. "Students who have demonstrated leadership that may not fit into a specific category but still benefited the College community are also appreciated and deserve to take a moment to be proud of how far they've come."
Individual award-winners received a custom-designed sterling silver camellia pin, and winning student groups have their names engraved on a plaque which is displayed in perpetuity in the campus center, as well as a $100 grant to promote the work of their group.
Photo: Lori Tenser, class dean, awarded the Sed Ministrare Leadership Award to members of Ministrare Council at the 2019 Camellia Leadership Awards. (L to R) Claire Cheek '21, Sophie Dowdy '21, Sianna Casey '19, Caitlin Aguirre '20, Madeline Wood '19, Diana Lam '20, Christina Okezie '19, Lori Tenser, Jennifer Yu '19