Dear Wellesley: Maggie Haley '20 and Emily Spaulding '21 Write from New York City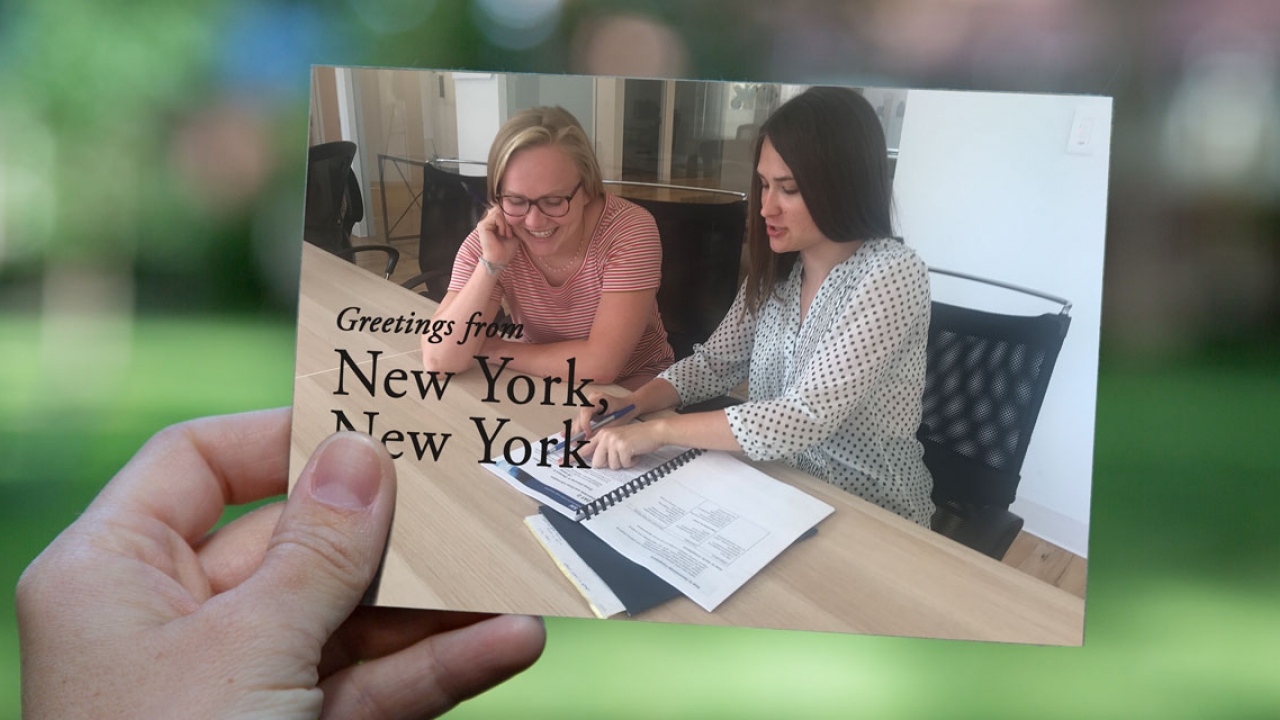 This week's Dear Wellesley postcard comes from Maggie Haley '20 and Emily Spaulding '21, who write to us from New York City's Social Accountability International (SAI), a non-profit non-governmental organization (NGO) advocating for human rights in the workplace. They found their internship through Wellesley Career Education's Sama Mundlay '20 American Cities program.
The Sama Mundlay '20 American Cities Program allows Wellesley students to experience the diversity of regions, communities, and cultures within the U.S. Through identified placements in major cities, students' work experiences directly engage with the particular social, economic, and/or cultural realities of their urban environment. Sama Mundlay was a member of the Class of 2020 and an International Relations major at Wellesley College with a concentration in History.
For more about Maggie and Emily's experience in New York, check out the Wellesley College Instagram account.
Dear Wellesley,
Greetings from New York City! The most populous city in the United States is home to nearly 9 million people across the five boroughs of Manhattan, Queens, Brooklyn, the Bronx, and Staten Island. We are living and working in Manhattan. Our office is located in Midtown, while Emily lives on the Upper West Side and Maggie lives on the Lower East Side. We have both enjoyed exploring all the city has to offer.
During the week, we work for Social Accountability International (SAI), a non-profit non-governmental organization (NGO) advocating for human rights in the workplace. The organization is perhaps best known for the creation, maintenance, and monitoring of the world's first auditable social certification standard: the SA8000. In 2018, more than 4,000 facilities across 62 countries and 57 industries were certified according to the standard. To make this possible, SAI trains auditors to evaluate facilities and consults with brands and other stakeholders to monitor human rights across supply chains. SAI was founded by Wellesley's Alice Tepper Marlin '66, who received an Alumnae Achievement Award in 1999.
How can current Wellesley students contribute to this work? We have authored research documents on a wide range of labor issues, from exploitative employment contracts in textile factories to sexual harassment on tea estates. Using this research, we wrote case studies to be published in a handbook for companies receiving loans from a well-known international finance institution. We have also conducted research on how social auditing could take place in the seafood sector and other maritime facilities. In addition, we have used Excel to complete data analysis of SA8000 certifications as well as the results of an auditor survey. Our findings will be presented at an upcoming meeting of international auditors.
Our education on human rights and corporate social responsibility has come in many forms. We have had the opportunity to attend a conference on child labor in homeworking. Labor that occurs in the home (rather than the factory) poses a unique challenge for brands monitoring complex supply chains. During breakout sessions, we discussed the issue with brand representatives and NGOs. Later in the summer, we attended SAI's Basic Auditor Training Course on applying the SA8000 standard to real world factories. After completing the five-day course, we each passed the final exam for auditors. It was a great educational experience that helped us better understand the work of the organization that hosted our internship.
We have loved our time in New York with SAI, but we are looking forward to spending time with friends and family before another semester begins. Emily is ready to begin her year abroad at the London School of Economics and Maggie is excited to be a senior at Wellesley. We can't wait to bring all that we have learned this summer to London and Wellesley!
Non ministrari sed ministrare,
Maggie and Emily