Get to Know Wellesley's New Dean of Religious and Spiritual Life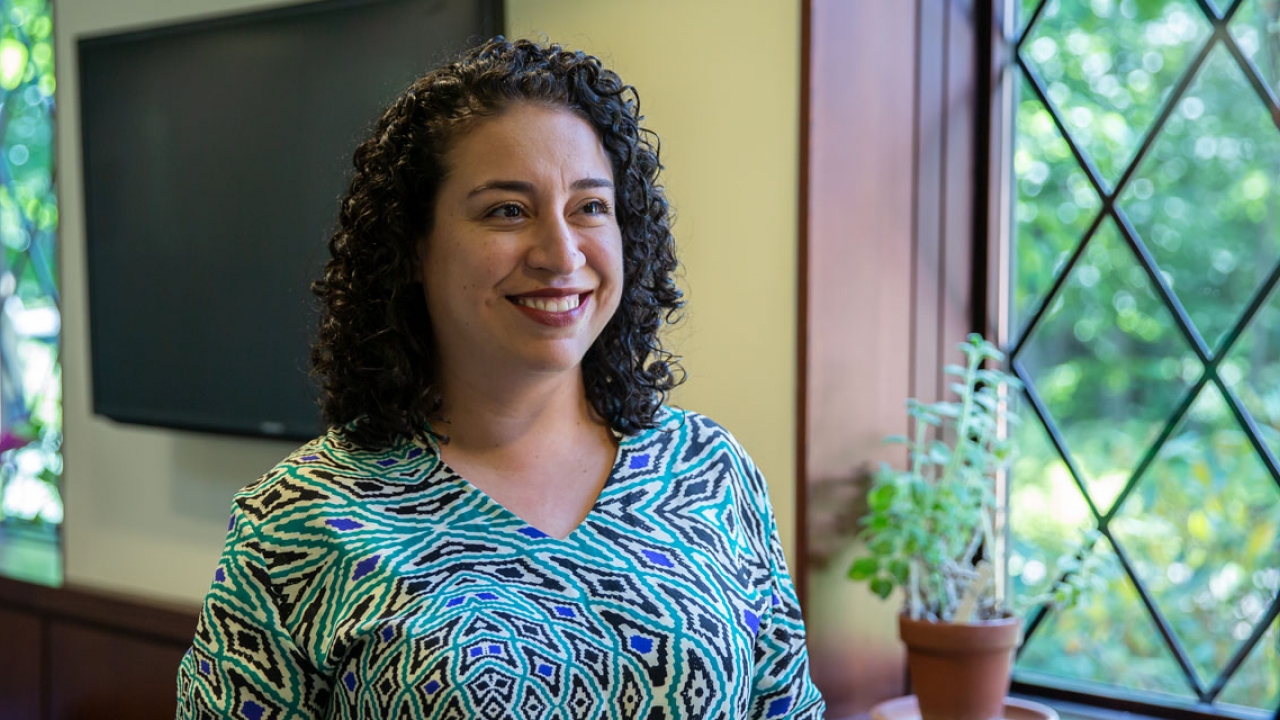 For Rev. Jacquelina Marquez, the new dean of religious and spiritual life at Wellesley, college was when she began to take her faith more seriously. "I think at some point all young people—whatever religious, spiritual, or philosophical framework you grew up in—reach this place where they have to decide whether they want to make it their own centering space," she said on a late-summer morning the week before classes began.
Already, students were emailing her to plan one-on-one meetings. "These first connections have been exciting. I want students to know I'm available to them any time, they've just got to email me, and I'm all for meeting up to talk about anything. I love coffee or chocolates. Let's get together over those. Or pastries! Carbs are my weakness," Marquez said, laughing. "I'm open to engaging with anyone, and my door is always open, as well as my heart."
She joined Wellesley from Northwestern University, where she was an associate university chaplain, and is an ordained Christian reverend in the small, mainline denomination Disciples of Christ. "My background in Christianity is ecumenical and diverse," she said. "I'm also used to working in a multifaith context. That's really been the anchor of all my work. I believe in a pluralistic world where folks can practice—or not practice—their religious and spiritual traditions safely and as they want to."
Marquez hails from Pilsen, one of the two largest Mexican-American neighborhoods in Chicago, and she feels a strong connection to that community. "I'm the daughter of Mexican immigrants, born and raised in Chicago," Marquez said. "I love everything about the city. Its diversity. Even the challenges. I love city life. This is my first time living away." Her father and mother, as well as her brother—a preacher in an African-American church on the city's South Side—still live there.
When asked to name some of the adjustments she has had to navigate in her first months in Massachusetts, Marquez laughed. "Driving here is hard," she said. "Chicago is a grid. I'm used to straight lines and street names that stay the same. Driving through Boston feels like driving through a spaghetti bowl."
While Marquez may still be learning how to best navigate Boston's twisting layout, she is also noticing certain parallels between her time and work in Chicago and her new role. "It's so important for me to be in a diverse environment," she said. "I'm deeply rooted in my identity as a Mexican-American woman. My Latina identity is the first identity from which I operate. I love, value, and need diversity and inclusion around me in order for me to thrive and function as a person."
Indeed, Marquez listed Wellesley's diversity when asked what attracted her to the College. "I heard so much about Wellesley's diversity," she said. "And it's a campus centered on women's education, which is a first for me. It felt like the right opportunity, challenge, and place to come to both learn from this community and give to it. I'm also deeply passionate about social justice and advocacy issues across the board. Working with and supporting folks on the margin of society and institutions is really important to me, so I hope that that comes through in my work here."    
Marquez welcomes individual student meetings, but she also plans to get out into the community as often as possible to attend events and familiarize herself with the campus and its traditions. She also hopes to reshape her office's model to make it more inclusive, and to help Wellesley's chaplains be more accessible in order to better meet the needs of students, faculty, and staff.
"Really, I love stories," Marquez said. "I just want to hear people's stories. I want to hear students' stories. Why are you here? Why are you doing the work you do? Why did you choose this path, or how did this path, whatever it is, find you? What's your story?"