Students and Faculty Paint Mural in New Global Flora Conservatory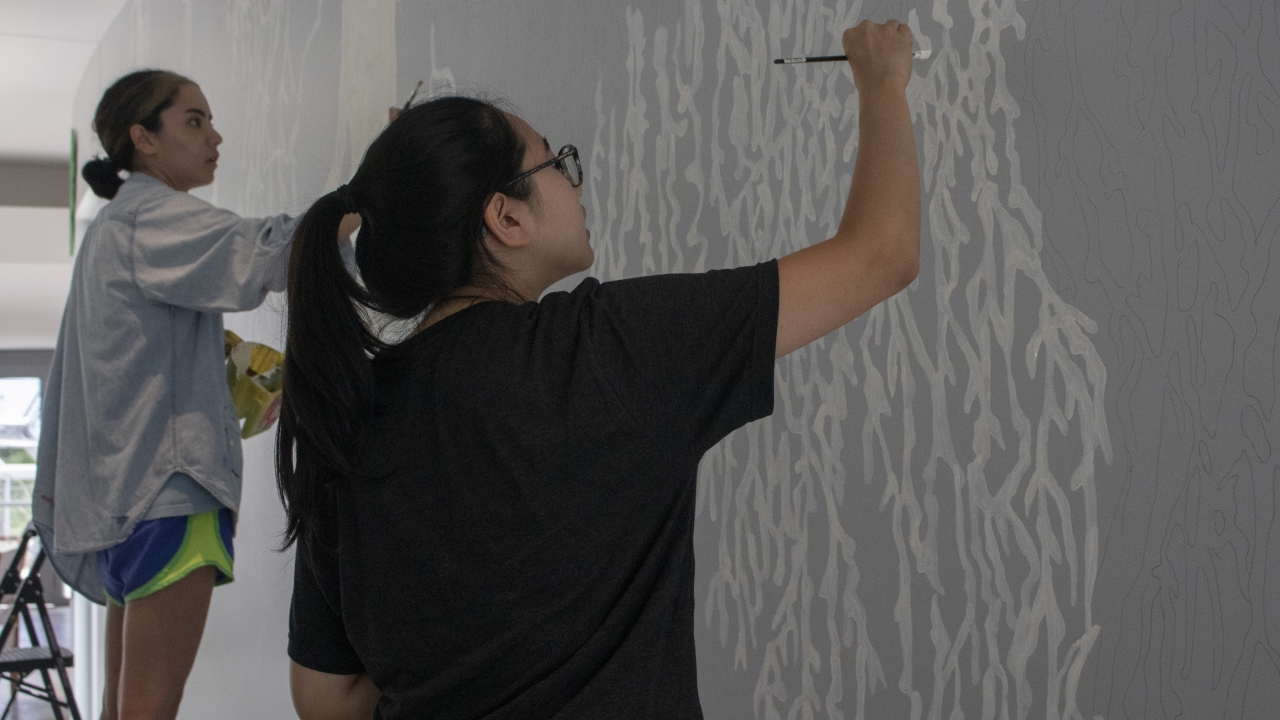 Step into the new Global Flora Conservatory, generously funded by Wellesley College Trustee Mary White '79, that recently sprouted on Science Hill and you'll be greeted by a ceiling-high mural designed and installed by Wellesley students and faculty. White-painted roots and colorful wooden cutouts of plants stand out against a light gray background. The two-dimensional ecosystem spans the hallway from the entry of the building to the greenhouse itself, offering visitors a preview of the plant life that lies ahead.
The mural was inspired by artists Isabella Kirkland and Jane Kim, who came to campus and brainstormed with David Teng Olsen's classes last November. Olsen, an associate professor of art at Wellesley, incorporated the mural into his Digital Imaging class last spring. The final product will be composed of "all kinds of elements that came from various student ideas," said Kristina Niovi Jones, director of the Wellesley College Botanical Gardens.
"Dave Olsen's class just ran with the idea," said Jones. "[The mural] will open people's eyes and get them thinking about diversity of plant form, introducing plants as distinct and different and not just this green blur background."
Sierra Chiao '21, a media arts and sciences major who learned about the project in her studio art class, worked on the project, which took a collective 120 hours to complete. "I hope it gives context to the complexities of the neighboring plants, by highlighting the unseen and the graphic," she said. "They're stunning!"
In addition to white roots that seemingly grow from the ceiling, the mural also has 3D elements, including the wooden cutouts of plants. Kayli Balin '20, a media arts and sciences major who works with Olsen as a digital assistant, crafted the cutouts beginning in spring 2019.
"Working with Dave on this mural was just me doing my job," said Balin. "But I also just love painting and assembling multimedia projects, so this whole process has really been a win-win."
Balin hopes that the roots and plant cutouts will prompt visitors to appreciate "how roots, which are not seen when looking at plants, are the massive stabilizing structure behind them."
"I hope it makes the greenhouse feel more lived-in and welcoming, as a Wellesley professor and students helped install it!" said Balin.
Flower cases will line the wall across from the mural, providing another visual element on the way in to Global Flora itself.
The completion of Global Flora and the L-wing ends the first phase of the renovation and construction project on Science Hill. Built to meet Living Building Challenge standards, including net-zero water, the design won bronze in the LafargeHolcim Design Awards competition last year.
Global Flora will host an open house on Saturday, October 19, from 1-3 pm for Wellesley alumnae, families and students as a part of A Very Wellesley Weekend. During the academic year, the college community (students, faculty and staff) are welcome to visit Monday-Friday 10 am- 4 pm. Global Flora will be open to the public in 2021.
With reporting from Macy Lipkin '23.