"Washington Post" Economics Correspondent Heather Long '04 Says Her Liberal Arts Degree Prepared Her to Take Leaps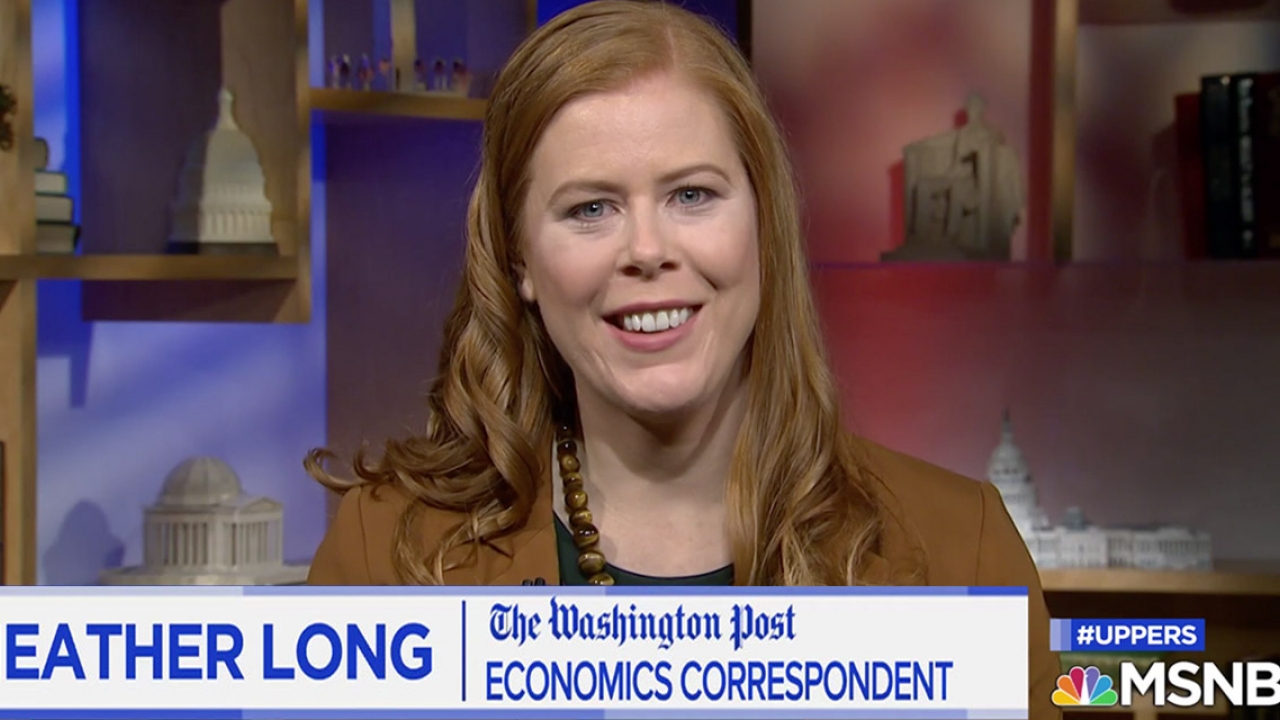 Not long after the August 2019 Jackson Hole Economic Policy Symposium, Washington Post economics correspondent Heather Long '04 wrote about an unusual discussion at the annual gathering: The world's top economists and central bankers were urging each other to spend less time on numbers and more time on telling stories. Long's own view regarding the importance of narrative in economic analysis and reporting was shaped in part at Wellesley, where she took one of the first Calderwood Seminars in Public Writing, an economic journalism course designed by David Lindauer, Stanford Calderwood Professor of Economics. Here, Long discusses her path from Wellesley and Oxford, where she was a Rhodes scholar, into journalism; the challenges facing the industry; how economists can incorporate storytelling into their research; and the ways a liberal arts degree prepared her for the 21st century.
Q: When did you know you wanted to be a journalist? Were there any moments of uncertainty for you on that path?  
Heather Long: My journey to being an economics correspondent at the Washington Post started my senior year at Wellesley when I took the economic journalism class offered by Professor David Lindauer. I loved the class and managed to get the op-ed I wrote during the course published in my hometown newspaper, the Patriot-News of Harrisburg, Pa. I'd like to say my path was straightforward after graduation, but that's rarely how life is.
I was soon off to Oxford University, where I had been fortunate to win a Rhodes scholarship. I thought I wanted to be a professor, but after my first year at Oxford I needed a break. I managed to land a great internship at the Guardian in their London office. My first week of work was the London subway bombing of 2005. A few weeks later, my housemate in London was sitting next to another bomber who attempted to blow up another London underground train. She survived because the bomb malfunctioned. I learned what it meant to be a journalist on the front lines of tragedy that touched your own home.
I returned to Oxford to complete a degree in financial economics and ended up landing a job at an investment firm in London in 2006. I thought I had put journalism behind me after the bombings, but I kept having this nagging feeling that I was in the wrong field. In 2008, I did something that at least half my Wellesley friends and family thought was crazy: I left a good job in London to move back to my hometown of Harrisburg to become deputy opinions editor at the Patriot-News. My first day at the newspaper was January 5, 2009. I have been a journalist ever since, and I'm so glad I took that leap.
Q: You are an enthusiastic supporter of the Calderwood seminars—what is so effective about that method of teaching writing? What other tools did you take from Wellesley that you found especially effective as you moved into your career?  
Long: I basically took the "pilot program" for the Calderwood seminars. I took economic journalism in 2004 when it was this cool class Professor Lindauer had designed for the economic degree. Many of us took it thinking it would be a break from the other math-heavy classes we were taking, but in many ways, economic journalism turned out to be much harder. We had to take everything we had learned—in macro, micro, development economics, international economics, econometrics, etc.—and write about it in a smart and entertaining way that people without economics degrees could understand. It sounds so simple, but it's not. You have to really, really understand a subject to be able to explain it in nontechnical terms.
Most Wellesley friends who know me say of course one of my favorite Wellesley courses was economic journalism. It's what I do as a full-time job now! But the class also served me well when I worked at the investment firm. I was often selected to be part of teams because I was known as the "good memo writer." It's a hugely useful skill in many workplaces, and I'm thrilled that many more departments and universities now use the Calderwood seminar method.
Q: Since the Great Recession, newsroom jobs have fallen by the same percentage (25 percent) as the number of undergraduates majoring in English, according to the Pew Research Center. Are these trends intertwined?
Long: The gutting of local newsrooms across the United States is a real blow to democracy. Nearly all of the decline in reporter jobs is taking place at small and midsized newspaper and TV outlets. When I worked in Harrisburg, the capital of Pennsylvania, from January 2009 to December 2012, the number of reporters covering state government fell by about half. That's a lot fewer people watching over how your tax dollars are spent and actions some officials try to hide. And the same situation is happening across the country. We have more people than ever watching the White House and fewer people than ever watching many state and local governments.
Q: What advice do you have for aspiring journalists in this climate? 
Long: I am encouraged by projects like Report for America that are helping train and fund young journalists to essentially do what I did when I started out: Go to small and midsized media markets and tell the stories that aren't getting told. My advice to young journalists is to start at a local news organization. It's a ripe training ground where your work is critically needed. An added bonus is that you will get to hear from your readers in person at local coffee shops and at the grocery store instead of just on Twitter.
Q: In Robert Shiller's book Narrative Economics, which you cite in your piece on the Jackson Hole Policy Symposium, he writes, "traditional economic approaches fail to examine the role of public beliefs in major economic events." Should economists begin their research by examining hard data, by attempting to parse public narratives surrounding the topics they are focusing on, or through some combination of data and narrative?
Long: I'm biased here because nearly all of my Washington Post stories are a mix of data and narrative, so yes, I'm a big supporter of the combo. But beyond my role, one of the most monumental shifts in the U.S. economy in the past decade is the number of Americans who gave up looking for a job after the Great Recession. They became discouraged. It's something we really had not seen before, and economics didn't have good models for this massive labor force decline, especially among "prime age" (ages 25 to 54) men. Other advanced countries didn't experience this nearly to the same extent the United States did.
It really took stories about the opioid crisis and Rust Belt towns in crisis for economists to wake up to what was going on. Princeton economists Angus Deaton and Anne Case have become famous for being the first to really put all the data together on "deaths of despair" happening in the United States, but they readily admit it was narratives that first got them to look into this massive problem of Americans committing suicide or dying from complications related to opioids and alcohol.
Q: What would you say is the value of a liberal arts education in 2020?
Long: One of the joys of my job at the Washington Post is that I get to talk to a lot of people about their life trajectories. Almost no one has a linear path. My own story is a good example. I left Wellesley thinking I wanted to be a professor (probably because I had many great ones in college!). I quickly realized that wasn't for me and took a job in finance after finishing graduate school. Then I switched into journalism, but even that path wasn't linear. I started out as a columnist and opinions editor at the Patriot-News and then at the Guardian for their U.S. operation. I mostly focused on politics and cultural commentary in the first several years. Then a friend connected me to the head of CNNMoney (now CNN Business) and we met for breakfast one day. He said he had been looking for someone to run their economics and stock market coverage. As shocking as it sounds, that was the first moment it really hit me that I could combine my journalism background and my economics background. I got so excited about it and came up with pages of ideas that I sent him the next day. The rest is history. I worked at CNNMoney for several years before becoming economics correspondent at WaPo.
That's a long-winded way of saying the best opportunities in life are often unexpected or ones you create for yourself. A liberal arts degree has prepared me to take leaps and feel prepared for whatever challenge is ahead.
I don't have a degree in journalism, but my first mentor at the Patriot-News often told me the ideal skill for a journalist to have is curiosity—to be someone who never stops asking questions. That's exactly what a liberal arts degree trains you to do.