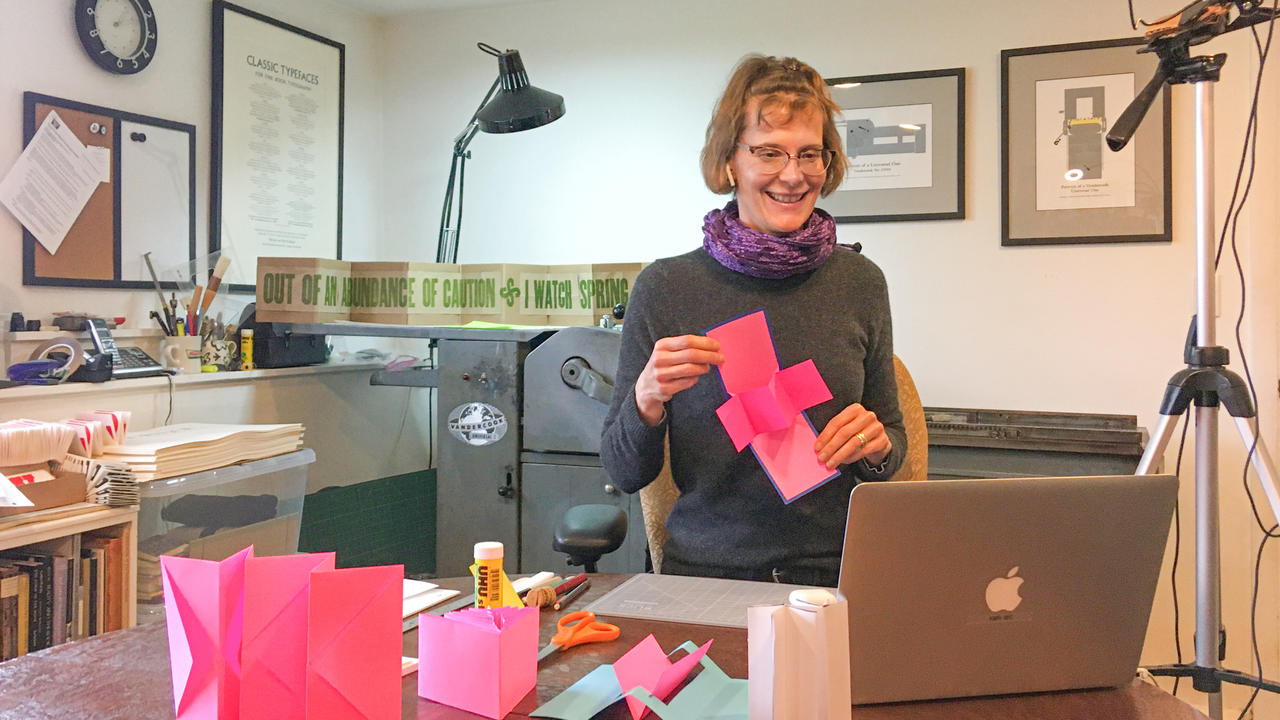 Aluminum Foil, Bubble Wrap, and Cereal Boxes: Students Find Creative Ways to Practice Bookmaking During Remote Instruction
Faculty who teach studio art courses, which depend heavily upon experiential learning and specialized equipment and supplies, faced some significant challenges when Wellesley shifted to remote instruction in March. Yet students in ARTS222: Print Methods: Typography/Book Arts, taught by Katherine Ruffin, lecturer in art and director of the Book Studies Program, are thriving despite the physical separation, thanks to Ruffin's advance preparation coupled with her innovative approach to virtual collaboration.
"The specialized studio space we have in the Book Arts Lab at Wellesley is really important to our work, so when the College moved to remote instruction, right away the attitude pretty much had to be, 'Okay, the skills we're going to build in this course are going to be different than we expected, but we'll figure it out and still do something meaningful together,'" said Grace Ramsdell '22, an English and creative writing major with a minor in studio art.
The course focuses on print-making fundamentals like typography, letterpress, and book structures. When Ruffin first learned that a shift to remote instruction could happen soon, she moved quickly to ensure that class participation, which is by design very hands-on, could continue remotely.
"I ordered some simple materials to provide to students as take-home supply kits, including small cutting mats, X-Acto knives, adhesives, and paper," Ruffin said.
"Okay, the skills we're going to build in this course are going to be different than we expected, but we'll figure it out and still do something meaningful together."

Grace Ramsdell '22
Recognizing that her 14 students, mostly seniors and juniors, come from a mix of backgrounds and geographic locations and have varying access to materials, her goal was "to level the playing field by allowing all students in the class to be productive," she said.
Ruffin recorded video demos using Zoom to show students how to build different structures out of the supplied materials, and also how to make do with some common household items: bubble wrap, aluminum foil, cereal boxes—even a printed copy of the government's guidelines for social distancing.
"I encouraged the class to find ways to express their ideas no matter what kinds of materials they happen to have on hand at home," said Ruffin.
To maintain continuity from the first half of the semester to the next, Ruffin also organized a Zoom field trip to the home studio of Ken Botnick, the Mary L. Cornille Distinguished Visiting Professor at the Newhouse Center for the Humanities, with whom the class had met in person earlier this semester.
"The field trip allowed us to see books he had talked about previously during his in-class visit, and also provided an opportunity for the class to see how he as an artist is responding to the global pandemic through some new projects he is working on," Ruffin said. Through this and other Zoom field trips Ruffin has arranged, students have seen the process of bookmaking from beginning to end, not just the finished projects a guest speaker might typically bring for an in-person visit.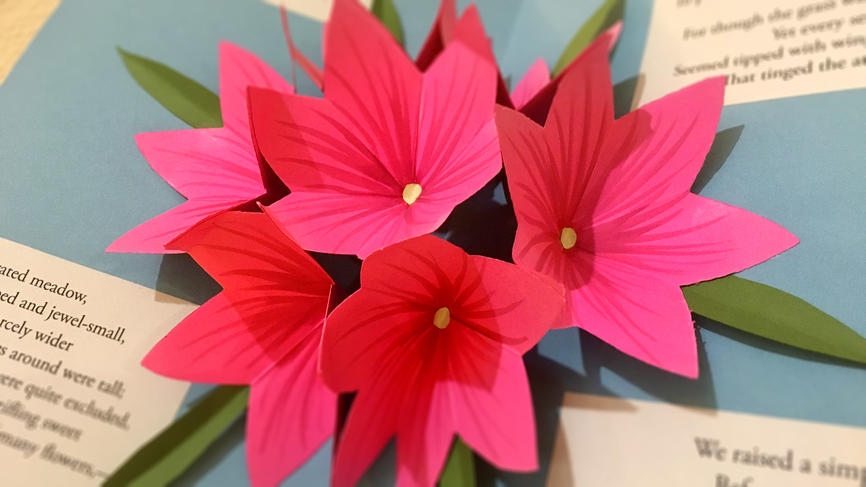 "The special guest visits are arguably the best part of our Zoom classes," said Lydia Gramstad '21, an architecture major. "As aspiring book artists ourselves, seeing the studios where they work and their projects in progress has been simply inspiring."
Ruffin has also given students some flexibility when choosing projects for the rest of the semester. She developed eight project prompts, of which they could choose four, that include making a StoryCorps-inspired 'zine, a scrapbook related to the student's college experience (or just this semester's experience), a book structure demonstration for the class, or a "green" book inspired by the environment and the start of spring.
For her green book project, Gramstad made a pop-up book of nature poetry. "As I was looking online for unusual and innovative book structures, I noticed several of the more three-dimensional ones were drawn from nature," Gramstad said. "With spring in full swing where I am, poems praising trees and flowers, birds and bees, felt like the perfect fit for the structure of my book."
Ruffin has been inspired by her students' response to remote instruction. "I think they are coping with a lot of grace, and with a lot of the characteristics that define Wellesley students: concern for community, resilience, and the ability to adapt and innovate in complicated circumstances," she said.
To support students during this time, Ruffin has created a synchronous and asynchronous learning experience, allowing them the flexibility to participate how and when they can.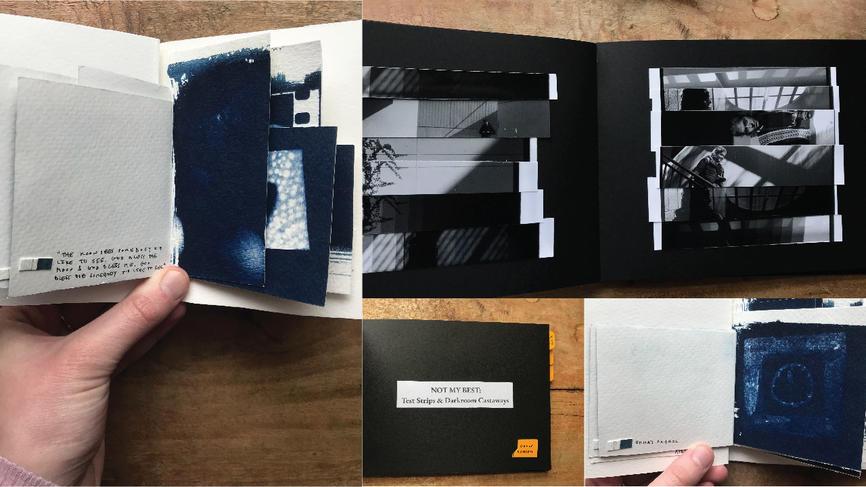 She has also solicited their feedback over the last few weeks. From adjustments to her webcam settings to advice on when to use more contrasting tones of colored paper in demos, she said their input has been integral to the class's success: "I've probably grown more as a teacher in the last three weeks than in the last three years!"
Ruffin also draws strength from the advice and support of her studio art colleagues at Wellesley. "For so many of us who rely on experiential, in-person interaction with students, this has been a really big shift," said Ruffin. "When this first started, I remember an email from [associate professor of art] Daniela Rivera in which she reminded us that artists have always grappled with limitations and challenges, and in those situations, you need to go to the core of your artistic practice to respond."