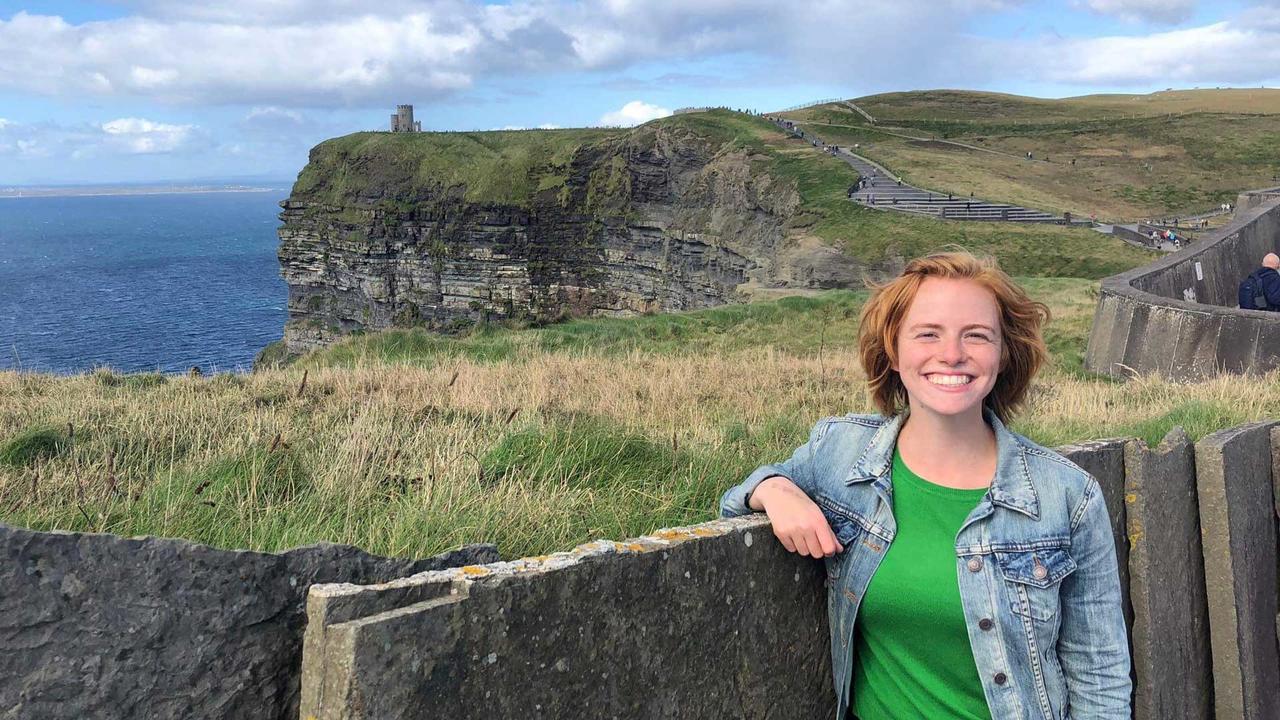 Wellesley Watson Fellow to Explore How Ethics Can Help Build Community
Even before Cseca Gazzolo '20 knew what the word "ethics" meant, she was interested in morality and how people live by their morals. She became what she calls a "religious-service-opportunist": She joined her grandmother (one of the first Lutheran women to be ordained) at church, attended Seders with her Jewish friends, and joined an interfaith youth group at the local United Church of Christ. "If I wanted to go someplace to learn about faith, I would find a way there," Gazzolo said.
Now Gazzolo will spend a year as a Watson fellow pursuing the question, "What does it mean to do good?" The Thomas J. Watson Fellowship is a one-year grant of $36,000 for purposeful, independent exploration outside the United States. This year, 47 college seniors were selected to join the organization's 52nd class—two of them from Wellesley (look for our story about Watson fellow Yuxi Xia '20 in the coming weeks).
Though Gazzolo knew she was interested in religious studies, she didn't think her questions about values and morals had a name. But during the spring semester of her sophomore year, Gazzolo took a religion and ethics class with Stephen Marini, Elisabeth Luce Moore Professor of Christian Studies and professor of religion, and started her active inquiry into ethics.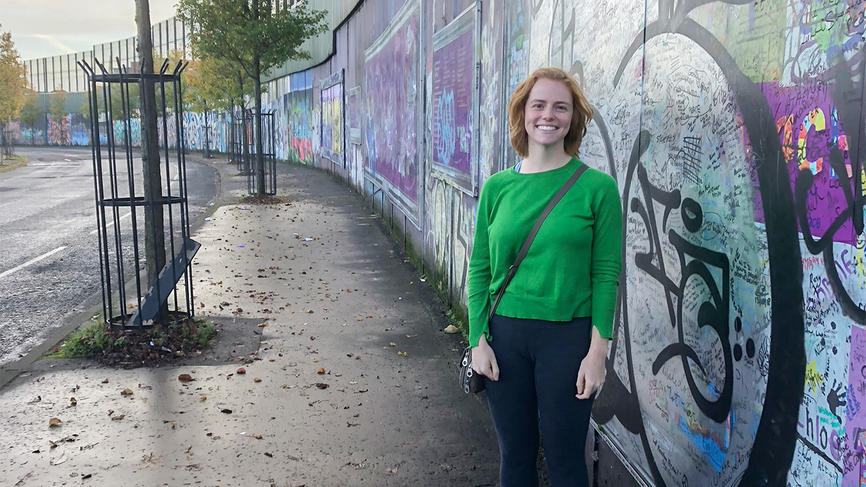 One of her first projects was an independent study focused on Western ethics. Working with Marini, Gazzolo distilled seminal works by philosophers such as Immanuel Kant and Simone de Beauvoir to make them more accessible to a wider readership.
At the heart of Gazzolo's study was a desire to "do ethics" beyond a classroom setting, and to share them with people outside of academia. "I think this discipline should be about active inquiry, not passive theorizing—we ask what I believe are some of the most basic questions we can ask: What do you value? And how do you live out those values?"
Gazzolo said her independent study helped her understand how discussions and examinations of ethical dilemmas could be part of everyday conversations, with broader audiences and communities.
The Watson Fellowship gives Gazzolo a chance to apply her study of morals and to explore a dream project away from papers and exams while traveling for a year. At first, she found it hard to even fill out the application; she couldn't imagine herself making it far in the highly competitive selection process. When Wellesley nominated her, she still couldn't believe she had made it that far. And then she landed an interview with the Watson committee.
"It takes courage to put yourself out there and apply for any fellowship, but especially for the Watson, which asks for unusually personal proposals," said Kate Dailinger, director of fellowship programs at Wellesley, who helped Gazzolo navigate the application process. "Wellesley's fellowships team and campus fellowship committees know how daunting that can be, but we also know the power in daring to imagine the best and most creative ways to explore your interests and aspirations, and we love being able to support students (and graduates!) along the way."
Gazzolo hopes to spend her fellowship year studying how people live out their religious values day to day and seek peace through ethical common ground.
"I want to make ethics accessible to people. Whatever form it takes, I want to bring ethical inquiry into the everyday, and the Watson will ground me in that work."

Cseca Gazzolo '20
She will work with interfaith organizations that foster cross-cultural dialogue, as well as religious leaders and believers in areas of conflict—specifically in New Zealand, India, Israel/Palestine, and Northern Ireland. (While the Watson Foundation has not yet made official changes to fellows' original projects, the COVID-19 pandemic may impact Gazzolo's plans.)
Though she's chosen to visit areas of the world that experience religious friction, Gazzolo plans to focus not on these divisions but on ways in which people are working to find peace and build community in the midst of chaos. "I wanted to be a Watson fellow because, try as I might, I cannot gain this information from the classroom alone… To understand someone's deepest beliefs, you must inhabit the place they inhabit," she said.
Gazzolo is excited to see how her perspective will change during her fellowship as she encounters people from various parts of the world who hold views different from her own: "I embrace both the widening and deepening this journey will bring… and the deepening of my commitment to love the world."
After completing her fellowship, she hopes to go to divinity school, study religious ethics, and ignite public conversations on what is "good" through policy work, creative writing, or a religious vocation. "I want to make ethics accessible to people," Gazzolo said. "Whatever form it takes, I want to bring ethical inquiry into the everyday, and the Watson will ground me in that work."