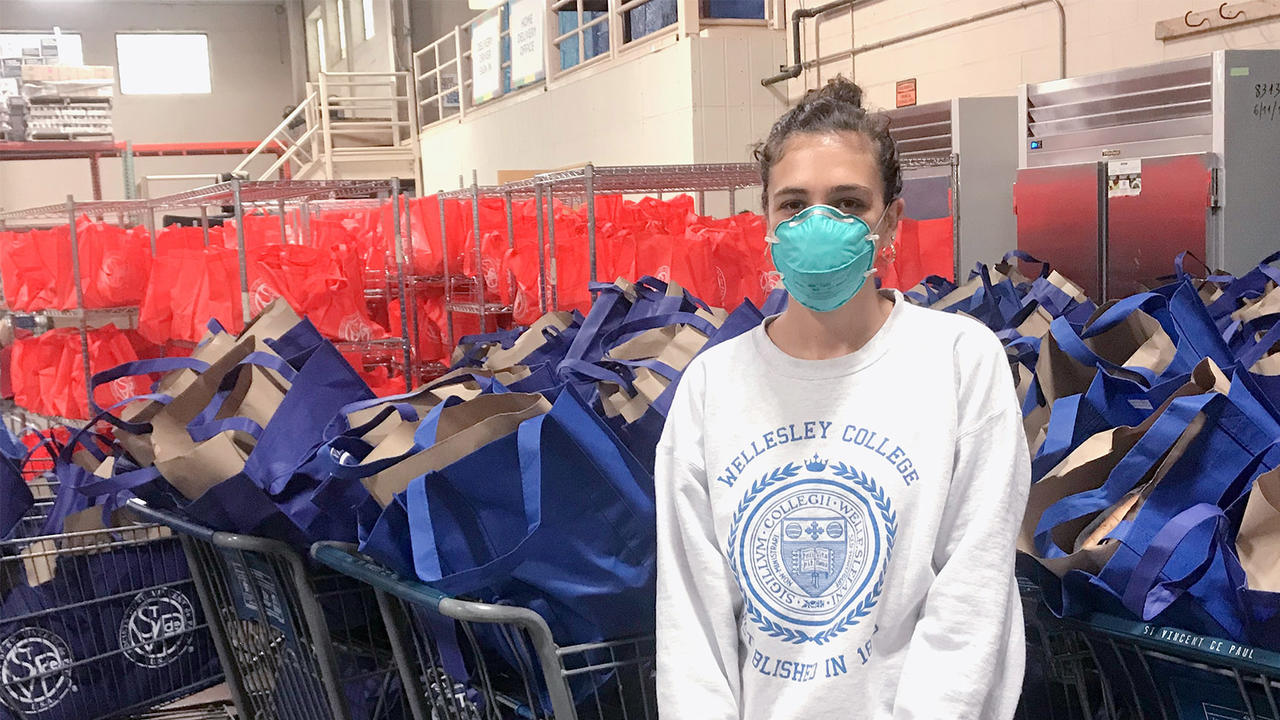 How Wellesley Students Are Serving Their Communities Across the Country
Service takes many forms for Wellesley students who are helping out in communities in Indiana, Texas, Maine, and Rhode Island amid the COVID-19 pandemic.
Indianapolis
At the Society of St. Vincent de Paul food pantry in Indianapolis, one of the centers of Indiana's emergency response to a drastic increase in food insecurity, people start lining up in their cars at 5 a.m. to get one of the 1,500 boxes the pantry distributes three times a week. Helping hand out the boxes is Kayla Nakeeb '21, who has been volunteering at the food pantry since she was 8 years old.
The community St. Vincent de Paul serves is a food desert, and the difficulties that come with a lack of grocery stores have been compounded by the pandemic. Some residents are using the pantry to feed their families for the first time—many are now out of work and unable to afford groceries. Rather than have people come in and choose items as they usually would, like a grocery store but sans registers and receipts, St. Vincent de Paul is now packaging and distributing boxes that community members wait in line to receive, often for hours.
This means added work and a greater reliance on a core group of three directors and about 35 volunteers—including Nakeeb and her mom, with whom she works every morning—many teachers and off-duty nurses, as well as Army Reserve and National Guard teams that double the pantry's forces.
Volunteers prepare boxes and bags to be distributed, unload deliveries, sort loose produce, repackage meat, portion dry goods, and label unidentified cans with stickers. The job is demanding, and the organization always needs more hands, support, and personal protective equipment.
"I love that the majority of the words I say in a day are 'thank you,' as people are consistently helping to restock, pick out rotten potatoes, push along boxes, and reach high shelves," Nakeeb said. "However, I continue to be frustrated that our systems are not adequately addressing this need and that we continue to see such high numbers of families needing to use food banks to feed themselves."
The food pantry isn't the only way Nakeeb has gotten involved since moving home after Wellesley shifted to remote instruction. Motivated by the loneliness she felt at the beginning of social distancing (even though she was with her family), Nakeeb wanted to find a way to keep senior citizens from feeling isolated too.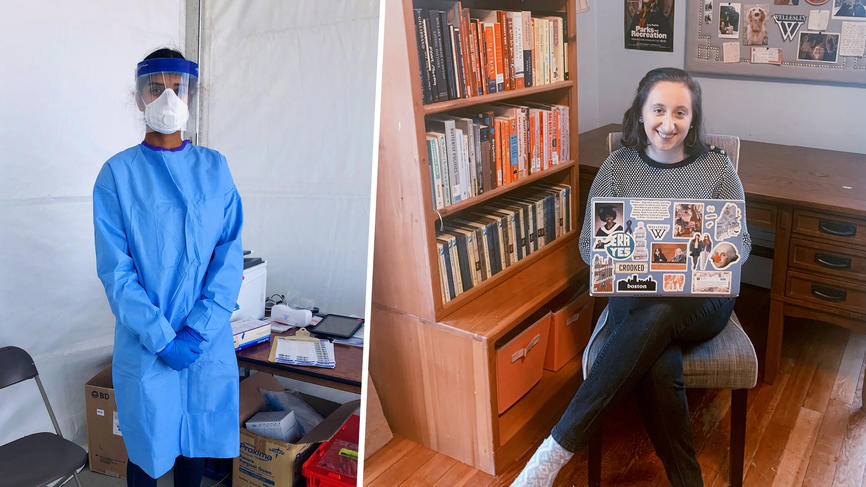 She launched Phone-A-Friend, which connects college students with the elderly in her county to check in with each other and talk by phone twice a week. The project, which Nakeeb started with a friend from home, has spread to Miami and Boston, and to groups at Indiana University and Purdue University. "It has been incredible to have other Wellesley students reach out, interested in starting similar networks in their own communities," Nakeeb said.
Houston
Gaya Krishna '22 had been a volunteer greeter in the Newton-Wellesley Hospital emergency room for over a year when she had to head home to Houston in March. Within a few weeks, she began volunteering at a COVID-19 testing site, where she takes patients' temperatures and collects their initial contact and medical information.
"I think one of the most difficult things about the coronavirus crisis has been this general sense of helplessness and paralysis. We've been told that the best thing we can do is to stay home and do nothing, which in many areas—New York City or California—is the case," said Krishna. Because COVID-19 cases are not as high in Houston as in other parts of the country, Krishna reached out to the Medical Reserve Corps to see how she could help. "I'm a volunteer coordinator on the Wellesley Partnerships team for Ministrare Council (part of Wellesley''s Office of Civic Engagement), so service is something I'm quite fond of," she said.
Volunteering to help possible COVID-19 patients hasn't been easy. Krishna and her team spend long hours on their feet, interacting with tense people. But, she said, it's worth it: "You realize pretty quickly that their frustration comes from fear of the virus, and that helping them is literally saving lives—and that in itself is the greatest reward."
Krishna said she is grateful for the opportunity to give back to her community and work with an amazing group of volunteers, most of whom are women.
Bangor, Maine
When Caroline Baldacci '22 read that domestic violence would likely increase with the onset of stay-at-home orders during the pandemic, she wanted to support her local shelter for victims of domestic abuse—for the second time this year.
Like Krishna, Baldacci is a coordinator on Ministrare Council, which offers Wellesley students an opportunity to work closely with professional staff in community organizations to learn about their work. During Wintersession, Baldacci led an alternative break trip to Partners for Peace, a domestic violence shelter in her hometown of Bangor, Maine. She and 12 other Wellesley students spent a week cleaning the shelter and helping to lift the spirits of the families living there. Working with the organization "taught me the importance of supporting local efforts to combat gender-based violence that are typically undervalued," Baldacci said.
"Though virtual, it has been really great to have the opportunity to interact with incredible students (and their families)"

Maria Iannotti '20
When she returned home in mid-March, she set out to raise $500 for Partners for Peace by starting a fundraiser on Facebook. "I have been thinking about what we can further do to help survivors of domestic abuse," she said. "And now, it is crucial we support our local shelter so that they can continue to aid survivors."
By the end of April, with help from the Wellesley community and beyond, Baldacci surpassed her goal, raising $535 for the shelter, and she hopes to continue supporting the organization in the future.
Narragansett, Rhode Island
When schools closed across the country, many K-12 students were faced with challenges at home that would affect their education. Maria Iannotti '20 felt that her experience as an academic success coach (ASC) at Wellesley had prepared her to help them. She has worked with the ASC program, run by the Pforzheimer Learning & Teaching Center, since 2017, and most recently was a program coordinator supporting a team of ASCs as well as working directly with the College's Davis Scholars.
At home in Narragansett, Rhode Island, Iannotti is now volunteering with CovEd.org, a platform run by college students that pairs mentors from higher education institutions with K-12 students affected by school closures; currently over 3,000 mentors from 250 colleges and universities are working with more than 1,700 mentees. "CovEd provided a platform where I would be able to meet and engage with other students and their families through meaningful academic work," Iannotti said.
Iannotti is currently tutoring high school students, helping them to review course content, learn study strategies, and workshop essays. She will be working with them through the rest of this academic year, after which she will attend the University of Connecticut School of Medicine.
"Though virtual, it has been really great to have the opportunity to interact with incredible students (and their families)," she said. "I am grateful students took the time and initiative to design and run a platform like CovEd to create opportunities for meaningful interactions during the COVID-19 pandemic. And while this initiative came in response to a difficult global situation, I am hopeful that it can serve as a precedent and launching point for how college students might be able to continue to engage with other students long after the COVID-19 crisis is behind us."