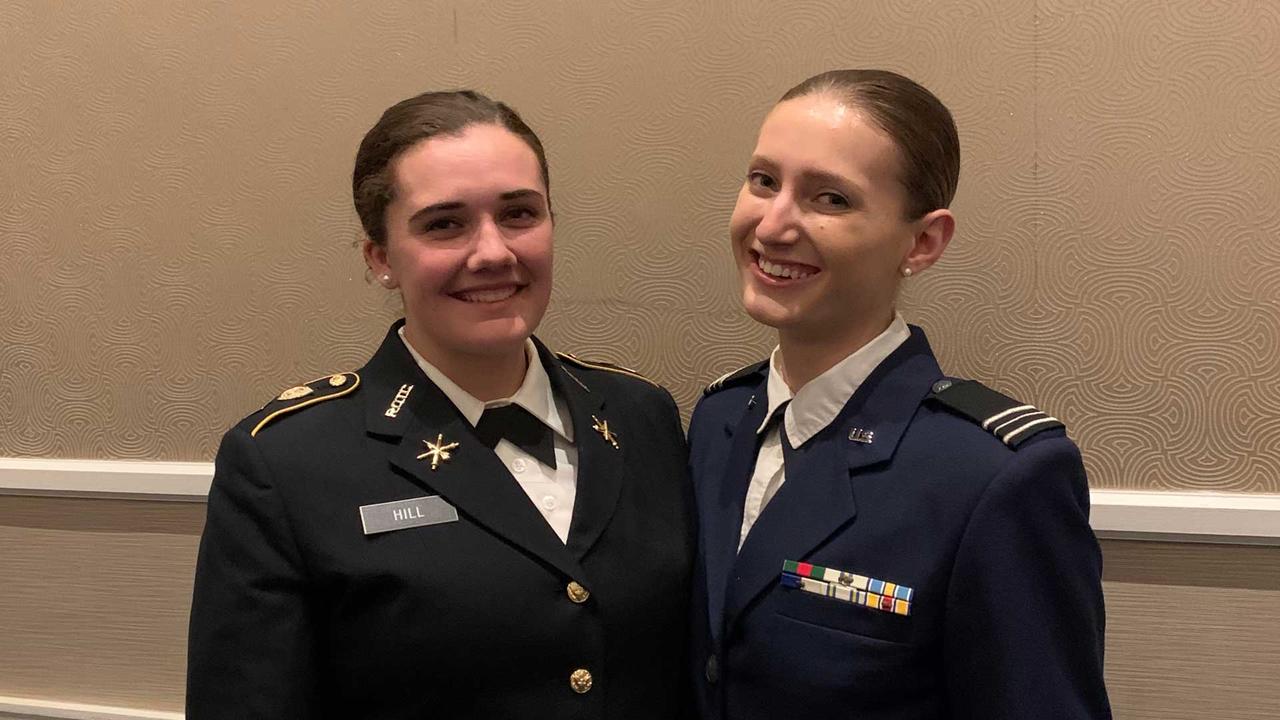 Once Students, Now Second Lieutenants: Wellesley 2020 ROTC Cadets Begin Their Military Careers
Sophie Hill '20 and Marina Hostrop '20 won't just be graduating from Wellesley College this coming weekend during the senior celebration—they'll be starting their military careers as well.
After four years in the Reserve Officers' Training Corps (ROTC), completing military and leadership training in addition to their College coursework, Hill and Hostrop are set to become second lieutenants in their respective branches of the military. Hill, a Middle Eastern studies major and biology minor, completed the Army ROTC program, and Hostrop, an East Asian studies and political science double major, completed Air Force ROTC. MIT hosts both programs, which include students from a number of area colleges and universities, such as Tufts and Harvard: the Paul Revere Battalion is part of the Army, and Detachment 365, also known as the Doolittle Raiders, is part of the Air Force.
Under normal circumstances, they would have been sworn in at an on-campus commissioning ceremony with friends and family in attendance. This year, commissioning will take place online due to the COVID-19 pandemic; the Air Force ROTC's virtual ceremony for Detachment 365 commissionees is May 27 and the Army ROTC's for the member schools of the Paul Revere Battalion is May 31. Both divisions hope to hold in-person ceremonies as soon as it is safe to do so.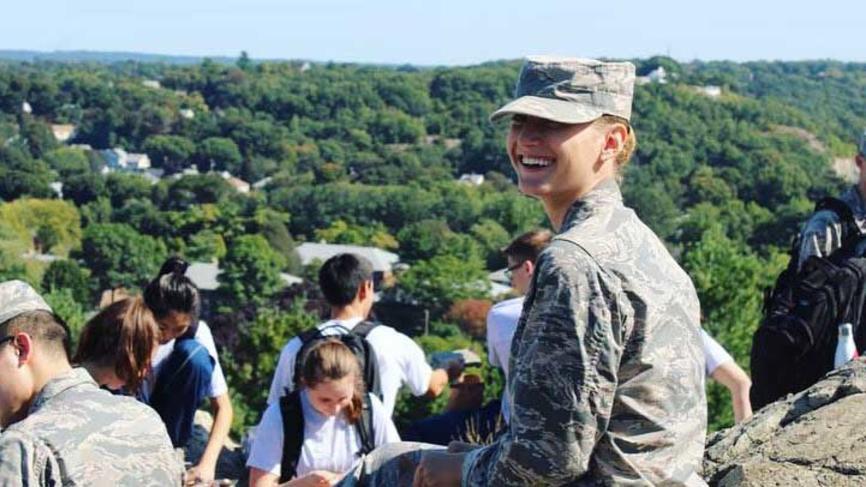 "Over the past four years, in addition to completing your coursework and earning your degrees from Wellesley, you have undertaken profound responsibilities in service to our nation. Duties that exemplify leadership, commitment, and strength, and that are more necessary than ever before," said President Paula A. Johnson. "Your devotion to something larger than yourself epitomizes the best of Wellesley's motto: Not to be served, but to serve. We are so deeply grateful, and I know that with future leaders like you addressing some of the most pressing issues of our moment, our world will be a better place."
Hostrop values the growth she has experienced and the people she has met as part of ROTC. "I've enjoyed being a part of a community that is dedicated to 'integrity first, service before self, and excellence in all we do,'" she said. The Wellesley cadets, she noted, "have strong bonds and support each other through thick and thin."
"Although ROTC culture was very different from Wellesley life, it was a contrast I really enjoyed, and I felt it made me more well-rounded," said Hill. "It instilled in me a much stronger sense of integrity, authenticity, and compassion that I wouldn't have gotten elsewhere."
Late nights of learning about tactics and military planning, long days of field training exercises, and waking up early for physical training were not always easy, but Hostrop and Hill said the experiences pushed them to become better leaders, mentors, and people. They will miss the runs along Lake Waban and the Charles River, post-leadership lab dinners in Cambridge, and team breakfasts at Lulu—and especially the camaraderie of their fellow cadets.
Both Hill and Hostrop said their Wellesley and ROTC experiences enhanced and complemented each other. "AFROTC has immensely boosted my confidence, public speaking, professional writing, and many other leadership skills, helping me succeed in classes at Wellesley," Hostrop said. Through AFROTC, Hostrop also joined the Project Global Officer summer scholarship program and studied Japanese, allowing her to skip ahead in her Japanese studies at Wellesley.
"Many Wellesley students regard the military with great (justified) trepidation. But I think institutions like the military need more Wellesley alums."

Sophie Hill '20
"When I came to Wellesley, there was so much I wanted to learn about my country, and so much change I wanted to see happen. I felt that joining the military was a great way to begin initiating that change," Hill said. ROTC also offered her the opportunity "grow my constellation of mentors," adding military officers to the Wellesley alums and professors who served as important guides throughout her college career.
Last year, Hill started a student organization to help establish an inclusive community for Wellesley ROTC cadets and those just interested in learning more about the program. Called the Friends of Wellesley ROTC, the group works to facilitate civilian-military relationships on campus through events, conferences, workouts, and recruitment. "Many Wellesley students regard the military with great (justified) trepidation. But I think institutions like the military need more Wellesley alums," Hill said.
After Wellesley, Hostrop will head to Goodfellow Air Force Base in San Angelo, Texas, for intelligence officer training. Hill will begin an Air Defense Artillery Basic Officer Leadership Course (BOLC) at Fort Sill, Oklahoma, on June 7. In October, she will be moving to Fort Bragg, N.C.
Over the years in the ROTC program, Hill said, she went from being intimidated by older cadets and officers to looking out for younger cadets the way older cadets had looked out for her, a mentorship role she hopes to continue for future Wellesley ROTC members.
"Few things have brought me as much immense pride and joy as watching the next generation of Wellesley cadets grow into themselves," she said. "I am so proud to have been part of such a great group of students, and I look forward to continuing the long tradition of Wellesley service members."