Senior Art Theses Reflect and Challenge Points of View
Graduating seniors' artwork typically decorates the halls of Jewett and Pendleton West each spring. This year, because of the shift to remote instruction amid the COVID-19 pandemic, the exhibition took the form of a website, created by the Art Department, where 23 student projects are now on display.
In the exhibition, named HEREThere, the students examine themes such as the passage of time and climate change, tabletop game design, grief, the history of the LGBTQ community at Wellesley, and a springtime spent at home. They used traditional media like oil paints, prints, and film and digital photography, and even worked with nylon, book arts, and found trash. Each project demonstrates its maker's creativity and unique vision.
Daniela Rivera, associate professor of art, worked with many of the seniors throughout their Wellesley careers. "They are a supportive cohort of artists who work together and put the well-being of the community before their individual needs," she said. "I have never been as challenged as an instructor as I was by this particular group of seniors. They kept me on my toes, helping me grow as a professor and as a person."
When the pandemic sent everyone home, the artists were forced to abandon their studios and, in many cases, unfinished long-term projects. They did so with strength, flexibility, and care for each other, Rivera said: "Each of them faced with courage the need to reframe, adapt, or completely transform their projects. [They] demonstrated that in all its messiness, care and human connection create an understanding where words don't exist."
Here's a look at four senior projects, with additional details from the artists. Be sure to check out the full exhibition!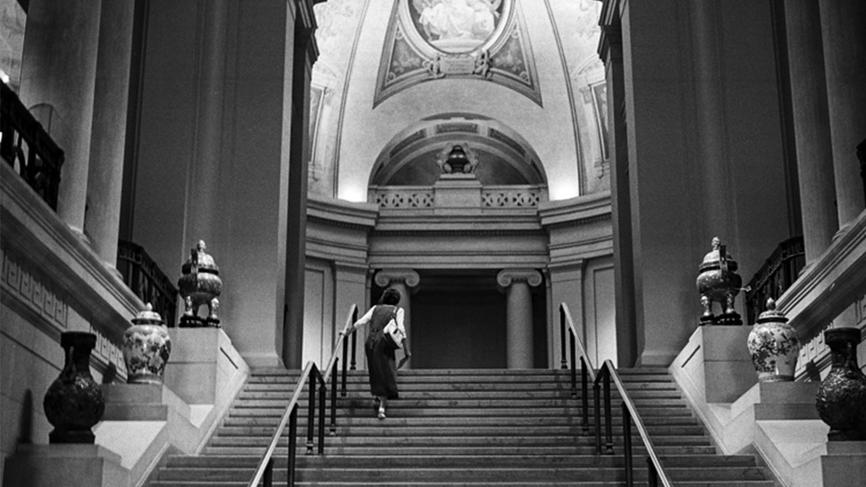 A Study in Presence
In her black and white film photography series, A Study in Presence, Joy McWilliams '20 captures fellow patrons one afternoon at the Metropolitan Museum of Art. Unable to get photos that didn't include other visitors, McWilliams embraced having strangers in the images. On her project page, McWilliams wrote, "Art itself requires human appreciation, human disagreement, and the provoking of emotional interactions and reactions in order to hold meaning." Empty of people, "a museum is just a building full of shapes." In her photos, McWilliams depicts fellow museumgoers as part of the museum itself.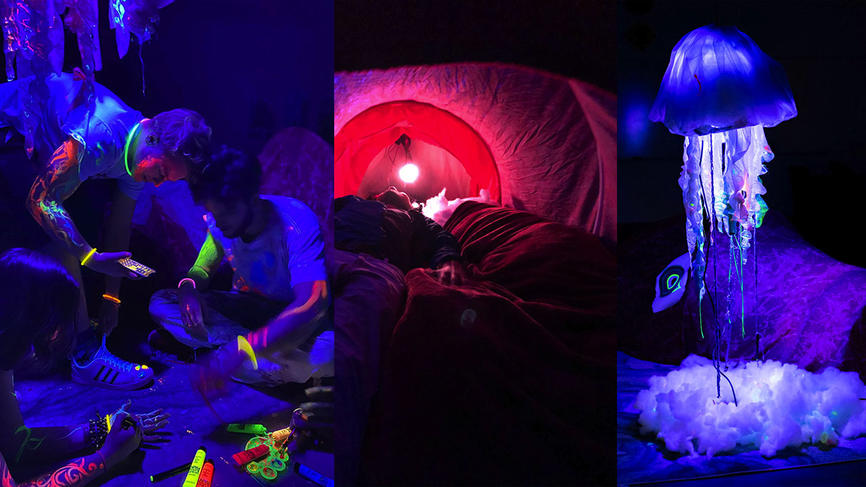 Belly of the Beast
Whitney Xu '20 put together an interactive art installation called Belly of the Beast and wrote, "My goal with public interactive art installations is to transform the viewer into a participant, and the work into something that cannot exist without the energy from its participants. I hope that my work can encourage people to slow down, connect with their bodies, and find ways to be generous with their time and energy." Her piece uses light and sound and invites participants to crawl into a mouth-like cave. The project, wrote Xu, "aims to invite collaboration, curiosity, play, and vulnerability."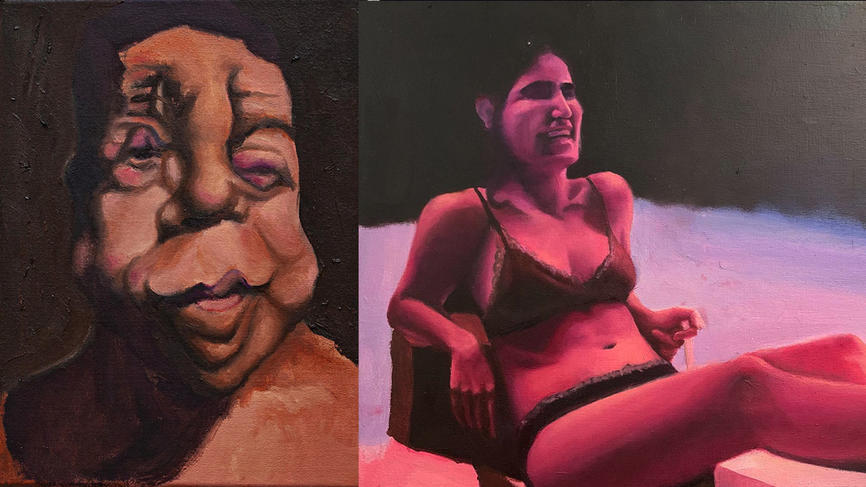 Meditations on Skin
Sanika Bapat '20 refers to herself first and foremost as a painter. In her project Meditations on Skin, she works to "make the viewer experience the physicality and sensory quality of the paint and the body." As Bapat began to focus more on flesh for these paintings, her work became more "physical and sensual." She applies thick layers of paint to better represent flesh "in the sense that it can be pulled and pushed in the similitude of the body."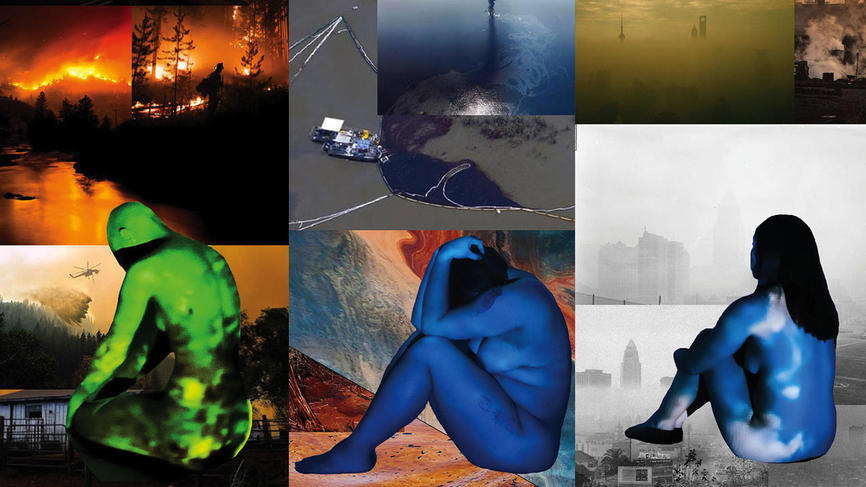 Connection Zero
Karina Alvarado '20 blended two themes for her project Connection Zero: home and the body. She portrays the loss of home due to various human-caused disasters, such as forest fires, smog, and oil spills. She created a collage of images of disaster she found through media outlets, coupled with images of vulnerable bodies. While "we only see these disasters through the screens of our phones or TVs, and are for the most part unable to connect to them, trauma and narratives of loss and displacement are being experienced and constructed," she wrote. The images of vulnerable bodies in the collage are a reminder that those disasters are felt.