In the Writers' Room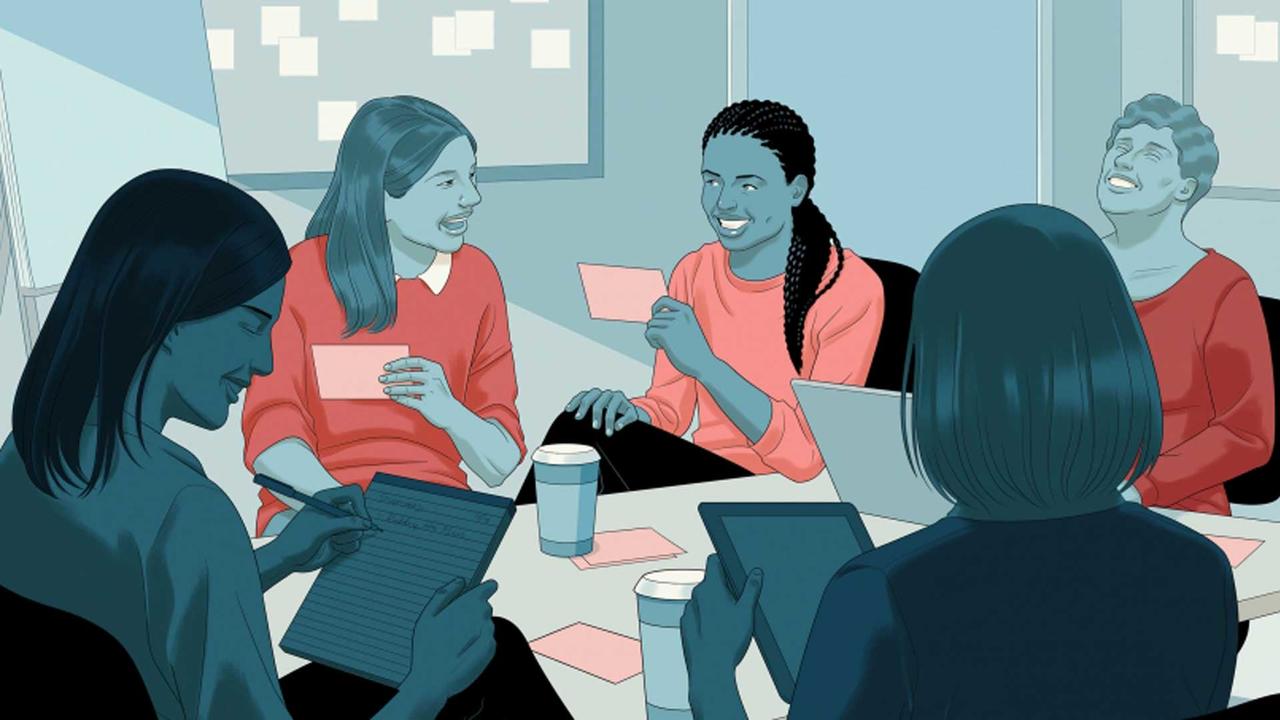 Anyone who's struggled to catch up on the latest hit TV shows will not be surprised to learn that last year, there were 532 scripted U.S. television series on network TV, cable, and on services like Netflix, Amazon, and Hulu. This number has been steadily increasing over the last decade—in 2010, the number of shows was only a little more than 200, according to the research department of the cable network FX—as television has become a fertile field for prestige dramas and innovative comedies.
In this era of "peak TV," as critics have dubbed it, Wellesley writers have been drawn to the industry, and a growing number of them are penning the episodes of your favorite shows. Series that have had Wellesley women behind them include Fresh Off the Boat, Mr. Robot, Fear the Walking Dead, The Resident, The Goldbergs, Speechless, Bluff City Law, Briarpatch, Scandal, 30 Rock, The Bold Type, The Leftovers, Parks and Recreation, and Silicon Valley.
Despite the networks' and streaming platforms' hunger for new shows, it is a steep, uphill battle to get a show created or to land a writing position on a series. Amy Holden Jones '75, co-creator of the Fox medical drama The Resident, describes the odds of getting a new show made this way: There are more than 500 shows being made, but perhaps fewer than 100 are new. Spots for debut shows tend to go to a cadre of known creators, mostly white men—"the established male guys," Jones calls them. So there might be roughly 25 debut shows available for others. "It becomes unbelievably difficult to break in, unbelievably difficult," she says. What's more, "People who hold the power and decide what is good or bad, to an overwhelming degree, can't tell good from bad. And so you'll watch over and over when a good piece of work does not advance, and a poor one does, for reasons that are incomprehensible. … The hardest thing about our business is that quality is not always rewarded. A creator who is known, or a pilot with subject matter that's hot, will often get a pickup over an unknown creator with a great new show to offer."
When the chances of success are so low, what keeps Wellesley TV writers going? They describe the joy and excitement that comes from collaborating on a creative project that they believe in deeply, and the satisfaction that comes from seeing it come to life and connect with a worldwide audience.
"Being in a writers' room is a very vulnerable thing, because a lot of it is sharing your personal stories."

Broti Gupta '16
Rachna Fruchbom '99, who's written for Parks and Recreation and Fresh Off the Boat, says, "My favorite thing about being in a writers' room is that your job is sitting with a bunch of people you admire, who are so smart and funny, and you're just pitching stories and jokes together. And that is a cool way to make a living."
So you want to be a TV writer
There are two main paths in the television industry. The first is to rise through the ranks on TV shows, starting as a writers' room assistant and progressing to become a staff writer, then a story editor, a producer, and ultimately an executive producer or a showrunner. The other path, the one that Jones followed, is to begin by simply writing pilots—the first episode of a TV series that's used to sell the show to a network. She was able to do this because she had already made a name for herself as a screenwriter for films including Mystic Pizza, Maid to Order, Indecent Proposal, and Beethoven. She originally wanted to be a director, but quickly discovered that Hollywood was not supportive of female directors. "I started to get writing assignments, because it was acceptable for women to be writers. Not at parity. There were many, many more men. But the director would be a guy, and then the person at his elbow could be a woman," she says.
By the early '00s, when mobster Tony Soprano was seeking treatment for panic attacks in the seminal HBO show The Sopranos, marking the beginning of the prestige television era, Jones decided to make the leap to the small screen by writing pilots. It can be a lucrative business, Jones says, but it's also a longshot one. A network might buy 60 drama pilots, and of those, it will shoot anywhere from four to 10, usually. Of those that get shot, as few as three or four will make it on air. "The world is littered with what they call 'dead pilots.' You put all this work into it, and it's over," she says.
One of the many pilots Jones wrote, a drama about Harvard Medical School students, got as far as being shot, but never made it on air. Not long after, another show she created, Black Box, a psychological medical drama, aired for one season before being canceled. "So I was pretty discouraged by this time … and was considering giving it up," she says. But then she read Unaccountable: What Hospitals Won't Tell You and How Transparency Can Revolutionize Health Care by Martin Makary, which inspired her to create a series called The Resident. The show focuses on the problems with the medical system in the U.S. and the struggles that new doctors face as they fight to keep their ideals within a flawed and dollar-driven health-care industry.
Several networks were interested in The Resident, and Fox picked it up. "Fox was petrified from the beginning, because medical shows were all about doctors having love affairs. … They were not about problems in medicine. But I was driven very much by the nonfiction," Jones says. "We had a real theme, and Fox fought it for quite a while. They said, 'Make it more like The Good Doctor. Make it more like This Is Us.' But eventually, they came to realize that it was something unique, and by the end of the first season, we were rocking. So now we're hopefully looking at season four."
This is an excerpt from an article by Lisa Scanlon Mogolov '99 that appears in the spring 2020 issue of Wellesley magazine. Read the full story on the Wellesley magazine website.