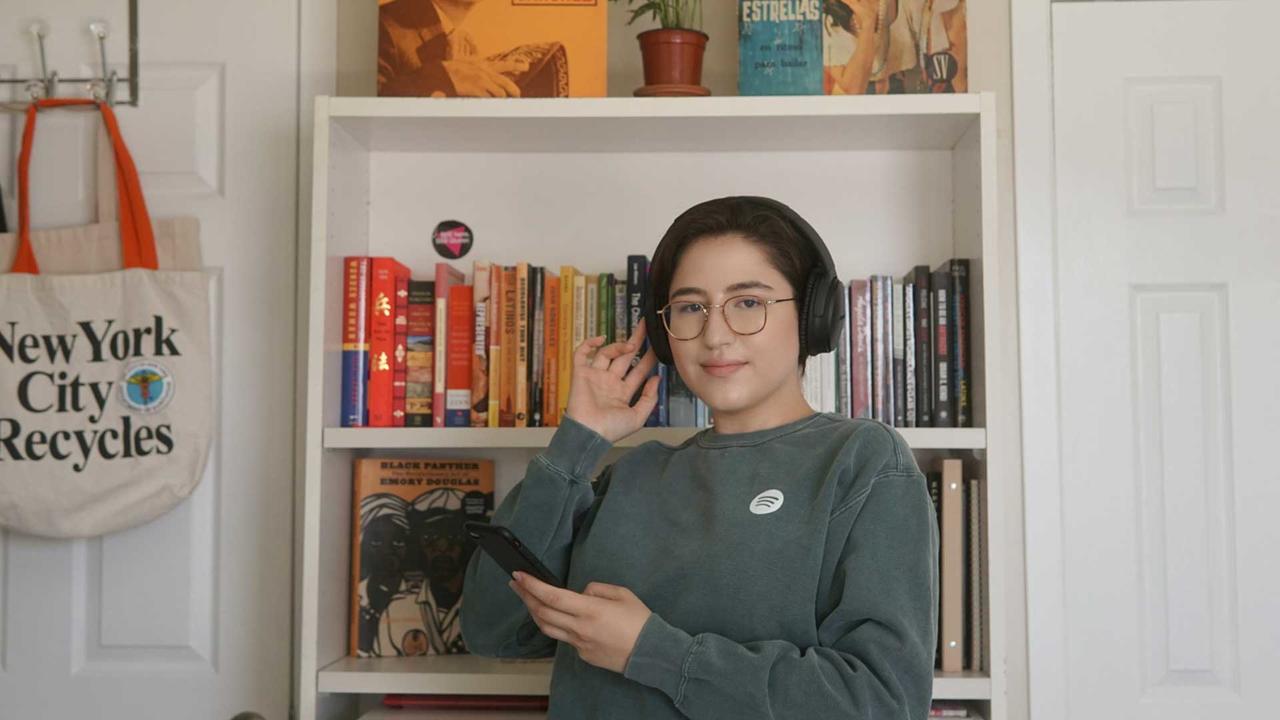 How Creating a Podcast Led One Student to an Internship at Spotify
When Sandra Riaño '21 started the podcast Nos/otras in April 2019 with her roommate Mariantonieta Chávez Alfonso '20, she did not think it would lead to a summer podcast production internship at Spotify.
Instead, she and Chávez Alfonso had a very specific, more immediate goal: to start a conversation on what Latinx students in higher education think about their campus experiences.
"When we approach conversations surrounding Latinx students in higher education, the idea of 'survival' is much more present than what kinds of contributions we are making in academic spaces," Riaño said. "There was really nothing celebrating what kinds of academic projects we were working on, or our experiences, or the thoughts we were having. We wanted to create that space."
Riaño, who was born in Colombia and moved to Long Island, N.Y., when she was 5, and Chávez Alfonso, who moved to Miami from Venezuela five years before enrolling at Wellesley, felt they had a lot to explore.
"My understanding of Latinx identity was really rooted in my diasporic and pan-ethnic cultural experience in New York, and growing up with all those different traditions around me," Riaño said. "And [Chávez Alfonso] had this really strong sense of her identity as a Venezuelan. We thought that it was interesting that on paper, at Wellesley, we were both Latinx students, but between us there was a vastness of what Latinidad meant, and that we approached our Latinx identity from two very different places. We wanted to dispel that we have any one kind of culture or tradition, because Latinos are not a monolith. Exploring those nuances is what drove us to create Nos/otras."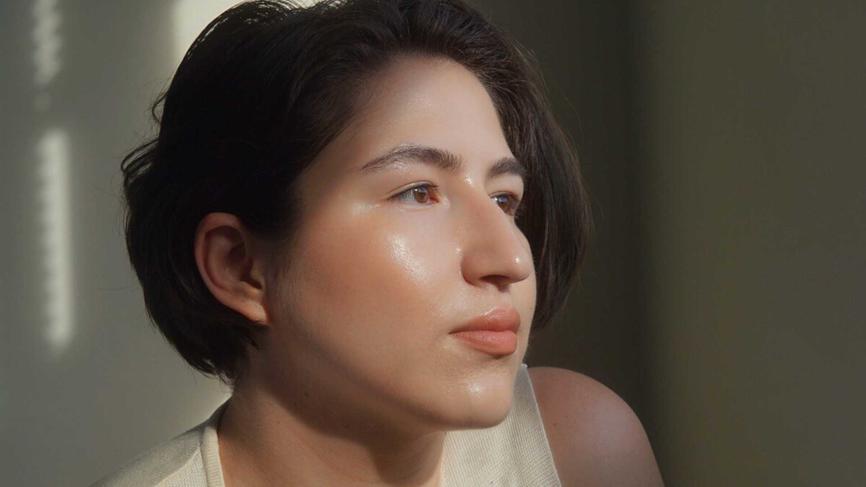 While they were concerned that the show's title might not be search-engine optimized because of its punctuation, they felt it was especially important to their central focus. "The Spanish word 'nosotras' means 'us,' but in splitting it, the slash also highlights the word 'otras,' or 'others,'" Riaño explained. "The dash allowed us to oscillate between the experience of belonging and being othered simultaneously."
Riaño said that she and Chávez Alfonso were drawn to the scholar Gloria Anzaldúa's theory of "nos/otras" because "it allows us to practice constant self-reflexivity and examine the ways we are othered or embraced, especially as first-gen Latinx students with white privilege."
"We felt really strongly about the theory behind the name, so we kept it," Riaño said, "which I think is a really Wellesley thing to do."
As neither of them had podcast experience prior to Nos/otras, they attended a few workshops at the Podcast Garage in Boston, run by the nonprofit media company PRX, to learn how to create scripts, edit audio, and record cleanly.
"It took us a long time," Riaño said. "Those four months helped us learn what the whole process looked like from the ground up. We also had to do lots of research around Latinx podcasting, and find out who was making what, and what the space looked like."
To record their podcast, Riaño and Chávez Alfonso borrowed microphones and recording equipment from the Knapp Center and used the audio recording facilities in Pendleton West. In the first episode, which aired on April 20, 2019, they discussed the differences between Latinx culture in Miami and New York City, how they had each arrived at Wellesley from community colleges, their campus experience so far, and how they had come to understand their own identities.
The audience response was immediate and exuberant.
"It was just absolutely crazy, the response we got from people who we looked up to, who were the reason we wanted to do this work, but also from students all across the country," Riaño said. "Students at two-year colleges, four-year colleges, co-ed institutions, and historically women's colleges messaged us about how the podcast resonated with them in terms of exploring their own identity within higher ed spaces. That was so fun and rewarding. That was what got me into the podcasting world."
Riaño was especially excited to hear from scholars, journalists, and film directors they had mentioned in their first episode as being influential: "Tanya Selene Saracho tweeted us. Maria Hinojosa, anchor and executive producer of NPR's Latino USA, commented on our podcast. Scholars like Emma Pérez and Juana María Rodríguez messaged us on Twitter. Naida Saavedra, a professor of Latinx literature and culture at Worcester State University, included our episode on her syllabus. Cherríe Moraga's publisher sent us her book to discuss on our show."
"I see all these mediums, whether it be audio or photography or academic writing, as channels for me to explore my research and bring that to life. I think they are all really intertwined."

Sandra Riaño '21
The experience gave Riaño the confidence to explore the world of podcasting. When the opportunity to intern as a producer came up, she decided to apply. To prepare for the interview, she tapped into the power of Wellesley's mentorship platform the Hive
Riaño spoke with Jessica Yung '17, a producer for the popular podcast Reply All, about her job. She connected with Susan Harmon '67, the former managing director of Public Media Company, who coached her through mock interviews. She also reached out to Elizabeth Lee '97, a multimedia correspondent for Voice of America, and Kumari Devarajan '17, a producer on NPR's Code Switch.
"I'm grateful for the Hive," Riaño said. "Career navigation and preparedness can be very overwhelming for first-gen students. Networking is something I would hear about but not explicitly learn at Wellesley, and I made a lot of mistakes in the beginning. But by the time this opportunity came around, I leaned on the alumnae I connected with to help me prepare for my Spotify interview and to ask deeper questions about their experiences within the industry. Some of them I would consider lifelong mentors."
Their collective advice for Riaño? "Be authentic. Ask the questions nobody else is asking. Research the hell out of your story. That's what makes a good producer," Riaño said.
As a producer, Riaño does research for episodes, listens to recorded episodes to clean up transcriptions, and participates in pitch meetings, providing feedback on storylines and how they might fit into podcasts Gimlet is producing. (While her internship was originally based in L.A., she has been working from her parents' home in Port Washington, N.Y., as a result of the pandemic.)
"I have a really good behind-the-scenes look at what it means to pitch a show and try to sell it," she said. She is especially excited about a project related to the ongoing protests around the country and the nation's growing desire to reexamine much of its history. "It responds to this moment in a really important way," she said. "That's all I can say for now."
The topic is particularly interesting to Riaño because she's a history major at Wellesley, due in large part to associate professors of history Brenna Greer and Ryan Quintana.
"Professor Greer and Professor Quintana have shaped not only my research, but in large part who I have become as a young woman," Riaño said. "I owe a lot to their influence. They have really encouraged me to explore my history work through diverse and creative mediums, like podcasting and photography."
Riaño is also currently pursuing independent research as a Mellon Mays fellow, a program of the Andrew W. Mellon Foundation that seeks to increase faculty diversity in institutions of higher learning. Riaño is studying the New York City chapter of the Young Lords party, a Puerto Rican revolutionary group from the 1970s, and the Long Island chapter of the Congress of Racial Equality (CORE) and its chairman Lincoln Lynch.
"I'm in a cohort with women of color, and we are supporting and envisioning pursuing a PhD after we graduate," Riaño said. "I definitely could envision pursuing a PhD, teaching, and also doing work around culture organizing in the future."
At the moment, Riaño doesn't feel any pressure to choose between her love of history and passion for podcasting.
"Right now, I'm letting myself see where this all takes me," she said. "I see all these mediums, whether it be audio or photography or academic writing, as channels for me to explore my research and bring that to life. I think they are all really intertwined."