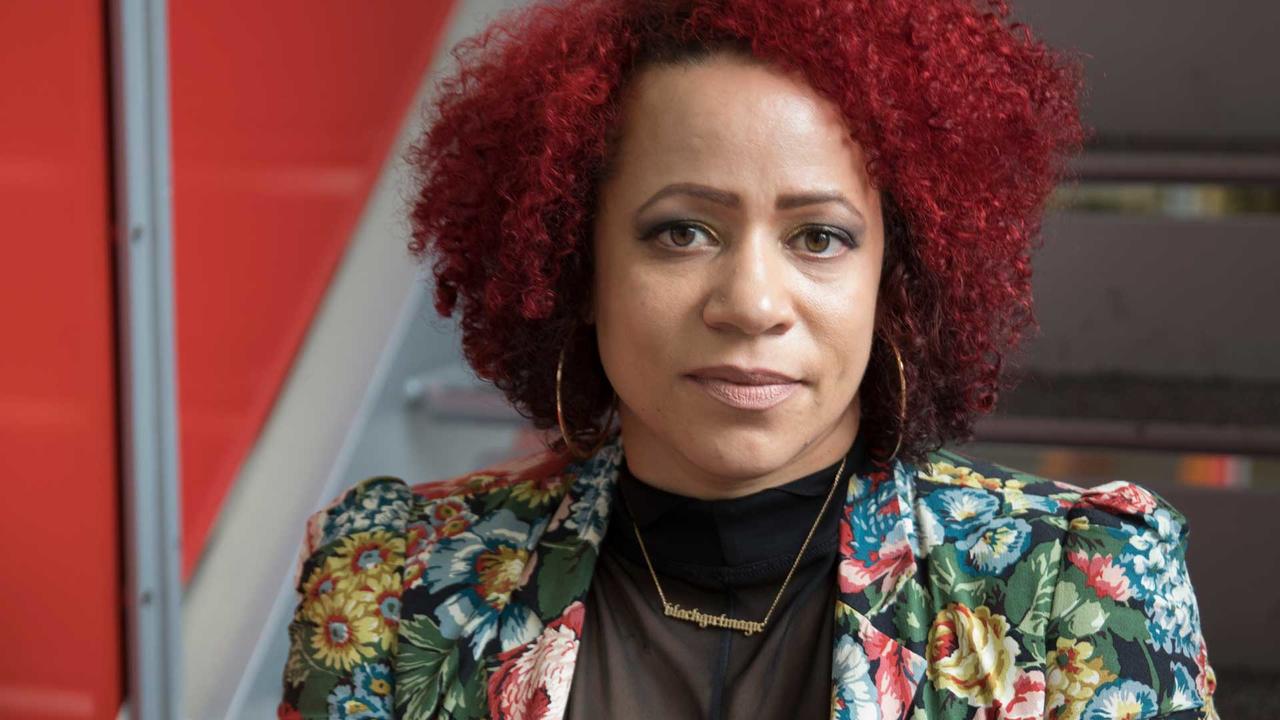 In Advance of Nikole Hannah-Jones' Virtual Lecture at Wellesley, Why Her Work Matters Now More Than Ever
On September 29, Pulitzer Prize-winning journalist and MacArthur Fellow Nikole Hannah-Jones will present the Betsy Wood Knapp '64 Lecture in the Social Sciences and the Wilson Lecture on the legacy of slavery in the United States and the need for racial justice. Hannah-Jones is the creator of the New York Times major multimedia initiative The 1619 Project, which aims to reframe the country's history by placing the consequences of slavery and the contributions of Black Americans at the center of the nation's narrative. She will join Michael Jeffries, dean of academic affairs, for a moderated discussion on the legacy of American slavery and the state of racial justice today, before answering questions from the audience. The virtual lecture is open to Wellesley students, faculty, and staff.
Ahead of her visit, Jeffries and Olga Shurchkov, director of the Knapp Social Science Center, talked about why we need to hear from Hannah-Jones right now, how she has shaped their approach to teaching, and what they found particularly exciting about The 1619 Project.
Why is it important for Nikole Hannah-Jones to speak at Wellesley at this particular moment? 
Michael Jeffries and Olga Shurchkov: Two reasons: Her work and her courage. Nikole's entire body of work speaks to the most pressing issues facing the United States. Her commitment to the truth and the courage with which she writes are traits that inspire everyone in the Wellesley community. Nikole's leadership and brilliant writing on the topic of racial injustice are as timely now as ever. Her resilience in the face of adversity and challenges is sure to resonate with the Wellesley community.
What effect has Hannah-Jones had on your own thoughts about teaching and your approach to teaching?
Jeffries and Shurchkov: It's important to teach history in many different ways: through academic writing and lectures, visual art and music, literature, and, of course, journalism. We need all these tools in our toolbox to better understand the topics we teach, and to reach as many students as possible. Nikole is one of the writers who make it possible to do this.
Nikole's writing also illustrates the power of weaving one's personal narrative into historical research and analysis. That, too, is a valuable lesson to teach. We do not simply stand outside history, or think or write about it from a distance. We live it.
"Nikole's entire body of work speaks to the most pressing issues facing the United States. Her commitment to the truth and the courage with which she writes are traits that inspire everyone in the Wellesley community."

Michael Jeffries and Olga Shurchkov
The 1619 Project is an incredible endeavor of scholarship and journalism, and includes podcasts, photo essays, articles, and longform narratives. What are your favorite pieces of this project? How should someone who hasn't yet encountered the project begin to approach it?
Jeffries: My favorite pieces are Nikole's opening essay and Matthew Desmond's piece on capitalism. They're written with different rhythms and aims, but the two of them as complements really illustrate the personal and institutional weight of the project. As for recommending a starting point beyond Nikole's essay, I think it really depends on what the reader's interests are. I will say that for a lay reader who has never really thought about the inextricable links between capitalism and racism, the pieces by Desmond and Mehrsa Baradaran are phenomenal. Readers more inclined toward literature and the arts should read Jesmyn Ward (always) and the piece on Black music by Wesley Morris, for sure. Ward also joins Hannah-Jones and Desmond on a podcast about slavery that's well worth the time. I could go on…
Shurchkov: While every essay in the project contributes its own unique perspective on the way racism is deeply embedded into the various institutions in our society, "The Idea of America" by Nikole is a must-read. This opening essay explains how laws, policies, and systems have been developed to oppress Black Americans since 1619, and how Black Americans have been fighting against this oppression to the benefit of our democracy. I was also moved by the essays on the structural inequities in our medical system ("A Broken Health Care System" by Jeneen Interlandi and "Medical Inequality" by Linda Villarosa). They reminded me of the words of Prof. Dorothy Roberts—the 2019 Betsy Wood Knapp '64 Lecture speaker—who similarly pointed out how racist medical practices and attitudes have led to differential medical treatment received by Black Americans, which ultimately led to poor health outcomes for Black people. Unfortunately, these inequities are particularly pronounced at the time of COVID-19, which our community knows too well due to the tragic passing of Rana Zoe Mungin '11, a Black Latinx woman who was denied testing for COVID-19.
There has been pushback against The 1619 Project from some senators and the president, who has even suggested establishing a "1776 Commission" to promote "patriotic education" in American schools. What happens when political figures, or official state organs, attempt to establish "official" national histories?
Jeffries and Shurchkov: It's important to note that we already have "official" national histories encoded in our language, calendar, public school curricula, and less formal establishments. These histories are political by definition. The urgent threat in this case, however, is the abridgement of our Constitutional rights—free speech and freedom of the press—which has become commonplace over the past few years. Democracy cannot function under these conditions, and if these rights are violated, all rights can be.