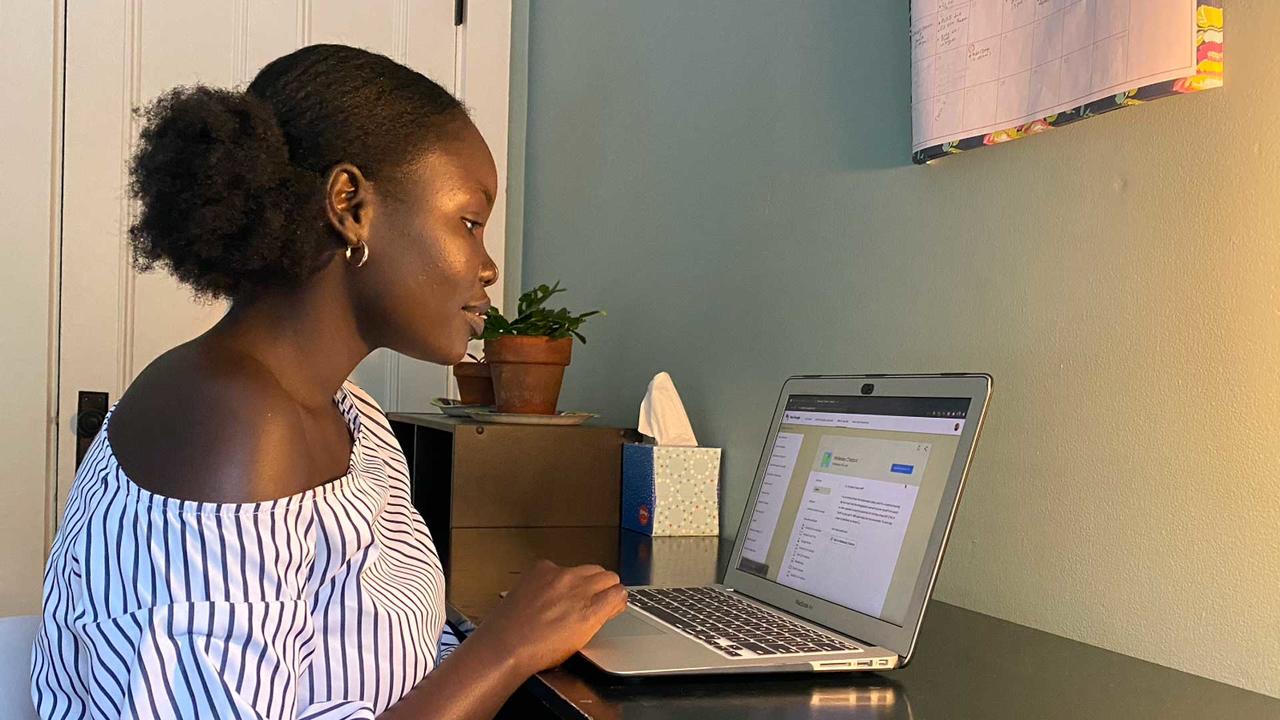 Mochi, a New Chatbot Life Coach, Aims to Help Users Maintain Well-being and Productivity During the Pandemic
Struggling with work-life balance, well-being, and productivity in the new normal of the COVID-19 pandemic? Meet Mochi, a chatbot life coach developed by Angelora Cooper '22, Adhel Geng '22, and Tolulope Oshinowo '23 (Olin College of Engineering) in the Wellesley College Human-Computer Interaction (HCI) Lab.
Mochi lets users track details of their daily lives, like how they spend their time, what emotions they experience, and the degree to which they accomplish their goals. The chatbot coaches the user by providing prompts and asking them to consider how they feel about their day, to take stock of their productivity, and to encourage opportunities for reflection, such as asking users about their stress levels following meetings. The interface design is similar to a calendar, and it summarizes all the data collected throughout the day and week. The team hopes that having access to a visual display of their data will help users understand themselves better, see trends in their work lives and in their well-being, and figure out what they require to feel most fulfilled.
Cooper, Geng, and Oshinowo developed Mochi as part of the 2020 Science Center Summer Research Program, working with Orit Shaer, Class of 1966 Associate Professor of Computer Science. Shaer's research team in the HCI Lab, which she founded and directs, has been exploring the future of work in automated cars as part of a collaborative National Science Foundation grant with the University of New Hampshire, Harvard University, University of Wisconsin, and University of Washington. But the COVID-19 pandemic presented an urgent need to support workers away from the office, and it provided a unique opportunity for the researchers to expand their work to home environments and examine the needs of information workers over an extended time.
"Mochi was designed as a tool to help us collect data about working from home while at the same time helping users to reflect on their own data and develop strategies to increase their well-being and productivity," said Shaer. The lab received additional funding from the NSF for the project.
Here's how Mochi works: Each morning and evening, the user is sent check-in notifications that allow them to initiate a conversation with Mochi. The morning check-in asks the user how they slept the previous night, how they feel about the day ahead of them, and if they would like to review some of their goals to get the day started. The evening check-in asks how the day went and if they would like to see their productivity and well-being stats for that day.
Additionally, Mochi periodically sends prompts that ask the user how they are doing at the moment, give them an opportunity to assess their productivity, and review the events in their Google calendar. The team designed the check-ins to feel like a chat with a friend throughout the day, and they allow Mochi to assemble an in-depth image of how the user feels over time.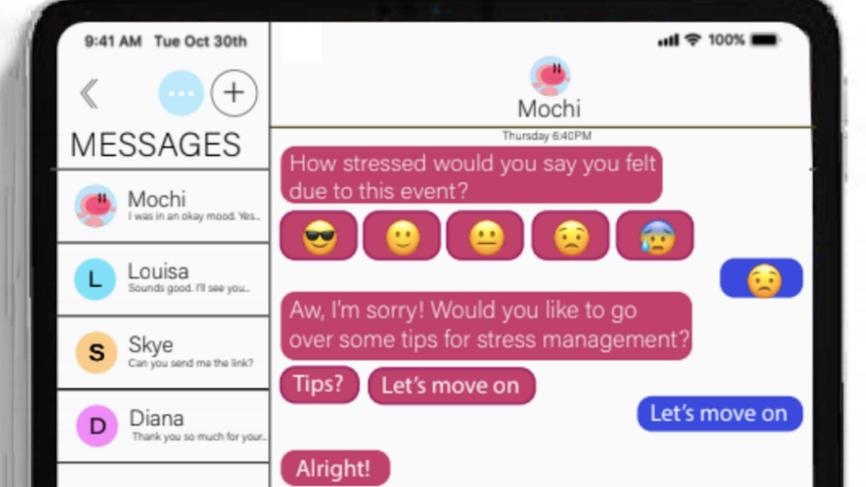 "I've always been interested in the phenomenon of humans treating machines like living things, both as a psychology major and a sci-fi fan, so working on this chatbot was in part a way to explore that," said Cooper, who worked on designing and writing the chatbot's personality, dialogue, and interaction options with the user. "This project also gained a new dimension for me as we began to comprehend the extent of the effect of the COVID-19 pandemic on the well-being of everyone living in isolation. Not only could a chatbot potentially help to alleviate feelings of isolation, but the data that Mochi collects from the user could help us gain an understanding of exactly how people have been affected by the pandemic."
Mochi's name is a nod to the field of mobile human factors research and the ACM Conference on Human Factors in Computing Systems, commonly called CHI. The students said they wanted a "personable" name to "convey the warmth and friendliness of the bot personality we are developing." They also planned to use emoji scales "to provide users with an easy and fun way to answer questions, and Mochi sounds a bit reminiscent of emoji," they said.
The next steps for Mochi include improvements to the way users interact with the data the chatbot collects. "In the next stage of this research, we strive to develop a visualization tool that reflects the user's data in a simple and engaging way. Our focus is on crafting an interface that encourages easy interaction with one's own personal data in order to facilitate lifestyle changes, feel satisfied, accomplish goals," said Julia Burmeister '18, one of the HCI Lab's research fellows.
"Creating a service for people other than myself and those in circles that I inhabit has opened my eyes to some of the implicit biases that I have," Oshinowo, the Olin student, said. Oshinowo developed the chatbot's fulfillment messages to any given user request, and worked on how to store and structure data collected from the user. "With the development of Mochi, accessibility and understandability were major factors that I needed to consider at every step of the development process," Oshinowo said. "Taking the user experience into account is something that I will always try to remember moving forward—both in the classroom and out of it."
"Working on the chatbot with its focus on well-being was definitely an influence on new habits I tried to create as I take courses remotely this semester," Geng said. "I have remembered to take time off for myself to check on my well-being, and it has also helped me think of others during this pandemic. I have been checking up on my family and friends more." Geng, who worked primarily on the design aspects of Mochi, creating numerous mockups with the team's feedback, said she learned a lot about iterative design.
Right now, Mochi is only available to information workers who work from home and enroll in Shaer's study, but the team hopes to make it available to the public as an online app at a later stage. "I believe that in the near future we will see workers interact with chatbots and intelligent assistants via voice or text, on a regular basis," Shaer said. "After the pandemic, chatbots will continue and help workers to manage their time so that they balance home and work life, interact more seamlessly with other workers, and improve their well-being through coaching, reflection, and awareness."