Remembering Zoe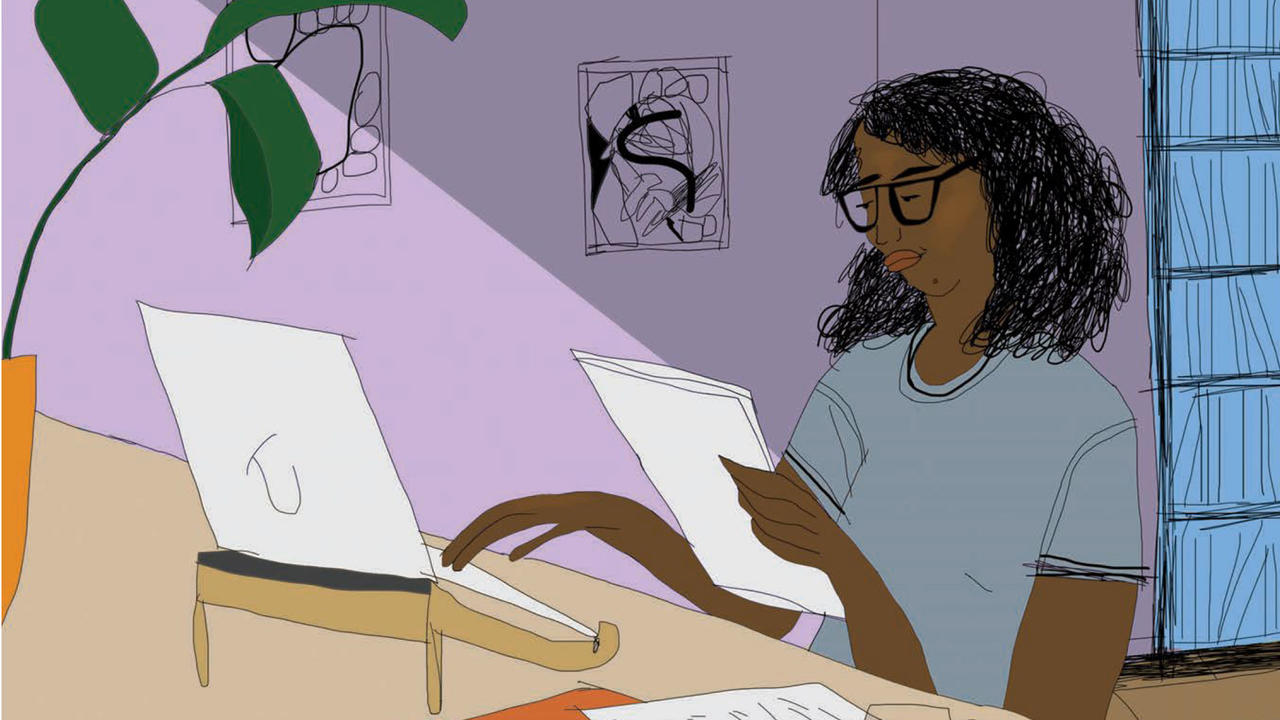 Rana Zoe Mungin '11 had always planned to be known—as a writer. She had not expected to become nationally famous as the face of the pandemic that has devastated New York and that continues to rampage around much of the globe. And yet, in late April, Mungin's smiling face flashed on the screen of NBC News as it highlighted New Yorkers who had succumbed to COVID-19. ABC News anchor David Muir looked slightly stunned as he told viewers a bit about her. Her hometown newspapers—the New York Times, Post, and Daily News—agreed that hers was an especially poignant death. At barely 30, most of Zoe Mungin's life and career had stretched before her—and then she was gone.
She shouldn't have been. As President Paula Johnson wrote in an op-ed for CNN, "Her story has sparked widespread outrage in the media and beyond. It is one of systemic failures and missed opportunities, and all the more shocking because of her youth and promise." Zoe Mungin—beloved daughter, sister, aunt, friend, teacher, Sailor Moon aficionada, hockey nut, and dog lover—had been a living example of the health inequities that plagued communities of color long before COVID-19 became a household word. The virus didn't create them, but it starkly illuminated how great those differences are.
Some people were not surprised. "What happened to our Wellesley sister has happened a hundred times over, all around this country," JudyAnn Bigby '73 notes. Bigby, a Harvard-trained physician, has spent virtually her entire career treating, teaching, and researching the health needs of women and communities of color. She served as secretary of health and human services under Massachusetts Gov. Deval Patrick, and inequities in health care were a major focus. Sadly, she says, Mungin's death wasn't an isolated or unpredictable one: The intersection of race, class, and gender put Mungin squarely in the virus's crosshairs. "There are people who will deny that care is rationed in this country," Bigby says, "but it is, every day. When we think about who gets left out, we know who it is."
"Her story has sparked widespread outrage in the media and beyond. It is one of systemic failures and missed opportunities, and all the more shocking because of her youth and promise."

President Paula Johnson
Johnson agrees. Passage of the Affordable Care Act meant that some of those inequities were lessened, but they weren't erased. "Access is much more than having an insurance card," points out Johnson, who as a cardiologist and medical researcher often focused on women's health needs. "It's when you actually show up or when you present to your physician, or to a health-care facility, are your symptoms really looked at in a way that is equitable to someone who is white, if you're a woman of color?" The data, she says, indicate the answer is "no." (For more, see "An Unequal Pandemic," below.)
It certainly felt that way in Mungin's case. When she first began to feel sick with a fierce headache and fever, in mid-March, she went to Brookdale, the hospital closest to her East New York, Brooklyn, neighborhood. She wanted to be tested for COVID-19, but she was turned away. It's probably your asthma, she was told. They sent her home with meds and instructions to rest. She returned via ambulance a few days later, and was refused testing again. Shortage of test kits. Could be a panic attack, an EMT told her, when she complained of difficulty breathing. (We know now that this one of the classic signs of COVID-19.) When she collapsed at home a day later, her sister Mia, a registered nurse, called an ambulance, and Mungin was returned to Brookdale. This time they tested her for COVID-19 and admitted her to the ICU.
By that time, she was deeply ill. "I think this idea that people didn't understand how sick she was, I think that is not believable," Bigby says. "They knew they were going to run out of beds or ventilators, and they were trying to figure out who was the most treatable. Let me put it that way."
Mungin's chronic asthma might have increased her vulnerability to the disease, and decreased her chances of surviving it. Her sister worked tirelessly to transfer Mungin to a Manhattan hospital for an experimental protocol, aided by the Wellesley network. ("Her Wellesley alumnae really stood with me in this struggle and this fight," Mia later told CNN. "Without them making such an outreach for help, I don't think that I ever would have received any help for her. Honestly.") But despite it all, Mungin died a month later. Mia worries that she may have brought the virus home from work.
This is an excerpt from an article by Karen Grigsby Bates '73 that appears in the fall 2020 issue of "Wellesley" magazine. Read the full story on the "Wellesley" magazine website.