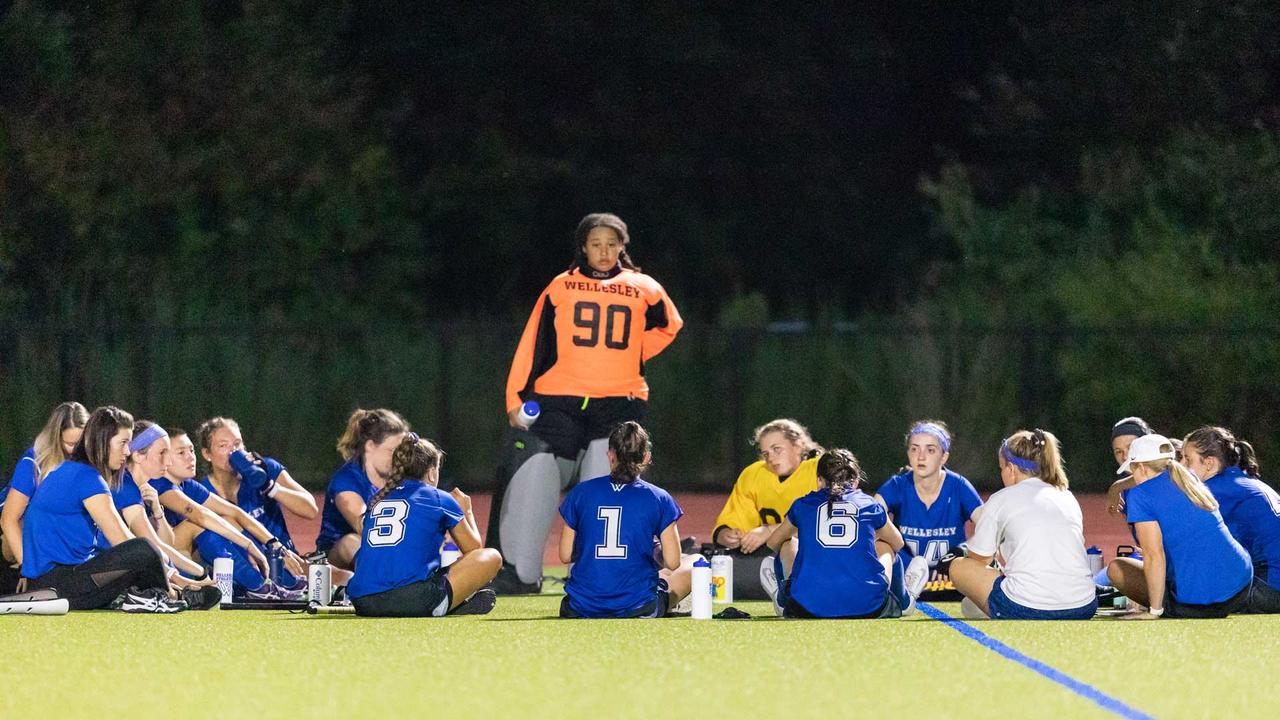 In 2020, Athlete Activists Take Center Court
If there was ever any doubt that athletes should not simply stick to sports, 2020 put it away for good. As Wellesley Professor Michael Jeffries wrote in an August op-ed in the New York Times, athletes "are finished playing America's rigged game." This year, professional and collegiate athletes spoke out against the various injustices in the United States, from COVID-19 health outcomes to structural racism and economic inequality.
Athlete activism in the U.S. has roots that run deep. Muhammad Ali, Althea Gibson, and Kathrine "Kathy" Switzer broke barriers and objected to social and political injustices in the 20th century. More recently, Colin Kaepernick, LeBron James, Naomi Osaka, and Maya Moore are part of a new generation of athlete-activists pushing for progress on and off the field and court.
At Wellesley, many student-athletes are finding ways to bring about changes on their own teams and within their own organizations. For most of the year, club and team athletes have been focused on the ongoing conversation about racial justice and activism, communicating and organizing with the impressive teamwork for which Blue Nation is known.
"For a country that consumes sports at the magnitude that the United States does, athlete activism is one of the most influential ways to reach a diverse population," said Lorna Li '22, a biological sciences and Asian American studies double major who is a goalkeeper on Wellesley's lacrosse team. Li is also one of this year's three varsity sports student representatives on PERA's Diversity, Equity, and Inclusion (DEI) committee. "Athletes can take advantage of that platform and make it hard for viewers to look away or ignore the realities of life in America."
"Activism from athletes brings such a large amount of attention to social justice issues…[activist athletes] force people who choose to ignore social issues to see them and confront them."

Cheryl Minde '24
"After the resurgence of the Black Lives Matter movement, Blue Nation for BLM was created as a way for all of [Wellesley's] teams to engage as a collective, spread awareness, and support various organizations through fundraising efforts," said field hockey goalkeeper Janelle Sullivan '21, a philosophy and Spanish major. Like Li, she is involved in talks within her team about how to achieve change. "There were a series of discussions about what the expectations are for our athletics department on the staff's end, and how to continue upholding our collective commitment to antiracism," she said. "Individual teams also made their own efforts to have these discussions and fundraisers."
This summer the Wellesley lacrosse team, for instance, talked together about systemic injustice and ways to address it. "We took time to really look inward at our own behavior and how we as a team and individuals have perpetuated racism and microaggressions, and had those conversations about race within the space of a majority white team," said Li. As a result, the team organized a fundraiser to support Harlem Lacrosse, and is participating in the Harlem Lacrosse mentorship program. The team also acknowledged the Indigenous contributions to their sport, which the members felt were not sufficiently recognized in collegiate lacrosse.
Some athletes helped out in their own communities. Basketball forward Cheryl Minde '24 spent the summer working in her home state of Minnesota as an intern for the City of Minneapolis Elections and Voter Services researching effective voter engagement strategies, with an emphasis on how to encourage youth civic engagement in the city. "So much of our voice as individuals comes from our ability to vote," she said.
Minde feels that athletes have an outsized ability to inspire Americans, and to push for change. "Activism from athletes brings such a large amount of attention to social justice issues," she said. "[Athletes] spark national discourse and keep pressing social issues in the news, even if it is just wearing 'I Can't Breathe' or 'Say Her Name' on basketball jerseys. They force people who choose to ignore social issues to see them and confront them."
Meghan Timmons '21, a club sailor majoring in architecture and environmental studies, said her classmates and fellow athletes got her interested in diversity and equity initiatives. "It's the daily activism by my Wellesley sibs at the granular level that spurred me," Timmons said. "I really have to credit my friends and classmates for openly discussing these topics, and for pushing [us] to heighten our awareness of each other's perspectives, so that we can consciously make room in our teams and organizations for voices that are often silenced or unheard. It's most often my friends who identify as BIPOC that take their time and energy to initiate and lead these conversations."
"Wellesley Athletics has some of the hardest workers, highest achieving students, and kindest people that give me a sense of peace about the future if it is placed in my peers' hands."

Lorna Li '22
Timmons, last year's club sports representative on PERA's DEI committee, is now a member of a committee working within the New England Intercollegiate Sailing Association, helping to address antiracism and inclusivity as it relates to sailing and increase accessibility to the sport. "We've essentially created a network of sailors from each school in the conference dedicated to these objectives, and are working to build frameworks for our teams to engage in student-developed antiracism learning, as well as campus and community outreach," Timmons said.
Timmons' friend McKenna Montminy '21, a biological sciences major and a member of Wellesley's club Nordic ski team, is the DEI committee's club sport student representative this year. This fall, she has helped the committee put out a monthly newsletter, supported PERA's efforts during the NCAA's Diversity and Inclusion campaign, and lay the groundwork to invite speakers to come to Wellesley in the spring to talk to student-athletes about inclusive leadership, creating and maintaining a culture of inclusivity, and implicit bias. The committee is also leading PERA faculty and staff in book discussions about antiracism.
Montminy appreciates that student-athletes at Wellesley have many opportunities to lead. "As students at Wellesley, we are pushed to new limits and heights every day. The same is true for athletics," she said. "Our peers hold us to high standards, [which makes] us better athletes and teammates. This is especially apparent in club sports as we lead and govern ourselves, and so we have the ability to change things, to shape our teams and what we want to get out of our athletic experience, and to make our teams as inclusive and accessible as possible."
"It is easy to be inspired in a community that has such treasures of individual athletes," said Li. "It is also easy to learn how to be a good leader in a community that has no shortage of them."
"The thing about Wellesley Athletics that has carried me through this time of uncertainty, mourning, and protest is the unwavering feeling of hope," she added. "Wellesley Athletics has some of the hardest workers, highest achieving students, and kindest people that give me a sense of peace about the future if it is placed in my peers' hands."