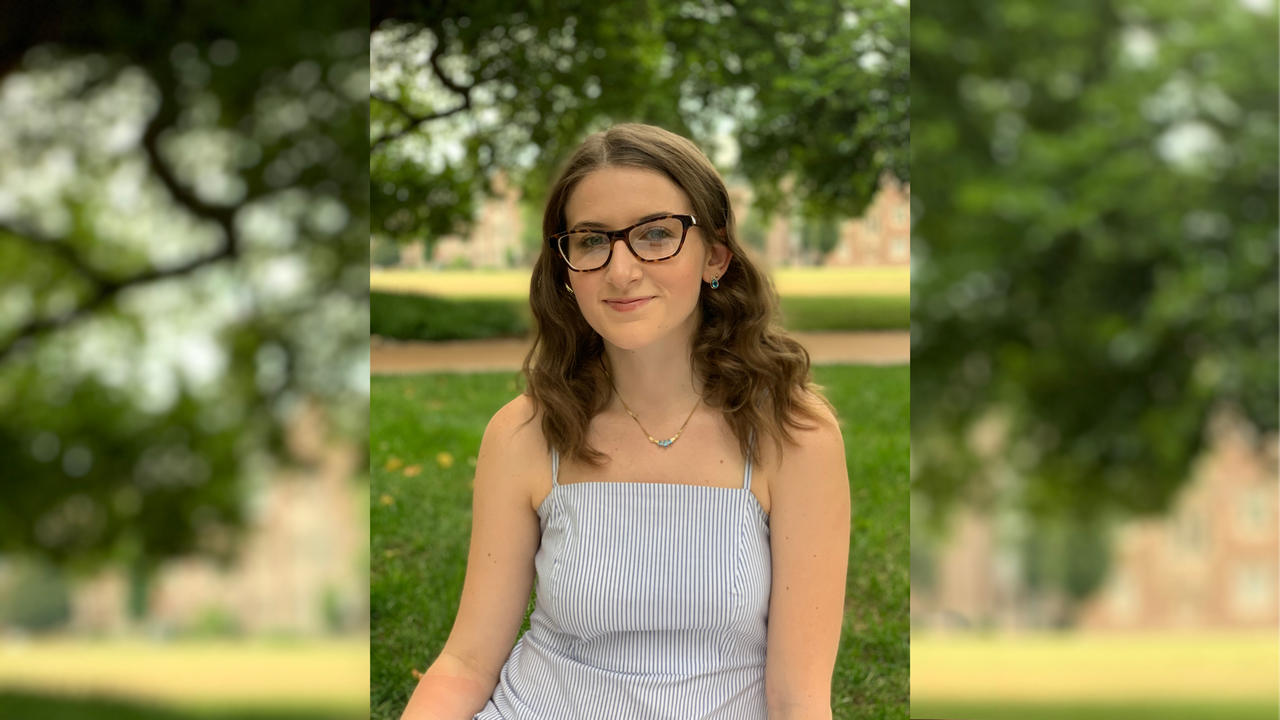 How One Student's Internships Have Driven Her to Work for Education Equity
When Claire McCloud '22 heard Massachusetts State Rep. Liz Miranda '02 speak at a virtual Wellesley Votes event last October, Black Lives + Black Votes, she knew working with Miranda would give her a chance to see what a future in people-first politics could look like.
"I was most struck by Rep. Miranda's lived experiences as a Roxbury native and her commitment to the district she serves," McCloud said. "I'm a firm believer in community engagement and putting the power to make change within people and communities themselves, which I saw to be strongly reflected in her work and career."
For the past three years, McCloud has been volunteering with Phillips Brooks House Association's Mission Hill Afterschool program, which is affiliated with Harvard University. With other Boston-area college students, McCloud, a double major in education and sociology, has worked to foster a supportive community environment for youth in the Mission Hill neighborhood. Working with the program "has been a massive part of my time at Wellesley and my personal development," McCloud said, and it has helped shape her career goals and her understanding of education equity. She is also involved in Wellesley's Presidential Scholars Program, a civic leadership pilot created by Civic Engagement for juniors that continues through their senior year.
McCloud applied to be an education policy intern on Miranda's team and worked with her on large-scale education equity efforts from January 2021 through the spring semester.
"This was really a community-driven internship," McCloud said, "and we spent a lot of time conversing with specific school districts in Rep. Miranda's district, talking with them about what needs they had, what opportunities would be beneficial to them, and how we could help connect them with those resources. I learned so much about how to fight for social changes through community liaisons and task forces in state government—and by fight I mean how do we advocate for these issues that are ultimately going to get us to an end goal of education equity."
"These experiences have allowed me to witness the strengths and weaknesses of the American education system and explore education policy in ways that have drastically impacted my future plans."

Claire McCloud '22
McCloud's internship and interactions with community members were all done remotely because of the COVID-19 pandemic—she actually has yet to meet Miranda in person—as was her work with the Mission Hill program during the 2020–2021 academic year. The remote experience showed her how a lack of access to technology can create barriers for individuals and communities, and how isolating it can be for the many individuals who can't contact elected officials as they normally would—by stopping by their offices in person, for example.
"It was inspiring to me to see how Rep. Miranda always tried to show up for the community, engage and respond to their needs, and how she took steps to be present in their lives, despite the limitations of the pandemic," McCloud said. Toward the end of her internship, the team was planning to convene school leaders within Miranda's district to discuss how COVID has exacerbated issues and inequities in schools and strategize about ways to give students what they need going forward.
McCloud's previous experience in education involved meeting face-to-face with individual students in classrooms. The internship provided a different vantage point. "Working with Rep. Miranda and her team taught me a lot about what large-scale education equity efforts look like, and she showed me how you have to take a step back and evaluate the systemic changes that need to be made to address the broader problems," she said.
This summer, McCloud is working with education policy through a remote internship with Penn Hill Group (PHG), a consulting firm in Washington, D.C., as part of the Wellesley in Washington program. "I actually applied for Wellesley in Washington prior to working with Rep. Miranda," McCloud said. "I knew that I really wanted to work in D.C. this summer to get more exposure to federal policy and nationwide education efforts." The program matched her with an alumna mentor, Jody Franklin '83, who works in education policy in Washington. "She has been really supportive and given me a lot of impactful advice about navigating D.C., succeeding in an internship, and determining my post-grad goals," McCloud said.
At PHG, McCloud has been researching the impact of current education legislation, analyzing which senators and representatives might make good allies on new legislation. She has also been monitoring news and federal updates as they relate to education policy for clients and colleagues. "The work PHG carries out can be monumental. We can be working on legislation that will ultimately benefit millions of children across the country if passed," McCloud said. "It definitely feels like high-stakes work, but it absolutely has a significant impact on real children's lives, which is a strong motivator for me."
As the fall approaches, McCloud, who spent the 2020–2021 academic year in her hometown of St. Louis, is excited to return to Wellesley's campus, watch her mom run through the Scream Tunnel in the Boston Marathon in October, and most of all, continue her ongoing conversations with education department faculty in their offices. "I have loved the professors and classes I've taken, and they have pushed me to be a better educator and a better activist," McCloud said.
McCloud said she's grateful to have had the chance to work directly with young people and intern in Boston local government, and then to get to put that knowledge into practice in a policy role. "These experiences have allowed me to witness the strengths and weaknesses of the American education system and explore education policy in ways that have drastically impacted my future plans." McCloud said. "I feel extremely lucky to have had these opportunities as they have made clear to me that I want to…pursue a master's in education policy before pursuing a career doing this work on Capitol Hill."