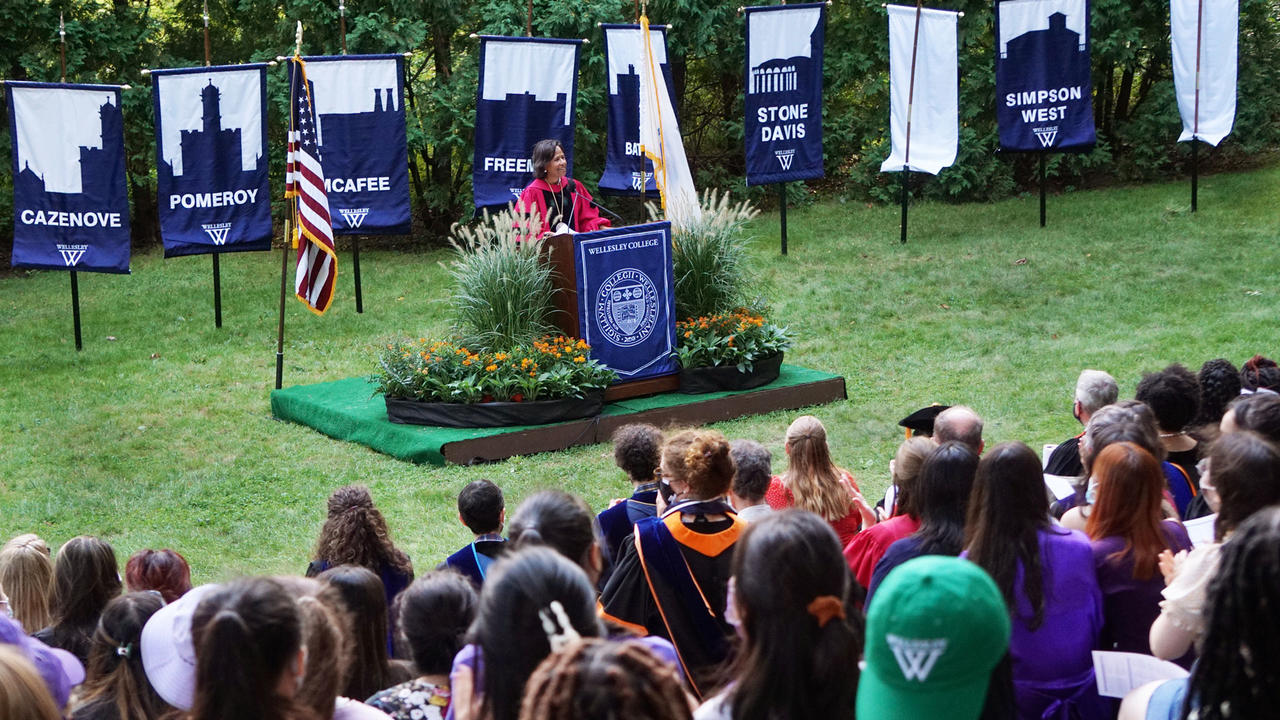 Community Comes Together for Convocation After More Than a Year Apart
"Before I start, I just want to say this is so wonderful, to see all of you here, filling this amphitheater," said President Paula Johnson to the students, faculty, and staff seated in Hay Outdoor Theater for Wellesley's convocation on September 8, marking the start of the College's 147th year.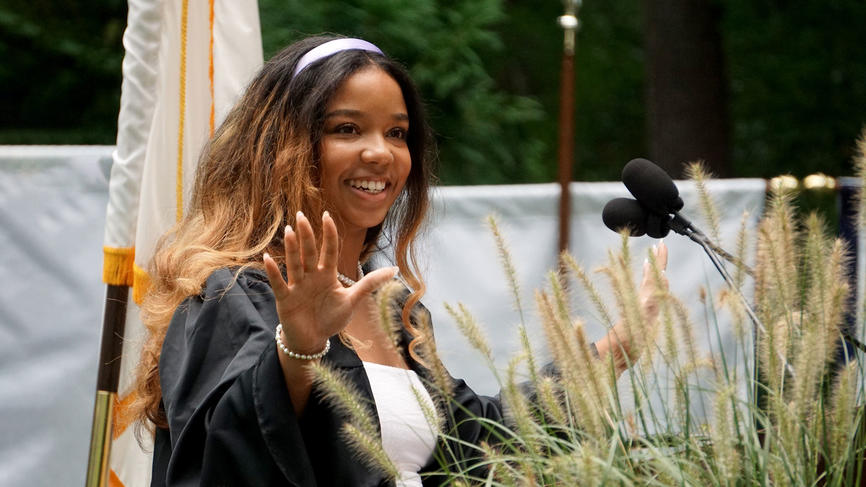 As College Government President Giselle Mota '22 said to her classmates, "We made it! I know we usually hear these words on our graduation date at the end of the school year, but not today—today we celebrate its beginning."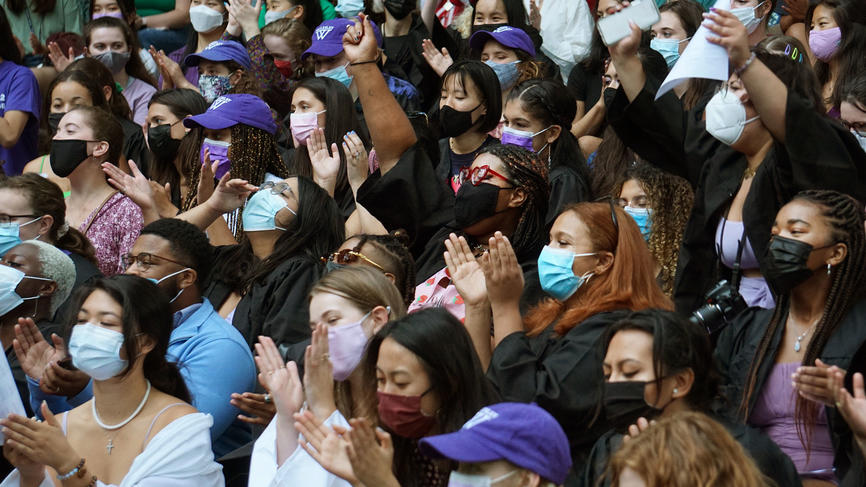 Last year, COVID-19 restrictions necessitated a virtual convocation. This year, excited students were able to gather ahead of the event to pose for photos, offer hugs, and cheer on the purple class of 2022.
"All of you have lived through a difficult time over the past year and a half, but that experience will itself open up new possibilities," Johnson said. "Moments of stasis can be misleading…Most of us have discovered new aspects of our own resilience and resourcefulness during this period. Consider the courage of our red and green classes, who were willing to leap into adulthood by starting college during a pandemic."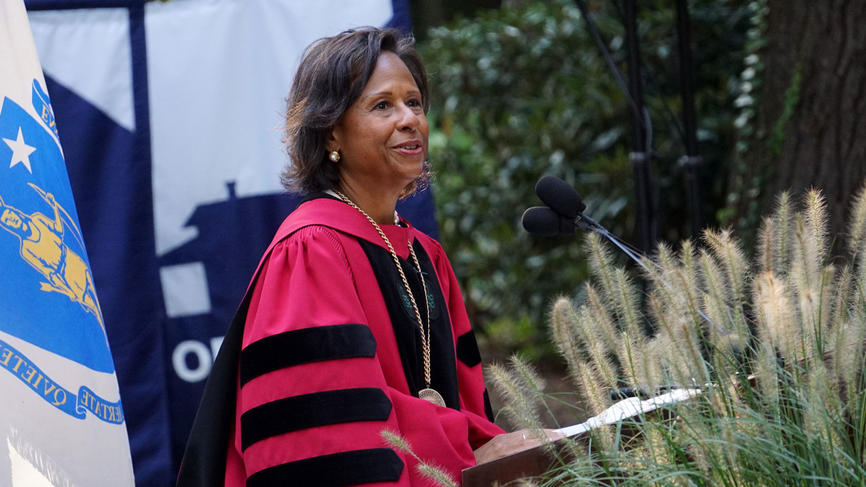 Johnson reflected on how, during the pandemic, Wellesley professors have had to rethink teaching, and students have had to rethink learning. "The pandemic forged deeper bonds within this community because in-person classes, and the chance to appreciate each other in three dimensions, seemed so rare and so wonderful," she said.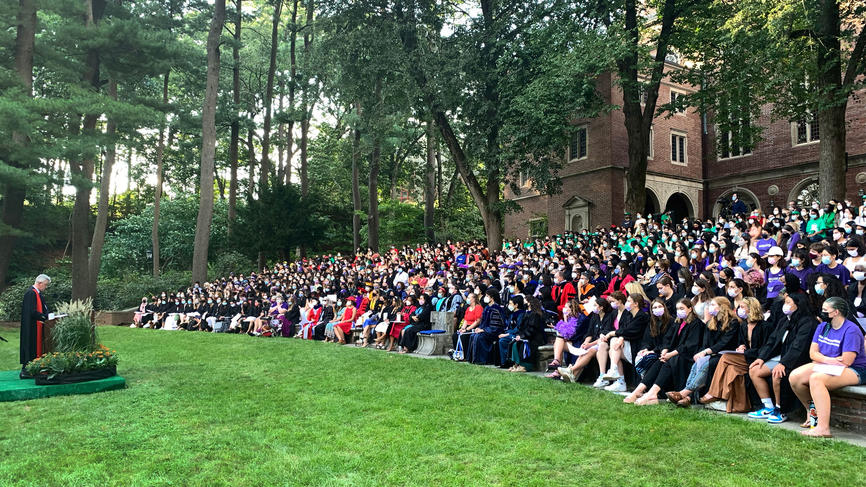 Andrew Shennan, Provost and Lia Gelin Poorvu '56 Dean of the College, took time during his remarks to note the upcoming 20th anniversary of the 9/11 attacks, reflecting on memories from that day and how the community came together—to grieve, to help each other, and to find solidarity and cohesion during a time of bitter national discourse. "The College's response [to the pandemic] over the past 18 months has echoed our response after 9/11," he said. "We have rallied to keep one another safe. We have focused our educational, material, and emotional resources on supporting our students. At the same time, we have engaged intellectually with the burning questions that the pandemic has highlighted—questions not just about public health, as the president said, but about racial justice, about climate change, about threats to our democracy."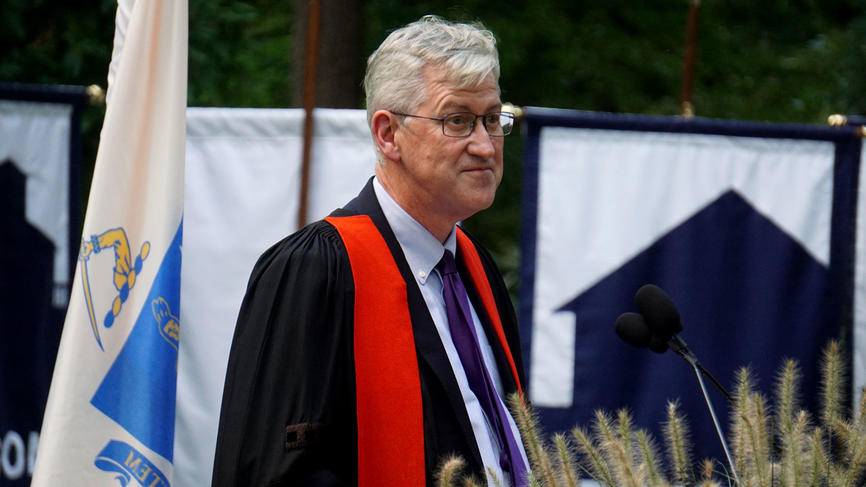 He continued, "Today, as we gather—not without apprehension, but eager for the solace of connection after so many months of isolation—I hope we can feel again the beauty and the peace of this place, which belongs to all of us and which surely will keep us together as we confront the uncertainties and frustrations that still lie ahead."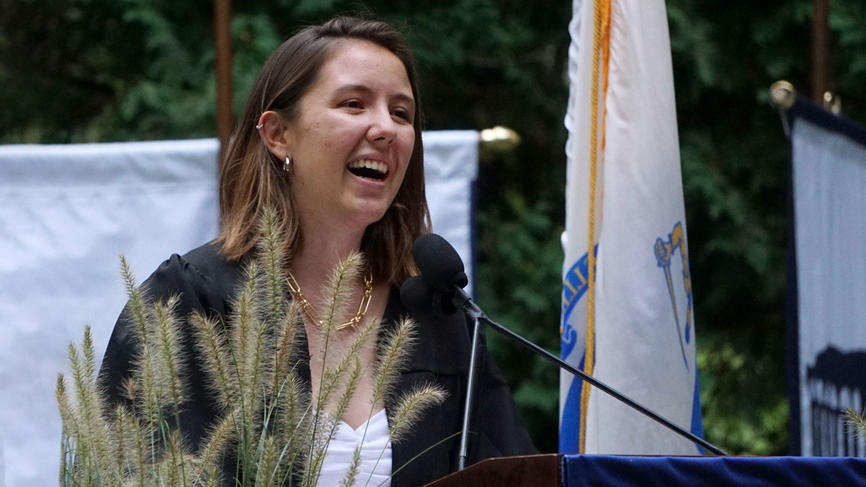 "What lies ahead?" asked Chief Justice Julianna Kenny-Serrano '22, who was on hand to lead students in reciting the Honor Code. "Undoubtedly a bittersweet year as we reflect on all that our community has been through, but also a year dedicated to rekindling connection for seniors and first-years alike. And I hope I can speak for all of us when I say that celebrating time-honored traditions, as we do today, is truly meaningful."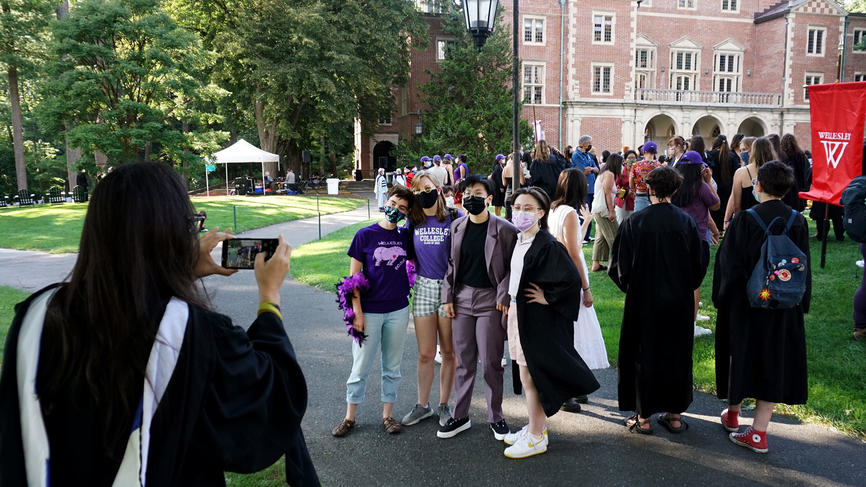 Mota ended her speech with advice: "Give yourself and your sibs room to grow. Take a look around, breathe, embrace this moment: the trees, the purple, the gowns, and your support system. Be excited for the friendships that are to come and the memories to be made because they are sweet and will last a lifetime. I can't wait and look forward to growing alongside all the sides of ourselves this year. Cheers to us and cheers to this year."