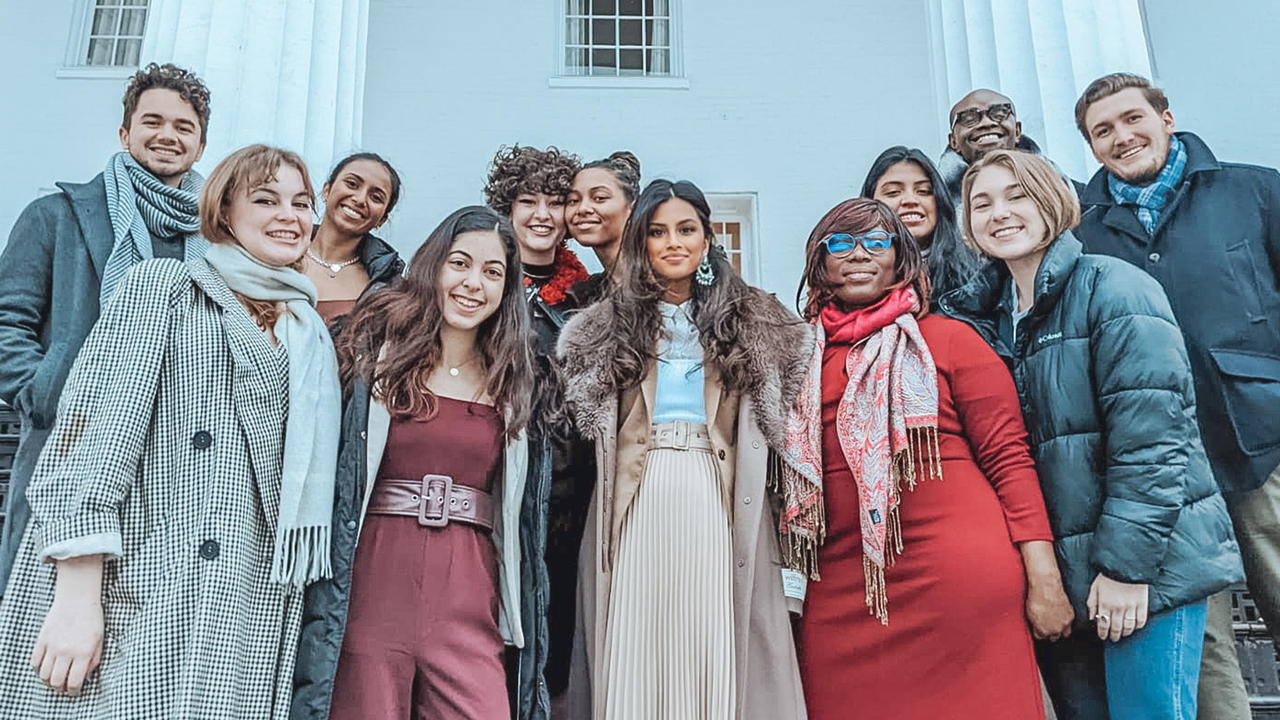 How I Spent My Wintersession
Wellesley students have gotten very good at pivoting. After omicron reared its ugly head in early December, the administration decided to make Wintersession programs remote where possible. This meant some students found themselves unexpectedly spending January off campus or logging extra hours on Zoom. Despite the circumstances, students came up with interesting, engaging, and unusual ways to spend Wintersession. Here is just a sample!
A number of Wellesley students participated in internships and fellowships remotely, many with alumnae through Hive Internship Projects. Tazrean Hossain '24 and Annalise Paul '22 interned with Hannah Vogler '96 at the Pulaski County, Ark., affiliate of Dolly Parton's Imagination Library, where they set up a year-long social media plan to increase awareness of the group and provide educational resources for parents. By combining Hossain's social media knowledge and Paul's background in early childhood development, they said, they created and scheduled content for Instagram, Facebook, and Twitter: "We learned how to write our content to successfully appeal to different audiences and the intricacies of social media management."
I enjoyed the quiet and peace of campus without other commitments to focus on the work. My favorite memory would be being awake early Friday, January 7, the big snow day, writing by the window and blasting David Bowie.

Maddie Paoletti '22
Habiba Choudhury DS '22 participated in the Consortium of North American Peace Programs' inaugural Transformative Justice Leaders Program from January 8 to 14 at Gettysburg College. Choudhury and 10 other fellows from the U.S. and Canada explored the power of collective mobilization to cultivate racial equality and justice in a polarized world. They attended workshops with influential experts, organizers, and scholars in the field of public service and peace building, and learned about strategic ways to address injustice in the 21st century. At first, Choudhury said, "I felt overwhelmed, thinking how can I, a single person, address the most pressing issues of our time. But while doing the program, I learned that students' participation in justice matters. In encouraging student leaders to work together rather than alone, we can disrupt the status quo and end forms of poverty or inequalities." Choudhury is now working on a project to enact green racial equality in her neighborhood of Queens Village in New York City over the next two years.
Some Wellesley athletes stayed on campus during Wintersession. Aidan Reid '24, who trained for winter track, said, "I was able to spend a lot of quality time with my teammates both while training and having movie nights after practice. The training was intense—some days we had three practices—but overall getting the time to focus on running and team bonding was so nice. I'm looking forward to the rest of the season!"
Reid's teammate Ellie Murphy-Weise '23 said: "This Wintersession, I had the honor of participating in the Albright Institute, as well as the distinct pleasure of scheduling my indoor track preseason around it. In addition to spending eight hours on Zoom learning about everything from cybersecurity and data privacy to Indigenous-led land conservation, I attended practices as a member of the distance squad on the track team on campus. Wintersession was really fulfilling, as I was able to bond with my athletics team and also work on community-based solutions for the small arms trade in Colombia with my Albright team!"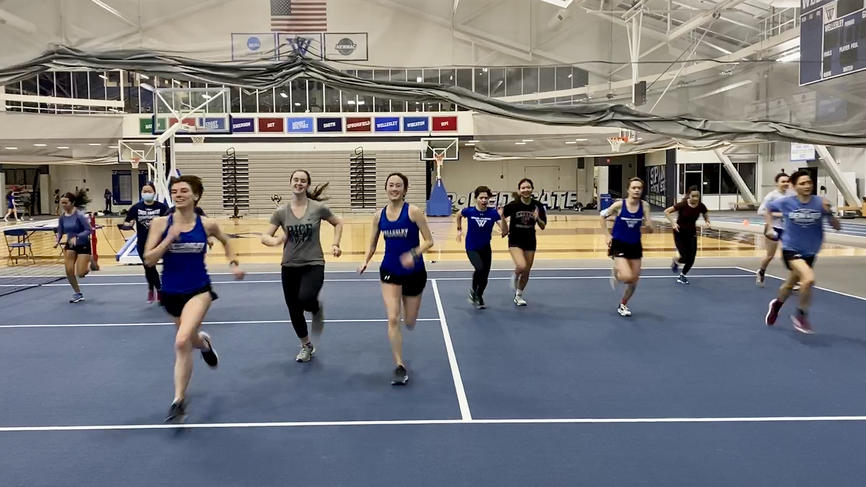 Karolina Oleszczuk '22 also participated in the Albright Institute. Though she was initially disappointed when the program went remote, she said the experience surpassed her expectations. "I got to meet inspiring alumnae, speakers, and students, and I made great friends along the way," she said. "The Albright Institute has an incredibly collaborative and supportive spirit and made me feel the strongest sense of community that I have felt in my past three years at Wellesley. I am grateful to have been a part of this challenging and rewarding program that reminded me of the superpowers of the Wellesley community. I will now proudly wear my Albright pin, hoping to support the institute and its future fellows as an alumna."
Sophia "Jasper" Saco '22 traveled to Santiago de Cuba with their parents: "I was able to visit the beach in Baconao, the spot they left Cuba from when they emigrated, as well as visit family. I reflected a lot, mostly about how I wanted to reconnect with my heritage and improve my Spanish in an attempt to speak more with my extended family."
Many literary types were able to spend quality hours reading and writing. Cheryl Minde '24 transcribed poetry for Lynne Lawner '57 through a Hive Internship Project, "which was a lot of fun," she said. "I also got the chance to work on some of my own creative writing as well."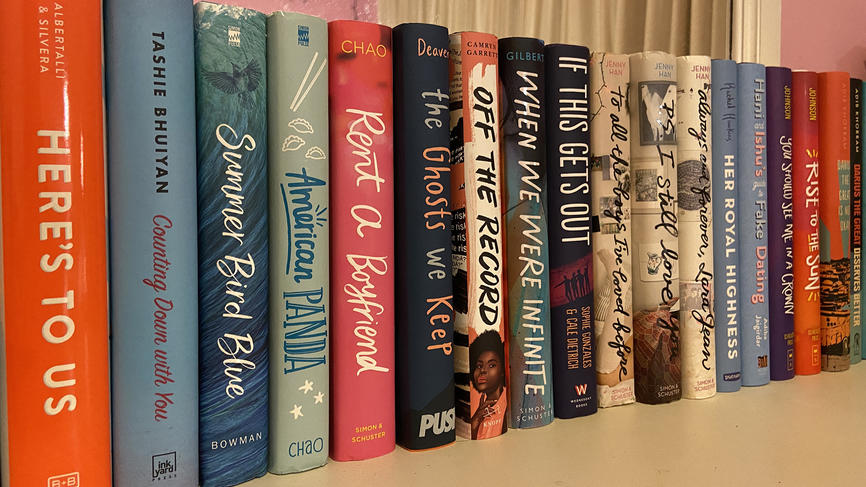 Ann Zhao '24 wrote, "I'm an author in my spare time, so over Wintersession, free from the responsibilities of classes and orgs, I spent a lot of my time reading and writing. I'm currently working on a complete overhaul of my first book, a young adult novel, which I had set aside for about a year, and over the course of break, I drafted about 50,000 words of a new version. I also read a lot, from casually sifting through books I've had lying around the house to critiquing drafts of books by my writer friends. I love being immersed in stories, both my own and those of others, so having the time to focus on what's usually not as high of a priority for me was really helpful."
Some students stayed on campus to continue their research. Maddie Paoletti '22 is working on an honors thesis in biological sciences advised by Vanja Klepac-Ceraj, associate professor of biological sciences. She is conducting her research in the Gregory Fournier lab at MIT, continuing an MIT UROP (Undergraduate Research Opportunities Program) she's been part of for two years. "My project is studying the history of carbon fixation done by marine green sulfur bacteria through phylogenetics (trees of life) and its implications for the geological record of early life," she explained. "The work is computational bioinformatics so has been done entirely remote; since this is a continuing project from other research, all my data collection is finished, so I worked on analyzing my results and writing over Wintersession. I enjoyed the quiet and peace of campus without other commitments to focus on the work. My favorite memory would be being awake early Friday, January 7, the big snow day, writing by the window and blasting David Bowie."
Many students used January for much-needed relaxation and decompression and time with loved ones. Bryn van Dommelen '22 spent Wintersession at home in Columbus, Ohio, with her parents, three dogs, and her adult sister: "It was just nice to be home. Ever since the start of the pandemic, college life and classes have been difficult for me. So it was good to get away from everything for a while."
Riya Balachandran '24 spent Wintersession cooking and trying out new recipes. "Occasionally, my mom and I would make something together, which is something we never did when I was growing up and when our relationship was far more strained," Balachandran said. "I enjoyed the quiet love in rolling out tempura rolls or putting a pot of tea on the stove and then eating together."
Hannah Whellan '22 wrote: "This Wintersession I came back from abroad and slept for a solid 48 hours straight. I was studying in Budapest for the semester, and getting to come back home to the Texas sun was a magical thing. The rest of Wintersession I spent mostly seeing friends from home and petting my dog and cat. I haven't been on Wellesley's campus in about two years now so the anticipation for returning to Wellesley was skyrocketing. I think that coming back to campus is going to be like when I was a freshman coming to campus for the first time. It's my last semester of college and I'm so excited to see campus and the school with fresh eyes and just have an amazing semester!"