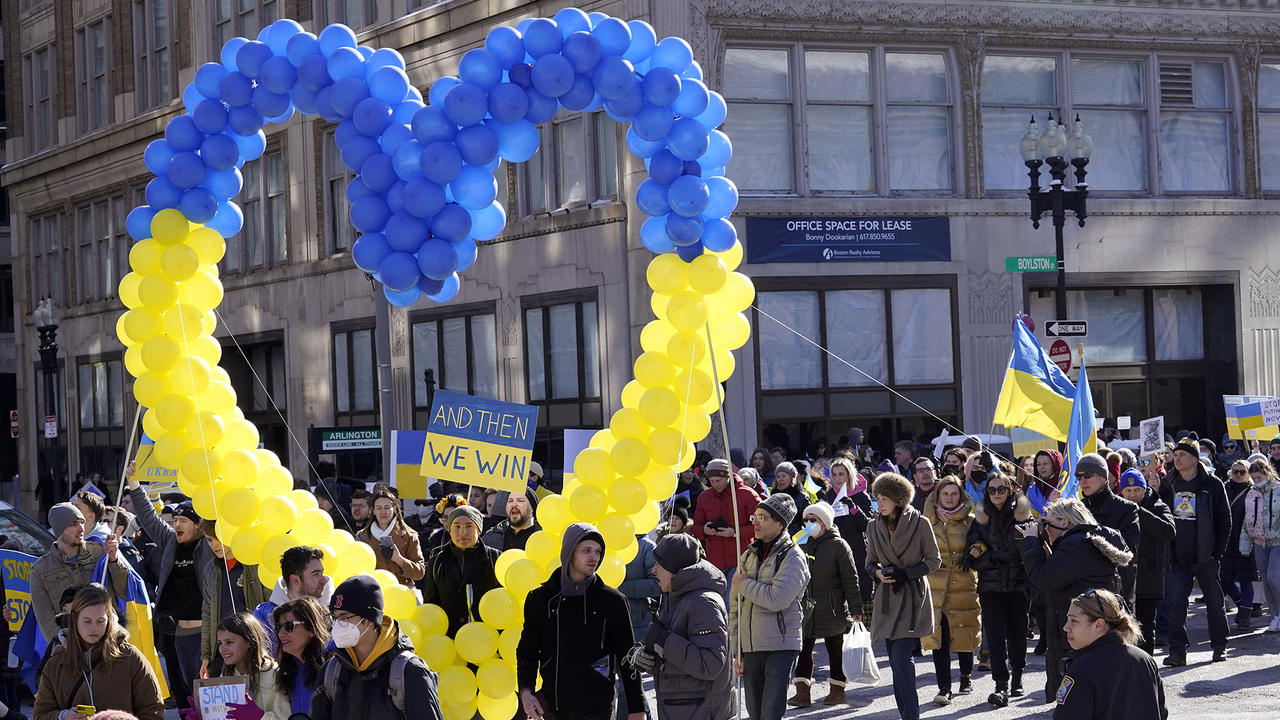 Wellesley Community Responds to Invasion of Ukraine
As Russia's invasion of Ukraine intensifies, Wellesley faculty and students are discussing the war's impact in classroom and panel discussions, and joining together to speak out against the war, call for peace, and support people affected by the violence.  
On March 8, the College's Russian Area Studies program hosted a conversation about the war with Norman Naimark, professor of East European studies at Stanford University, and Alexandra Vacroux, executive director of Harvard University's Davis Center for Russian and Eurasian Studies, led by Nina Tumarkin, Kathryn Wasserman Davis Professor of Slavic Studies and professor of history at Wellesley.
The three scholars discussed why Vladimir Putin initiated the invasion, the state of the Ukrainian resistance, and how Russian citizens are responding to both the war and the economic sanctions the international community has levied against their country. 
Vacroux suggested that Putin shifted from supporting smoldering insurgencies in Ukraine's east to launching a full-scale attack due to a confluence of insecurities, such as his fear of being invaded or outflanked by NATO allies, his aspiration to make Russia a major force in world affairs, and his desire to cement his legacy by fixing, in his opinion, the mistakes made by former Soviet leaders, including Mikhail Gorbachev and Boris Yeltsin. She also touched on the international community's response to the invasion, including far-reaching sanctions and the limits of that response, and the danger of establishing a "no-fly zone" over Ukraine, as well as the unlikelihood that the United States would commit troops to the conflict.
It's been dramatic to teach this [Putin] seminar even as history is being made before our very eyes. There's really a breathless quality to our discussions.

Nina Tumarkin, Kathryn Wasserman Davis Professor of Slavic Studies and professor of history at Wellesley.
"What we're looking at right now is a conflict of asymmetric escalation, where we're essentially choking off the Russian economy," Vacroux said. "In response, Putin is saying that's actually an act of war, and raising his threat level. So, we're in an extremely dangerous situation now, where we don't exactly know what is going to trigger escalation."
Naimark echoed Vacroux's sobering assessment. "This is an existential struggle for Ukrainians," he said. "They are in danger of losing their nationality. They are in danger of losing their nation, which they have been building for one thousand years." He expressed similar uncertainty about what was to come. "We do not know what Putin's endgame is," he said. "I think Putin has become a different kind of leader. He is increasingly autocratic and isolated and irritable. The speeches he gave prior to the invasion struck me as somewhat deranged. I'm getting nervous about his ultimate goals. Initially, it's Ukraine, but it could be more than that. We don't really know." 
As he described the Ukrainian people's reaction and response to the war, Naimark disagreed with Vacroux's assessment of Putin's fear of invasion and NATO encroachment. "This wasn't about NATO," he said. "This was about joining [the European Union], an organization that's really about economics, politics, cultural exchange, open borders, migration, and those sorts of things. It wasn't about turning on Russia militarily, or threatening Russia militarily. It was about the rule of law, and finding ways to institute that."   
Tumarkin moderated the conversation, and she has taken a similar role in the classes she is teaching this semester: a first-year seminar on Putin and a class on Russian performing arts, including orchestral music, opera, ballet, theater, and poetry, and Soviet rock music, and the contemporary punk band Pussy Riot. She said moments of such extraordinary upheaval are rare and that it is important to seek to understand them.  
"I've started beginning my class meetings by updating my students on the current situation," Tumarkin said. "It's been dramatic to teach this [Putin] seminar even as history is being made before our very eyes. There's really a breathless quality to our discussions. There's a feeling when we meet that everybody is so glad to be there and glad to be together, so that we can explore these alarming developments as a group."
It was encouraging to see BOW community members come together and show that they care about the injustices my people face.

Arzy Abliadzhyieva '25
Tumarkin has asked students to research media articles to present in class, including pieces from the Moscow Times, one of Russia's last remaining independent newspapers. She has also had a Russian journalist meet with her students via Zoom to discuss, in particular, the link between Russian external aggression and domestic repression that is right now so painfully stark, as the Kremlin clamps down on all media, including social media. "I'm beyond grateful to be teaching this first-year seminar right now," Tumarkin said. "We really feel like a team, and I know that every week, I have students who are deeply engaged in this material, and to go through it together is just an extraordinary experience."
Wellesley community members are grappling with the worsening war off campus as well. Wellesley students, faculty, and staff joined members of the Babson and Olin college communities on Babson's campus March 8 for a march and rally in support of Ukraine and in solidarity with the Ukrainian community.
"My Ukrainian friends and I wanted to make our voices heard and encourage our American colleagues to take an active stance," said Arzy Abliadzhyieva '25, who helped organize Wellesley's presence at the Babson march. 
Originally from Simferopol, Ukraine, Abliadzhyieva is part of the community of Crimean Tatars, a Muslim ethnic minority group indigenous to the Crimean Peninsula. At Wellesley, she plans to major in environmental studies, and hopes to eventually return to Ukraine to work in sustainable development. 
"Staying apolitical in the Russian invasion of Ukraine means supporting the side of the oppressor," Abliadzhyieva said. "It's easy to do that when the issue doesn't directly affect one's community. We wanted to make sure our fellow students realize that the horrifying war crimes and crimes against humanity on the other part of the globe affect their community, too. There is a huge difference between hearing yet another story about the Russian invasion on TV and actually bearing witness to the suffering the war brings to the people you care about."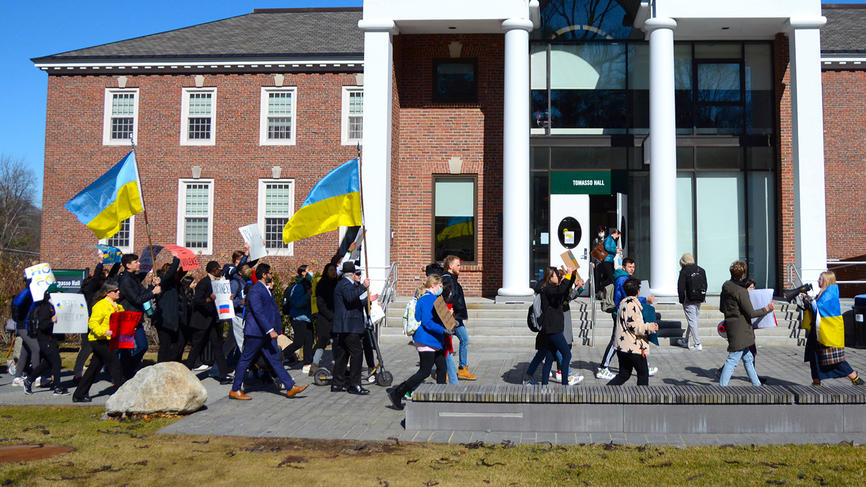 Abliadzhyieva has urged members of the Wellesley community to donate to grassroots organizations that support the Ukrainian people and demand sanctions against Russia. She has also been speaking at social justice events on campus, including the Slater International Center's recent International Women's Day celebration. Abliazhyieva is coordinating with the center's executive board to organize an art sale, where prints by Ukrainian artists will be sold to raise funds for NGOs assisting civilians affected by the violence.
Abliadzhyieva said the response of the Babson, Olin, Wellesley consortium has given her hope. "It was encouraging to see BOW community members come together and show that they care about the injustices my people face," she said. "Although few of them knew the Ukrainian language, the group marched across the campus shouting the famous 'Slava Ukraini,' and 'Heroyam Slava,' which means 'Glory to Ukraine' and 'Glory to Heroes.'" After the march, she said, community members spoke to the crowd about their experiences and shared sentiments in support of Ukraine. 
"I feel like these firsthand stories of Ukrainian students changed the way BOW students view the war in Ukraine," Abliadzhyieva said. Multiple students reached out to her after the rally, asking how they could help and expressing admiration for the courage and resilience of her people. "When Ukrainians are arming themselves with Molotov cocktails to defend their homes and families in every Ukrainian city, we, international students from Ukraine, must use our voices to contribute to the fight for freedom and encourage others to join us in this fight," she said.