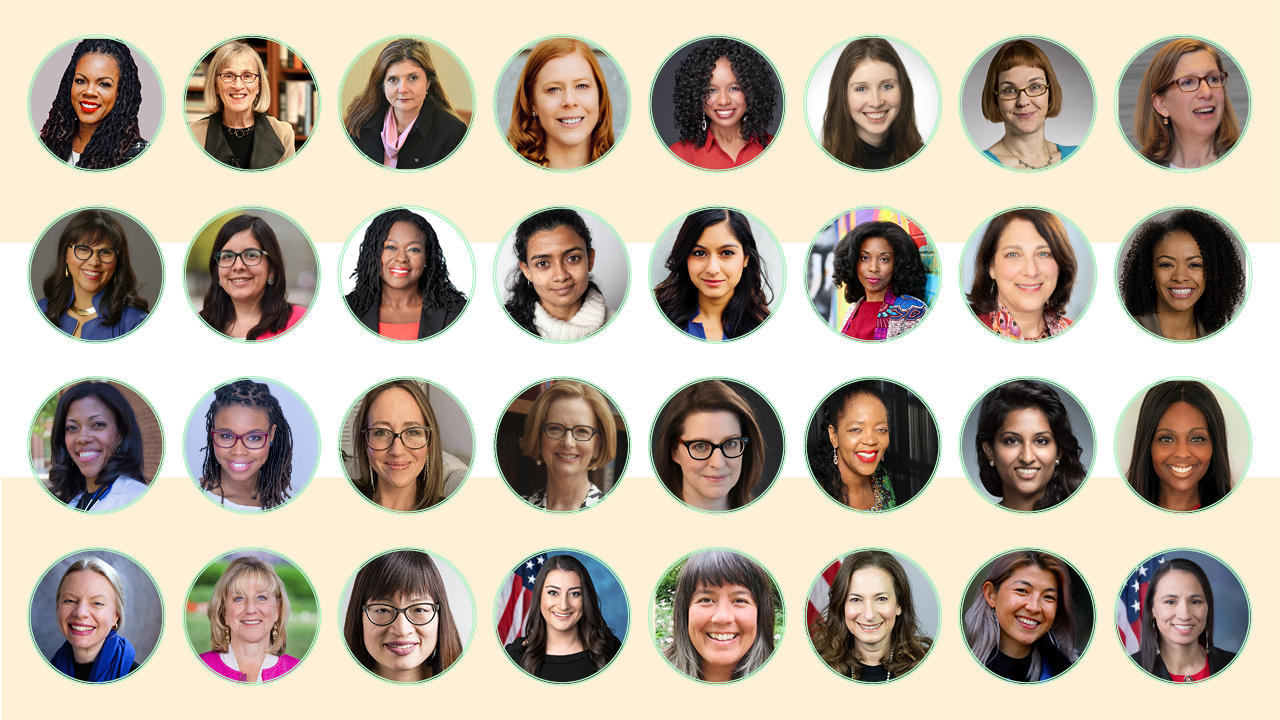 Building the Economy She Deserves
On April 1 and 2, Wellesley College, Spelman College, and the Global Institute for Women's Leadership at King's College London brought together researchers, business leaders, advocates, and national and local policymakers for The Economy She Deserves, a virtual summit to develop an agenda for building an economy that supports women and works for all. 
In the two years since the pandemic began, "women's participation in the U.S. labor force has decreased to levels we haven't seen since the early 1990s. We have lost more than two decades of progress," said Olga Shurchkov, associate professor of economics at Wellesley and director of its Knapp Social Science Center, at the start of the summit, which drew more than 1,400 participants.
To ensure that the perspectives of young women are at the forefront of policy discussions about economic recovery, Wellesley commissioned a national survey by Lake Research Partners that found that the pandemic had reshaped the aspirations and expectations of women aged 18 to 30 in many ways. The survey found 61 percent of young women say they are not doing well in the economy right now, yet many are optimistic about the future. 
On Day 1, participants explored the impact of the pandemic on women's participation in the workforce and the drivers behind increasing trends of gender inequality in the economy. 
On caregiving:
"When our social institutions failed because of the pandemic, women had to step up and become the institutions," said Nela Richardson, chief economist at ADP Research Institute, during a session called Making Sense of the "She-Cession": Where Are We Now? "They had to become the teacher in the classroom and the eldercare worker in the nursing home." 
When our social institutions failed because of the pandemic, women had to step up and become the institutions.

Nela Richardson, chief economist at ADP Research Institute
"The economy simply isn't built for women because it wasn't built by women," said U.S. Rep. Katherine Clark during a conversation with Wellesley student Teran Chapis '22.
"If you want your parents to have good quality care, if you want your children to have good quality care, we have to invest in those care jobs," said Shauna Olney, former chief of the Gender, Equality, and Diversity Branch of the UN's International Labour Organization.
"People see, not only that it's important to an individual, and that it's an individual's responsibility to provide care for their family, but that there's a benefit to everybody for there to be a care infrastructure in place, so that people can work, so that they can support their families, which has benefits for themselves, for their families, for their communities and really for the entire economy," said Jenn Klein, director of the White House Gender Policy Council, during a conversation with Wellesley College President Paula A. Johnson.
On systemic racism:
"Black women's share of the low paid workforce is five times their share of the overall workforce," said Rebecca Dixon, executive director of the National Employment Law Project. 
Paulina López González, economist in residence at NDWA Labs, noted that domestic workers are often called "the first gig workers" because they have "long known the precariousness of low wages, job insecurity, few to no benefits, wage theft, uncertainty about scheduling, and other conditions that workers in many more industries are facing today."  
On Day 2, participants looked for ways to effect change. 
Future of work:
Lucy Melvin, principal at Deloitte Consulting LLP, said her company's research has illuminated the persistent barriers women in the workforce face. "Organizations need to first establish work flexibility as the new normal," she said, as well as create inclusive work environments for women while also offering career development and advancement opportunities.
Jevay Grooms, an assistant professor of economics at Howard University, emphasized the many ways the pandemic should remind us of the importance of health insurance. "Traditionally, a lot of people think those individuals who don't have health insurance are those that are unemployed, which is not factual," she said. Grooms noted that during the pandemic, the essential non-health care workers lacked insurance. Among Black and Hispanic workers, about 10 percent were uninsured. "Companies need to take ownership and responsibility in making sure the individuals that work for them get basic needs met," she said. 
In a conversation on how to create workspaces that work for women, Mia Mends '97, global chief diversity, equity and inclusion officer and CEO, Impact Ventures, for Sodexo, noted the importance of allyship when doing diversity, equity, and inclusion work, because whenever she speaks about the work, it is perceived to be personal rather than objective. "If you don't have white leaders who own the power structure driving the change or calling for change, you cannot be successful. And it is not a coincidence that most of the people that do this work are women or people of color," she said. 
Companies need to take ownership and responsibility in making sure the individuals that work for them get basic needs met.

Jevay Grooms, assistant professor of economics at Howard University
The closing panel focused on solutions for the future. Wendy Chun-Hoon, director of the Women's Bureau at the U.S. Department of Labor, talked about ways of making sure that women, and in particular women of color, have access to the opportunities created by the recent infrastructure bill through initiatives like the WANTO Grant program, which helps women find a way into skilled trades. "It's a job strategy to help women gain access to the kinds of jobs that we're usually shut out of," Chun-Hoon said. "Women need access, women of color need access to these kinds of jobs." 
In that same session, Jocelyn Frye, president of the National Partnership for Women & Families, suggested investing in jobs, like home health care, and "improving the payment levels for those jobs, making sure that they are valued commensurate with the importance that they play, the central role they play, in our communities."
Heather Long '04, a columnist and editorial board member at the Washington Post, pointed out that in the past decade Japan has invested in subsidized child care, 14 weeks of paid parental leave for both partners, and more. The result is a much higher percentage of women in the workforce and increased economic growth and productivity. Reflecting on this example, Frye said, "One of the reasons you center women in the economy is that it makes your economy strong. It improves your GDP. There's data to prove it. So this is not just something nice to do. It is actually helping our economy grow."  
Though the systems that created the current economic environment may be slow to change, panelists left the audience with ways to take action. Frye said to call your representatives in Congress to let them know it's essential they pass policies that will help women care for their families. "We do need policy change," said U.S. Rep. Sara Jacobs. "It's also going to require individual change at each household level to make sure that we are actually building a more equitable society."
"I know that some women look to the future right now and really wonder what it's going to be like," said Layli Maparyan, Katherine Stone Kaufmann '67 Executive Director of the Wellesley Centers for Women. "I hope that as a result of efforts like this, today's young women can actually experience a future of spiritual and material prosperity, a future of well-being, comfort, ease, and the realization of their dreams."  
The conversations were recorded and are available on The Economy She Deserves website.