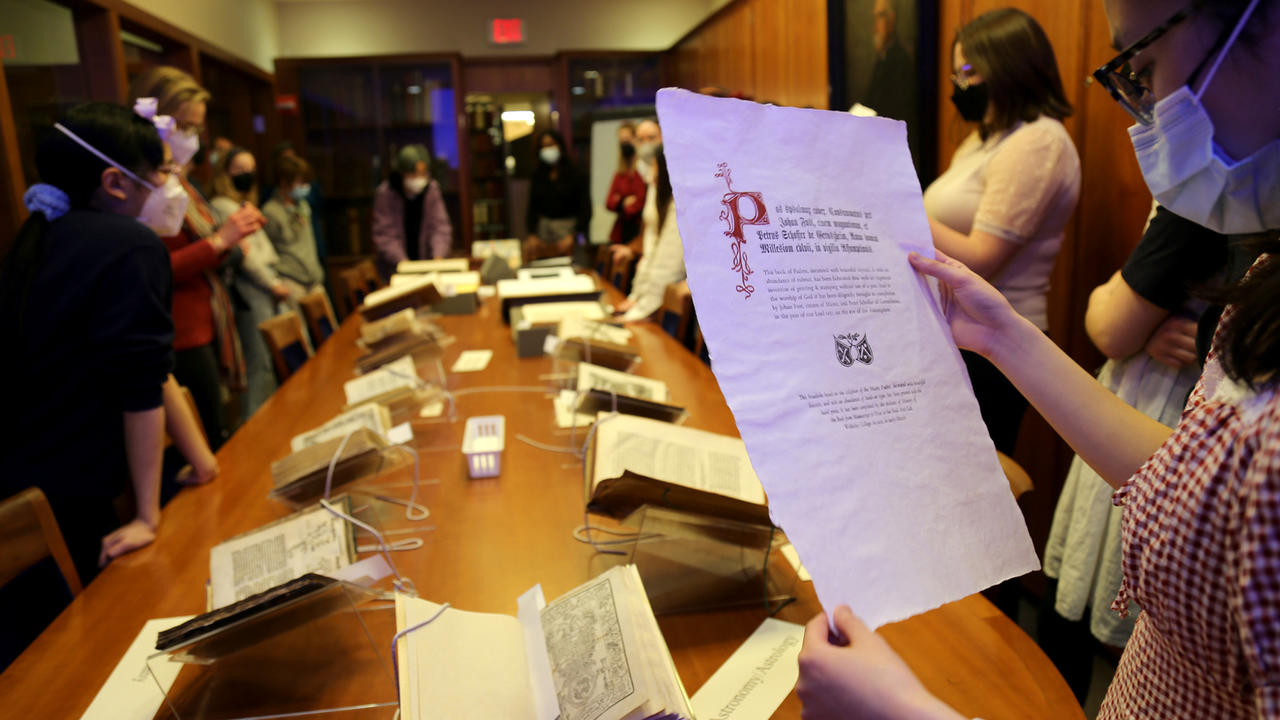 "A Magical, Inspirational Day": 25 Years of the Ruhlman Conference
Wellesley held its annual Ruhlman Conference April 26, in person for the first time since the start of the pandemic, and classes were canceled to enable students to attend. But the occasion was bittersweet: Barbara Peterson Ruhlman '54, for whom the conference is named, died in January at age 89. With help from Lee Cuba, professor of sociology, she created the conference to allow students and faculty across disciplines to celebrate the intellectual life of the College. This year marked its 25th anniversary.
In a memorial for the forthcoming spring issue of Wellesley magazine, Cuba describes Ruhlman's first philanthropic gift to the College, to start the Barbara Ruhlman Fund for Interdisciplinary Study, as "visionary"—she recognized the "increasing interest of students and faculty in collaborating across disciplines." That gift has provided the College with the opportunity each spring since 1997 to appreciate students' scholarly and creative achievements. 
In 2001, Ruhlman wrote that the conference "is truly a magical, inspirational day that is hard to describe but is better experienced in person." This year's conference offered attendees plenty to experience—including art talks, literary readings, scientific presentations, and carillon performances ringing out across campus.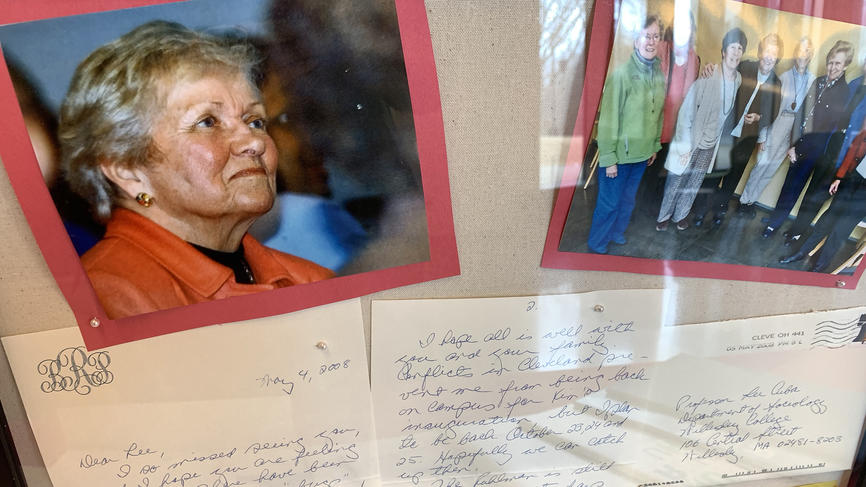 As a participant in the humanities panel "Monumentality: Spaces, Places, and Races," Katharine Conklin '22 discussed her study of the Boston Marathon as a type of monument, a project she developed in Eric Jarrard's course Gods of Stone: Monuments and the Sacred, which explored why people build monuments and whom they help and harm. Conklin ran the marathon in fall 2021 and said she "kept hearing other runners say different iterations of the theories and concepts we would discuss in class," so she decided to use it as the basis for her project.
Brianna Perry '22 highlighted work she and others are doing on antimicrobial peptides as part of a panel on senior theses in biochemistry. This was her first presentation, and she said she wanted to be sure she made the science "accessible to a variety of audience members," from faculty to peers. Perry attended the conference her first year at Wellesley and was impressed by her classmates' research. "I could never have pictured myself being able to present, let alone have something to present," she said. "Flash forward three years, and here I am!" She encourages students not to doubt themselves. "As a first-gen student, it is sometimes hard to feel like you belong in certain settings. But everyone has something wonderful to contribute and should be encouraged to share that work with others," she said.
At the end of the Ruhlman carillon performance of Paul Takahashi's "Butterfly Chaos" by Sydney Nguyen '24, scattered applause and whoops of appreciation rose up from the academic quad, aimed toward Galen Stone Tower, where the bells are housed. Nguyen participated in the Ruhlman to advance to senior membership in the Guild of Carillonneurs, which requires sight reading an intermediate piece, making a carillon arrangement of a song, and performing a 20-minute concert.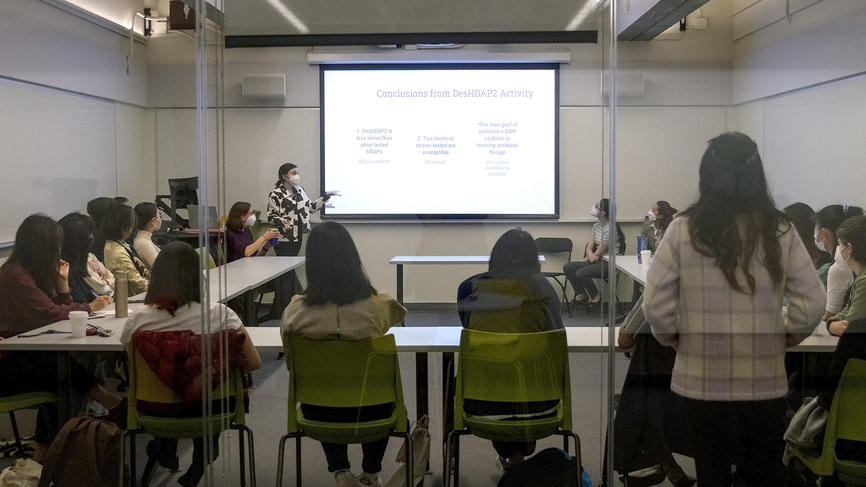 The sound of applause didn't reach Nguyen up in the tower, but she wasn't surprised by her friends' support. "I attended and livestreamed the other concerts with other guild members throughout the day (I run the social media for the Guild of Carillonneurs), and we cheered at the end of every concert," she said.
The outpouring of community support is part of what encourages students to participate in the conference. Conklin said she heard many presenters mention nerves, but "I think everyone ultimately held onto the fact that they were going to talk about something they did a lot of hard work on to an audience of kindhearted Wellesley College community members," she said. 
Caroyln Bacaj '23 presented her work from the Calderwood seminar Social Technologies and Adolescent Development. She said the Ruhlman was a heartwarming experience for her because Linda Charmaraman, her Calderwood professor and research director, and Alyssa Gramajo, her research advisor, came to offer their support. "It was incredibly meaningful to be able to share this experience with these mentors who have helped me every step of the way," she said.